We love to barbeque. Spending time with family and friends while grilling hot dogs, burgers, and delicious steaks are one of our favorite past times. That's why everything needs to be perfect. The taste, aroma, and texture of our grilled meats can make the difference between a gathering to remember or to forget. One way to cook memorable food is to ensure that each meat is grilled, smoked or barbecued the right way. To address this, we use a multi-purpose grill like the Z-grills ZPG-7002 Wood Pellet BBQ Grill and Smoker. But before making a decision on this particular pellet grill, let's perform a Zgrills review (ZPG-7002) and see its pros and cons.
Zgrills Review and Features (ZPG-7002)
Wide-Expanse Grilling Area
The long and narrow cooking area is highly conducive to multiple grilling experiences due to the total rack surface area being so large. The main grilling area dimensions of 19.5 x 26 sq inch cooking area. A second cooking removable warming rack. The warming rack dimensions measures about 7.5 x 26 square inches. This is quite big to start a barbeque party or a picnic with your family for a weekend of outdoor cooking.
Automated Feed and Temperature System
You don't need to take out your fans or blowers to stabilize the heat coming from your grill. This grill  has a digital control board. The digital control consists of an adjustable temperature regulator ranging from 180ºF to 450ºF with an internal sensor (auto temperature control) to help you stay in control of the heat. So once your set temperature is at its optimal heat then you can start cookin.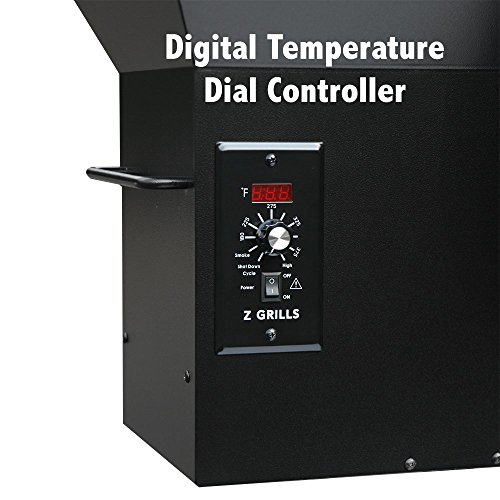 It also includes an automated electric feed system for which monitors the entry of wood pellets limiting it up to 20 lbs. hopper capacity as sufficiently needed. Likewise, this grilling system ensures less supervision and babysitting and still provides great quality of your grilled meat. This will maximize the bonding moments with you and your family or friends.
Flexible Convection Cooking
You don't need to buy another machine to bake or roast your favorite meat recipes. This product eliminates the need for a rotisserie and has a multi-range purpose from baking, roasting, grilling, char-grill, smoking, searing, and braising. You'll never get tired or waste your money on propane because you could experience a lot of things through this product.
Robust Design and Body
This product is well engineered and planned in order to meet each customer's convenience with a  flawless design and layout. It uses powder coated stainless steel that assures quality and durability helping it withstand extreme heat and corrosion. 
Simple and Easy Grilling
Everything is really easy when you are using this grill. You don't need to get confused with installation and set up because it comes with a manual and an instruction to follow you through on the setup.
Also, operation of the zgrill is very simple. All you need is to put your wood pellets into the pellet feed control system, turn it on, and adjust the cooking temperature levels, then start on your grilling experience. Easy peasy!
Wood-Fuel Firing
If burning wood is your concern, then don't be. This fuel type is absolutely much better than charcoal or gas in terms of quality and safety. Wood pellets have been found to exude a tasty and enticing grilled product than regular charcoal.
These Z-grills (ZPG-7002) wood pellets are absolutely and 100% consistent hardwood from American Oak. You could order such pellets online via Z Grill or to your local stores. Exclusively, 40 lbs of pellets are worth about $60. For starters, this product incorporates free 2 packs of 20 lbs wood pellets that you could use anytime.
Pros
Huge grilling area

Ultimate 8-in-1 wood pellet grill & smoker

Digital controller

Corrosion Resistant Body

Adjustable Temperature range

Long duration Grilling

Ease of Utilization

Waste oil collector for ease of clean up

Pellet purge system

3-year warranty

Movable with Heavy-Duty caster wheels
Cons
No Ash Cleaning

No accessory grill cover or front shelf

no storage cabinet only open shelving
What are user reviews saying about Z-grills ZPG-7002 Wood Pellet BBQ Grill?
There are numerous positive zgrills reviews regarding this wood pellet smoker. A lot applauded about how they are satisfied with this grill's output. Grilling has never been easier than this product employing how everything has become automated with less guidance and effort needed in grilling. They love the different kind of flavor that it gives to their food and the wide range of cooking techniques that could be done with this product.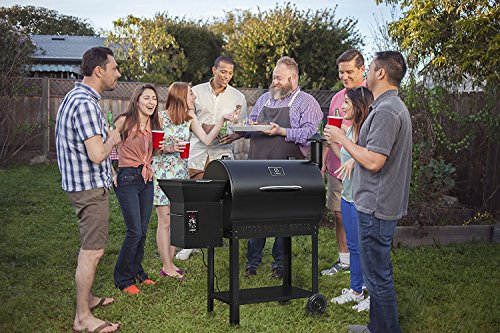 Also, a lot also applauded the construction, the design, and the material that the grill has. Overall, a lot of users are satisfied with the ease and quality that this grill operates.
Nonetheless, there are still a few remarks regarding the product. There are those who denotes an inclusion of some accessories like a grill cover or an automated ash remover on its next upgrade. There are also some issues with the pellets. It does not have a pellet shoot in order to replace a different kind of pellets.
Click Here To View 21+ Buyer Reviews
How Durable and affordable is the Z-grills (ZPG-7002) Grill and Smoker?
People sometimes denoted China-made products as unreliable and underrated. But nonetheless, that hearsay is just a myth. The stainless steel used for this product's main body is made from China and absolutely, sturdily built. Its design and body are made exclusively to give comfort and assistance to the beloved users who want to experience a quality grill.
This Z-grills ZPG-7002 is long lasting and could stand for how many months without failing its purpose. Its surrounding structure is corrosion and heat resistant so you are rest assured no matter what the conditions of the environment.
But with all of these, if you are still thinking that this product is expensive then you are wrong. As compared to some grills, this product is much more affordable and cost-efficient. Though you'll still get a three digit number cost but absolutely, reasonable given all the amazing features.
Why you should consider the Z-grills (ZPG-7002) Wood pellet grill
There are a lot of reasons why you should consider this grill. Aside from its durability and its well-constructed design, this product enjoys convenience and affordability that any use would wish upon each product that he or she buys.
There's no need to be constantly checking your meat as everything is purely automated with this process. Temperature regulation through a dial and sensor is incorporated within this product.
It is also a multi-purpose product. You could use it for grilling, roasting, and even to braise a chicken. This saves you from buying other appliances or machines to take on those cooking methods. Plus, grilling is fast and easy with its wide and large cooking space.
Everything is absolutely incredible with this Z-grills (ZPG-7002) wood pellet smoker. But nonetheless, if anything goes wrong, the manufacturer assures a 3 years warranty and 30 days back money guarantee return policy within the United States.
Barbecue and grilling is one of my favorite bonding moments during weekends or really on any occasion. Nobody will get tired of grilling and spending time with family and friends. That is why we purchase grills to help us create memories while creating delicious meals. It is a great way to get creative and try out different meats and rubs. 
When buying a grill, don't just look at its price but the quality and the brand's reliability. Knowing that the zgrill customer reviews are more than satisfactory from its users, you can expect the best service and performance from this  Z grills wood pellet grill(Z Grills ZPG-7002e).
Related: Best Electric Smoker (Under $200 – $1000): Reviews & Guide 2017
Related: Best Electric Fireplace 2018: Top 12 Reviews and Buyer Guide
Related: Best Patio Heater 2018 – Top 10 Reviews and Buyer Guide