Pellet stoves are a more advanced version of a traditional wood-burning stove.
The primary advantages of a pellet stove are the fact that you can load an abundant amount of pellets into a hopper to provide continuous heat for long periods of time.
Compared to a traditional stove that requires the constant loading of chopped firewood.
What Are Pellet Stoves?
A pellet stove is a unique stove that burns compressed biomass pellets or wood to generate heat.
Pellet stoves popularity has increased steadily over the last decade, mainly due to their outstanding benefits.
Our Top Picks:
Table could not be displayed.
On top of our list is the caste 12327 serenity pellet stove.
This pellet stove allows you to choose between adjusting the heat manually or automatically through the thermostat.
It also allows you to decide when you wish to heat your home.
The overall design of this pellet stove is outstanding and will impress you the moment you lay your eyes on it.
It will blend with other accessories in your living room, thus enhancing the overall look of your house.
Castle 12327 is also easy to clean. It does not have hidden chambers, as it is usually the case with pellet stoves.
It is also energy-efficient and can help lower your monthly electricity costs drastically.
If you are looking for a high quality, unique, attractive, and durable pellet stove, then you won't regret if you purchase Castle 12327 serenity pellet stove.
Key Features:
Over 69.8 thermal efficiency
Attractive design
77 W operating wattle
Has both manual and digital settings
PROS
It is easy to clean beautiful design.
It is energy efficient.
It consumes less space.
It is durable.
If you are planning to heat up a large area, then we recommend that you buy Comfortbilt pellet stove HP22-50000BTU.
This pellet is our runner up because it is equipped with many exclusive features that make it stand out from the rest.
Some of these features include a bay design that allows a large viewing area.
It is also equipped with a programmable thermostat that allows you to adjust the temperature automatically to suit your needs, an auto ignition, ash pan, and 55lbs hopper capacity.
It also features a powerful blower that enables it to heat a large room comfortably during cold summer months.
If you are searching for a powerful pellet stove to heat your house, then you won't go wrong if you choose this pellet stove.
Key Features:
Can heat up to 2800 square feet.
Programmable thermostat.
EPA certified.
Large viewing design.
PROS
It is energy efficient.
Can comfortably heat a large room.
Comes with a one-year parts warranty. After purchase technical assistance is also given.
You can adjust its temperatures at any time.
It is easy to clan.
Has a large viewing area that is very attractive.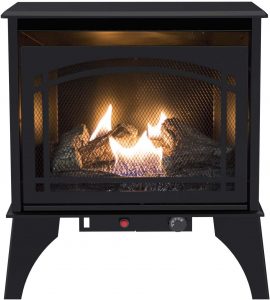 Pleasant hearth VFS2-PH20DT is currently one of the bestselling pellet stoves on the market.
It uses state of the art technology that allows it to produce heat without a chimney.
This pellet stove also enables you to use two heating options, including liquid propane and natural gas.
Its 20,000 BTU is powerful enough to keep your living room warm through the winter months.
If you are looking for a classy but efficient pellet stove to warm your house during the cold winter season, then we recommend that you choose Pleasant hearth VFS2-PH20DT.
Its minimal clearance design allows you to install it almost anywhere in your house.
It also features an automatic ignition and a thermostat that will enable you to control its temperature.
Key Features:
20000 BTU that heats up to 700 square feet.
Features a dual fuel technology.
PROS
Does not require a chimney.
Comes with two years warranty.
Amazing design.
Has minimum clearance design.
It is easy to clean.
If you are looking for an efficient pellet stove to heat up your house during the cold season, then Drolet wood stove is the right stove for you.
This stove is highly recommended for people who want to heat up large space.
Its firebox is fitted with firebricks that can accept logs of up to 22 inches long.
This stove is not only energy-efficient, but it is also very powerful. It can comfortably heat your home without emitting smoke.
We highly recommend it for anybody who is searching for an energy-efficient but powerful wood stove to warm the house during cold months.
Key Features:
78% efficiency.
Accept log of up to 22 inches long.
Features a large ash drawer.
Heats up to 2400 square feet.
PROS
It is energy efficient.
It is strong and durable.
It is easy to clean.
Can comfortably heat large space.
It is easy to operate.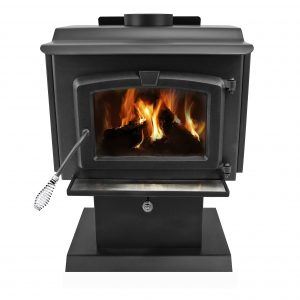 Pleasant hearth mobile home stove is a non-catalytic wood-burning stove that is highly efficient and effective.
It has an 81% energy efficiency rating and a 5.1/hr emission rating, which is pretty remarkable.
This stove is highly recommended for individuals with a small family or those who want to heat a less than 1200 square feet room. This stove is approved for mobile homes.
I have two friends who are using this stove to heat their home, and they are all thrilled with its performance.
Because it is very efficient, it does not emit much carbon emissions.
We recommend it for anyone who wants to warm their house without denting their pockets.
Key Features:
81% efficiency.
1 grams/hr emissions.
EPA certified.
PROS
Approved for mobile home use.
Burns up 8 hours in one session.
50000 BTU.
Strong and durable.
It is easy to clean.
If you love going off-grid, then Q stoves wood pellet is a must-have.
It is highly portable, meaning that you can carry it with you when going camping, house parties, hunting trip, hiking, and much more.
Unlike many other pellet stoves that need electricity to function, this stove does not require power.
It is also very efficient and delivers up to 106000BTU/hr. Pellets are also fed by gravity; meaning that fans and augers are not required.
We recommend Q stoves wood pellets for people who are searching for a simple but efficient pellet stove to warm them when outdoors during cold seasons.
Key Features:
It does not require electricity.
Deliver 106000BTU/hour.
It is portable.
PROS
Does not require fans or augers.
It is highly efficient.
It is gravity feed meaning that you don't need fans or augers.
It is highly durable.
Amazing attractive design.
Pleasant Hearth VFS2-PH30DT uses cutting-edge technology that enables it to deliver up to 30000BTU.
It is a vent-free stove meaning that it does not require a chimney. This stove functions in two options, including liquid propane and natural gas.
This pellet stove will not only warm your house, but it will also compliment other accessories in your home, thanks to its fantastic design.
If you want to heat your house during the cold season, then this pellet stove will not let you down.
Many people who have used it are delighted with its performance.
Key Features:
Can deliver up to 30000BTU.
It is vent free.
It is powered by liquid propane and natural gas.
PROS
Comes with a 2-year warranty.
Easy to install, thanks to its minimum clearance.
It has an attractive design.
Easy to clean.
If you are in search of a product that offers the best value for your money, then this happens to be the best option for you!
This product is a good choice for people that want to heat large spaces but they only have limited space in which they can fit in a pellet stove.
For its compact size, The US Stove Ashley Pellet Stove Happens to be an amazing choice.
Regardless of the fact that this product happens to be one of the most compact options on the list, this product happens to be one of the most powerful options as well as this product as the ability to heat up to 2200 Square Feet.
Other than a strong heating capacity and a compact design, what makes this product a good choice is mainly its ornamental design.
This product comes with one of those designs that would make you want to keep this product on display in your living room or any other place in your house where it can be shown off properly!
This product is further fitted with a heating element that gives out 48,000 BTUs.
These statistics match the stats of the huge residential pellet stoves on the market but they come at a considerably lower price tag and offer tough competition to the options on the market.
PROS
One of the best options for it's price.
Maintenance of this Pellet Stove is comparatively easier.
This product happens to be one of the most enduring products.
CONS
This replacement and repairing cost of this product are comparitively higher.
If you are in search of a product that offers the most advanced features, well look no further, as this is the perfect choice for you!
What makes this product end up on the list is the fact that it comes with high tech features due to which using this product becomes very easy to use keeping in mind that this is the most advanced option on our list.
Among many features that are present in this product, we like this product for features such as one-touch start, adjustment options for the optimum temperature and setting blower speed.
Other than that, it also has a Turnable Pellet-feed rate!
Other than that, this product can also heat up to 2200 Square Feet. However, this product does not have any efficiency rating, but if it's any consolation, this product happens to be EPA approved.
Other than savvy features, this product also features a huge 60 lbs hopper and a powerful heating element which can give a heat output of up to 40000 BTU.
This pellet stove is the way to go if you are looking to heat a large area and also burns the added wood pellets rather efficiently.
Considering features such as an adjustable feed rate, and being easy to use, this product is the way to go!
PROS
This product comes with a powerful heating Element.
Comes with so many features.
This product happens to be very easy to use.
CONS
This product does not have an Efficiency Rating.
As far as amazing designs go, this product tops the list! This product comes with one of the most amazing designs and that's not even the best part!
This product happens to be one of the quietest options on the list.
Other than stealthy operation, this product also is able to offer heating over a large area. This product has the capability to be able to heat up to 2200 Square feet.
Besides that, this product also uses a rare Patented Gravity feed system which allow it to move the pellets around and into the burn chamber of this stove.
Due to this patented gravity feed system, there remains no need for this product to be hooked up by electricity which in turn, makes the whole process of setting up this product significantly easier.
Since this product does not come with any pellet auger or a blower fan to operate, this product is able to operate and cook the food rather silently.
Since this product is majorly silent, this product happens to be a great choice for the people who are aiming for a quiet serenity throughout their house with the ability to maintain a totally comfortable, and a warm place.
However, this product needs to be lit manually as it does not operate on electricity in any way imaginable.
PROS
This Pellet Stove Operates Silently.
Comes with a patented gravity feed system which makes it feed the pellets into the smoker efficiently.
This product is easy to install and set up.
CONS
This product needs to be lit up manually.
Best Pellet Stoves –
Buyer's Guide

:
Before you make up your mind to buy a pellet stove, here is a question for you.
Do you need it and what for?
Then what should be the features and functionalities in it?
If you need the answers then here are all the things you must know before buying a pellet stove.
Budget:
There are many instances where I have spent more money than I had budgeted for.
That is why I decided to come up with a budget when I bought my pellet stove.
A budget is significant because it helps to prevent you from spending more then what you can afford. Just come up with a budget and ensure that you stick with it.
Size:
Most people usually buy pellet stoves before considering its size. If you don't want to regret it later, then it is essential first to determine which is the right size.
Pellet stoves are usually grouped based on their heating capacity. Pellet Stoves sizes typically range between 800- 900 British Thermal Units (BTU).
If you want to get the best services from this stove, then you need to choose the right size.
When determining the size of the pellet stove to purchase, consider the amount of space that you want it to heat.
If the area is large, then you should buy a larger pellet stove.
On the other hand, if space is small, then you should buy a small pellet stove.
Features:
Buying a pellet stove that does not have the features that you are looking for is a waste of money.
Sit down and determine the essential features that are important for you.
For instance, do you want a manually adjustable model or one that is fully automated?
Other critical elements to consider include maintenance cost and cleaning frequency.
Warranty:
This is a very factor that you should not overlook when buying a pellet stove.
The more extended the warranty, the higher the chances of it serving you for a long period.
Expert advice that you should buy a pellet stove that has more than two years warranty that is offered.
Usage:
Your choice depends on the extent of usage. In other words, if you need to use the stove often and depend on it for the heat source.
Then you will need to pick a larger size with high BTU ratings. But in case your stove won't be in frequent use than smaller sizes and low BTU ratings are the best option.
Stove Type:
There are 3 basic types of pellet stoves that you choose from.
Each of these has its specifications and features depending on your requirements.
Electric Stove:
To get the pellets inside the stove heated up, they have electricity feature.
Instead of a basic heater, this works far better and turns out to be more useful.
Woodstove:
To handle wood pellets there are some pellet stoves. Such stoves need to have the right loading space inside with easy accessibility.
To reduce the moisture in pellets, use wood pellets as they produce more heat.
Whole House Heater:
With this option, you can use a pellet stove to warm up the whole house. It allows you to link vents and fans throughout the house so the warm air travels in each room.
Although this setup seems to be pretty convenient yet is quite complex.
Insulation:
While picking up a pellet stove, the insulation of your home is a compulsion to understand.
Now, if your home has poor insulation, it will need a higher BTU rating and a powerful stove.
But if your house is well-insulated, it cuts you some slack, and medium powered models will work.
Windows & Ceiling:
Another crucial factor to look for is the windows. If there are many, with not so favorable conditions or leakage. You will automatically need a higher BTU rate and a larger model.
The houses will low ceiling requires smaller models that produce less heat. But if you have a cathedral ceiling, try to opt for larger stoves that offer high BTU rates.
The Burning Material:
Now, this factor may seem to confuse a lot of you. But the fact is, it is also quite an important one to consider before buying pellet stoves.
Even if you end up buying the right stove, its functionality may alter. The burning material you pick should be the right one like wooden pellets.
If you install wooden pellets in your hopper, the stove's performance will boost. But you can also use the pellets that the manufacturer recommended.
Wooden pellets come with a whole list of perks making them an ideal choice.
They are easy to burn, consistent, and hold together quite well. When heated the inner compounds get firm resulting in pellets held together.
Unlike other materials, wooden pellets burn off completely and cleaner. These are specially made from light wood items including sawdust.
Wood pellets will produce minimal creosote requiring little effort while cleaning.
As made via pure wood, these contain no extra, used material. Whereas other materials can be pressure-treated, painted, flammable.
Maintenance:
Before you buy a pellet stove, take a look at the steps required for its maintenance.
Always store your pellets in a dry, safe place where they won't interact with moisture. Else the moisture can be a real problem to handle and affect the heat produced.
The glass on the stove also needs cleaning so the best, safe option is silicone. Not only will a silicone-bases material offer better cleaning but is not a fire hazard.
From time to time keep the ashcan clean so there is always room for more ash.
Your stove's burn pot also requires equal attention while cleaning.
So you need to clean it every time you add pellets in it and remove any hard ash bits. A tough scraper can be helpful to scrub off stubborn bits.
Always ensure that the hinges and seals of the stove are tight and secured enough.
A proper check will enhance your stove's lifespan and keep you safe from fire hazards.
Tips for Safe Use of a
Pellet Stove

:

Now that you have chosen the best Pellet Stove, you must know the way how to use it. However, you must keep in mind that safety should always be a person's main concern.

With that being said, it is vital for you to be caught up on the method that allows you to use pellet stoves safely.

In order to help you use a pellet stove safely, here are some tips mentioned:
Avoiding Burns:
When you are using a pellet stove, you will need to make sure that you take all the necessary precautions.
Taking these precautions will ensure your safety as well as the safety of the people living in your household.
Installing CO Detectors:
Installing CO Detectors happen to be one of the most important things when it comes to ensuring the safety of your house.
When you Install a CO detector in your house, you get an alert which will go off if CO levels reach a potentially dangerous Level.
Disposing The ashes safely:
It is essential that you dispose of the ashes safely. In order to do that, you should place the ashes of wood pellets in a metal container and once you are done adding the pellets to it, you should close the lid.
Regular Inspection:
To stay safe, we suggest that you should inspect or have your stove inspected on a regular basis.
You check for a pellet burn back that occurs in the scenario when fire burns into a hopper. Also, you should check for any damage or corrosion to the vent.
Wood Stoves

vs

Pellet Stoves

:
Some of you might fiddle with the confusion about wood stoves and pellet stoves. So here is a short comparison between wood stoves and pellet stoves.
1. Heating Medium:
Based on the heating medium both pellet stoves and wood stoves are quite different.
In the case of wood stoves, straight wooden materials are used as for pallet stove. As for pellet stoves, the material used is wooden pallets.
2. Cleaning:
Due to being well-organized pellet stoves are easier to clean. Whereas wood stoves can be a whole lot messier while cleaning.
3. Heat Production:
Wood stoves are prone to produce more heat as it takes them lesser time. But with pellet stoves, you can predict the heat production and control it easily.
4. Cost:
If you are looking for budget-friendly options then pellet stoves are the best. These start from a range of $1500 to $3000 max and that too if you want to be fancy.
On the opposite, wood stoves can cost you around $4000 or even more. Though there are cheaper options also but the quality can be a concern.
5. Power:
In case you prefer wood stoves, they work with a basic flame where heat production is not predictable. Whereas a pellet stove works completely different.
It requires an electrical source and compared to wood stoves, provides a lot more control.
6. Emissions:
This is another major reason why people prefer pellet stoves over wood stoves.
Unlike traditional wood stoves, they produce half of the emissions. Also, these offer efficiency when it comes to EPA certification that wood stoves don't.
7. Safety:
Again this is a factor that we all need to prefer in a stove and nothing can beat pellet stoves.
They are reliable and safer options to be around. They are pretty facile to use, less polluting, and low-maintenance.
How Do Pellet Stoves Work?
First, you need to pour pellets into the holding bin that is located on top of the unit.
The holding pin can hold between 30 to 150 pounds of pellets depending on the size of the tray.
The pellets are then transferred to the combustion chamber using an auger.
The auger can be operated manually or automatically through the help of a thermostat.
Once in the combustion chamber, the air is blown to encourage faster burning of the pellets.
Why You Should Own Pellet Stoves?
One of the most significant benefits of a pellet stove is its ease of use.
They have power modulation and power ignition that makes it easy to burn the pellets. You don't have to use conventional methods to burn the pellets, as it is usually the case with other types of stoves.
Depending on the pellet stove that you are using, you can adjust the temperature of the stove either manually from the control panel or by using a thermostat.
Newer models allow users to control the stove temperature via their smartphone.
The fact that you can turn the pellet stove and also control its temperature just with a touch of a button makes this stove an ideal option.
Pellet stoves are more than 90% energy saving. That is why many people today prefer them to the traditional fireplace.
A small number of pellets can produce a large amount of energy and for an extended time.
With raw material for producing energy getting scarce each day, people are looking for more efficient ways to generate electricity, and pellet stoves happen to be one of the best options.
Unlike the traditional fireplace that emits a lot of carbon that contributes to global warming, a pellet stove is smoke-free.
Pellet stoves don't produce smoke, as it is usually the case with traditional firewood stoves.
This means that you will never have to worry about dealing with the unpleasant smoke smell or dry air.
If you are conscious about conserving the environment like me, then purchasing a pellet stove is a good option.
Wood pellets are condensed, a factor that allows them to burn on low moisture.
This not only makes them energy efficient, but it also enables them to release less harmful gases into the air.
In addition to that, pellets are by-products that are made from the recycling sawmill.
This means that they don't impact negatively the environment.
With increased living standards, people are looking for ways to cut down their costs. One of the best ways to cut your energy cost is by using a pellet stove.
One of the main reasons why I switched to a pellet stove is because I wanted to cut down on energy costs. 40 pounds of wood pellets, which cost around $3, can warm my house for about two days.
This is by far much cheaper than what I used to spend when I used gas (about $250 a month).
So, if you want to lower your energy cost, then switching to a pellet stove is a good option.
Pellet Stove Installation in a Few
Easy Steps

:

Even the installation involves no rocket science instead it is quite simple.

Here we have listed down all the basics steps you need to follow for installation.

Let's get started with these steps:
First, the most important part is to decide where you want to install the stove. Once the spot gets fixed, you need to add a fireproof pad on the floor. A proper connection is unable to establish without the vent pipe so secure it on the stove. There's always a hole in the walls where such connections come from.
Now, the link to your stove and vent pipe needs to be in the right way. So check if the space for the stove is secure enough and the pipe is not shaking or lose.
Now, the wall from where the pipe for heating sticks out needs caulking. Use silicone around that area so there are no chances of any leakage.
Next, install on the inside the heat exchanger that varies depending on the model. Or you can take guidance from the instruction manual for this step. A bur pot comes with a steel body that's inserted in the stove. It has enough vents to allow access of heat sources to the pellets.
Then you need to set up the ash drawer on the inner side. It should be easy to close, remove, and must appear around the bottom.
Next, come the hopper and auger, secure them so they appear on the side. Both should be operational and help you with fueling the stove. One tip here is to load your stove well with wood pellets in apt space.
In the front part of the stove, secure its glass viewing screen. This glass window not only provides a view of the heater. But is also aligned to maintain the intensity of the heat.
At last, plug in the power cord, check on the heat production. If you performed all the steps then heat must move via its vent.
Here is another tip; once finished using the stove don't forget to clean the ash drawer
Also, keep a check on burn pot and other functionalities every now and then.
Pellet Stoves

Advantages

:
A pellet stove is a popular option in the market compared to wood stoves.
It not only offers you a series of features but is also light on the pocket.
These stoves come with a unique structure allowing pellets to burn fast. Then compared to wood stoves the burning process of pellets is cleaner and a lot more efficient.
One issue we all face with traditional wood stoves is the dust or the particles. But thanks to pellet stoves, that problem is too solved now leaving behind minimal mess.
If you use cordwood, it contains up to 30% of moisture, requiring more time to heat up. Whereas pellets induce intense compression with less than 8% moisture.
This lesser moisture allows more heating and gives fewer particles.
Then another perk of using pellets is ash as corded wood produces a lot more ash. Later it can be a real pain to clean the mess and if breathed may also cause issues.
But pellets produce far lesser ash, hence no excessive cleaning required.
A major set-back of wood stoves is creosote that is impossible to get rid of. You may notice the blackening of chimneys, doors, and glass; that is creosote.
Pellet stoves produce less creosote saving your time and lives from chimney fires.
Frequently Asked Questions:
It is obvious to have some queries before buying any product.
Conclusion!
Here goes our review for the best pellet stoves present on the market in 2021.
Pellet Stoves happen to be one of the best products that you can consider if you are looking to upgrade your house or if you want something that will allow you to cook rather delicious food.
However, with so many options present on the market, it is easy for the users to get confused and end up buying a product that is not worth it in the end.
Having said that, we have listed all the best options for you on the market. These products are considered on the basis of the criteria laid out in the buyer's guide section.
However, even after looking through this product, none of the mentioned items feel like a good choice, You should go through the buyer's guide section.
The buyer's guide section lists all the aspects that the best pellet stove must inherit.
I hope you liked the article, let me know if you have any questions in the comments below. ????