A tabletop fire pit is an easy and affordable way to add a sense of style and luxury to a backyard or outdoor patio. It can be a good option for homeowners with limited backyard space.
09 Best Tabletop Fire Pits:
Here are the 9 best tabletop fire pits!
Since they are simple and small, they can be a perfect choice for hosting guests and ensures that everyone is warm during cold nights.
Most homeowners enjoy having a relaxing time outside their homes, and the experience can be more enjoyable with the glow and warmth of a tabletop fire pit.
Fire pits for table tops are available in many different shapes, sizes, and materials, so you're sure to find one that fits your needs.
Best

Tabletop Fire Pit

Reviews

:
This tabletop propane fire pit makes it easier to convert your patio into an attractive outdoor entertaining area.
It is available in two colors, Suffolk tan, and pearl-grey.
It is made with high-quality architectural cast stone and hand finished to provide a stunning ornament to your outdoor space.
The Fire Topper is specifically designed to be used on an existing patio table or any other place where a propane tank is accessible and uses a long-lasting stainless-steel burner system.
PROS
Convenient to use.

You only need to turn the knob and light the fire

A good amount of heat produced

Easy to control the heat

Quiet when used

Simple design

Easy to assemble and maintain

Has an attractive look
CONS
Heavy to carry around

Hard to get the plate level
Features:
Hand cast stone bowl

Beach pebbles

3 Terra Flame Clean Burning Fire Gel cans

Base protective cork pad

2-3 hours of burn time per can

Beautiful 7″ flame

Natural stone color variation

3000 BTUs
This is a gel-fueled mini tabletop fire pit made of stone, which does not produce smoke or odor.
It creates a perfect environment with fire anywhere, anytime.
It has a grey finish and produces a beautiful flame that allows you to create perfect lighting while providing warmth at the same time.
PROS
Made of stone, does not get hot

Easy to set up

Beautiful and elegant

Produces a perfect size real flame

Perfect size for a table patio

Odor-free flame

Elegant design

Affordable
Features:
Uses propane

Rectangular shape

Heat resistant glass

40,000 BTUs

A 20-pound propane tank required to run

28 inches

Lava rocks

Dark steel and crystal-clear glass
This is one of the best tabletop fire pits that makes an attractive piece for your patio table.
You can enjoy the light and warmth of the fire with less fuss.
It can also be used on a wood table. For safety purposes, ensure that the tabletop is only used outdoors.
You should also ensure that the patio table has a generous clearance.
PROS
Produces a good amount of heat

Easy to clean

affordable
CONS
Too much output when the gas is full
This mini tabletop fire pit makes it easier for you to enjoy a warm fireplace at any location you want.
It is also very simple to use you only need to pour ethanol into the burner and light.
No cleanup is required, and no strange smell.
Burn time is around 45 – 60 minutes and it comes with white rocks, but you can swap it out with any colored fire glass to give a more elegant look.
Don't expect this to keep you warm as there is minimal heat output.
It functions more as a beautiful centerpiece for indoor or outdoor use.
PROS
No odor
Indoor and outdoor use
Beautifully designed
Available in Silver, White and Black
CONS
Need to refuel often
Minimal heat output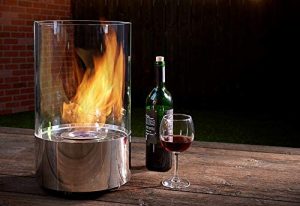 Features:
Runs on 100% clean-burning bio-ethanol fuel

Glass screens

Distinctive shape

Hold up to 3 hours (0.5L) of fuel

Available in stainless steel
The distinctive style of the Sharper Image Tabletop Round Fireplace brings elegance and sophistication into the indoor space.
Since it operates on a clean-burning bio-ethanol fuel, you won't have to worry about smoke, soot, ash or melted wax.
A chimney or vent is not required when using it.
PROS
No smoke, soot or ashes produced

No chimney or vent required

Attractive

Compact
CONS
For indoor use only

Cannot be considered as the main heat source
Features:
Uses ethanol fuel

Stainless steel finish

2-3 hours burn time

3900 BTU
Regal Flame Avon Tabletop Portable Bio Ethanol Fireplace in Stainless Steel comes with a sleek design and glass panel for maximum fire visibility.
It can be a perfect option for you to enjoy the warmth of a fire in different settings.
It is suitable for both indoor and outdoor use.
PROS
Has glass panels for maximum fire visibility

Easy to assemble

Both indoor and outdoor use

Easy to use

Eco-friendly

Compact design
CONS
Fuel price is expensive

The size is quite big

Does not include aesthetic rocks
Features:
Uses sustainable high-quality bio-fuel

Has a deluxe black finish

Can be used for both indoor and outdoor use

Protective heat resistant glass
The mini tabletop fire pit can be a perfect option if you want to introduce some illumination and ambiance into certain areas in the patio, room, or backyard.
You can place it on different surfaces without causing any damage.
The fireplace is among the top picks when it comes to innovation and simplicity.
PROS
Safe and easy to use

Can be placed in different surfaces

Has a heat resistant glass tube

Affordable price
CONS
The size is quite big

Risk of breakage
Features:
Burn time up to 1.5 hours

Silver color

Tempered glass for safety

Quality stainless steel burner

Flickering flame effect

Uses bio-ethanol fuel

7000 BTU
This is an impressive mini tabletop fire pit with an attractive heavy glass cylinder and a stainless-steel base.
It can be used both indoors and outdoors and can be perfect for any setting.
PROS
Burns clean

Includes snuffer tool

Can be used both indoors and outdoors

Heavy duty construction
Features:
Quality heavy stainless steel linear burner

A modern piece with a unique design

Ventless

Eco-friendly

Longtime burning
The mini tabletop fire pit comes with a modern design with sleek glass sides and a durable sleek base.
It provides a warm welcoming flame and can be used both indoors and outdoors.
The use of bio-ethanol fuel also ensures that the fireplace tabletop does not leave soot, smoke stains or residue when burning.
PROS
Easy to assemble

Made of durable steel

Clean burning fuel
Why Buy A Fire Pit For A Table Top?
There are many reasons why tabletop fire pits are attracting more and more people every day.
Tabletop fire pits provide a perfect environment for having conversations or to lounge about on a patio.
Tabletop fire pits are different than outdoor fire pit tables as they rest on top of an existing tabletop.
Fire Pit Tables are tables with a fire pit built-in and are much larger and heavier.
They also add extra style to your outdoor living space while saving on your energy bill. It helps create a family space where the kids can roast marshmallows and talk instead of playing video games and watching TV.
Some tabletop fire pits can even be used for cooking, an experience that both you and the kids will definitely love!
Things To Look For In A Tabletop Fire Pit:
Size:
There are quite a number of things that you have to put into consideration before purchasing a tabletop fire pit.
The first thing to take note of is the size and the intended location.
The best size to choose depends on the number of users, furniture arrangements, the size of your patio among others.
Portability:
Depending on how much you intend to use the mini tabletop fire pit, you can either decide to purchase a portable mini tabletop fire pit or build a permanent one on your patio.
Portable tabletop fire pits are usually more preferred due to their convenience and they are usually cheaper compared to permanent ones.
Material:
There are different materials used to make mini tabletop fire pits. Each material comes with its pros and cons, which is important that you do your research to determine the best option for you.
The best material is stainless steel which is known to be durable and weather resistant.
However, tabletops made of steel can be quite expensive.
Other materials include aluminum which is light in weight and resistant to rust and corrosion, copper and bronze.
Fuel Used:
Some tabletop fire pit models used wood to produce fire. Such fire pits are usually bigger and provide beautiful flames.
Propane fire pits are more convenient to use and are typically lighter in weight.
Charcoal models are also available.
Fire pits that use bio-ethanol or gel do not emit smoke, ash, or odors, making them also very convenient to use.
Types of Fire Pits for Table Tops:
There are different types of mini tabletop fire pits available in the market today.
Each of them also has its pros and cons, which is important that you do background research before making a purchase.
They are also available in different styles, which include bowls, tubs, rings, globes among others.
Propane Gas Tabletop Fire Pits:
Propane tabletop fire pits are very convenient to use.
Just like wood, they provide quality and beautiful flames. Tabletop propane gas fire pits are also available in beautiful designs.
They come in different materials which include glass, faux wood, and rock pebbles.
Since propane contains a skunky odor, it will be easier to notice a leak.
No clean up is required and it can also be turned on or off easily for instant heat.
The big disadvantage of a propane fire pit is that the propane tank must be stored somewhere and connected to the fire pit with a hose. It can be difficult to hide the propane tank in a convenient and nearby location.
Wood Burning Tabletop Fire Pits:
A wood-burning type is more or less like having a campfire in your backyard.
Every crackle of wood provides warmth while ensuring that the fire is completely contained.
There are some wood tabletop fire pits that are specifically designed for cooking and grilling.
Wood is usually cheaper compared to other fuels, making the tabletop fireplace affordable to use.
It can be used for both cooking and heating.
Gel Fuel Tabletop Fire Pits:
This can be a good option if you want a small fire pit in your backyard.
The best thing about gel-fueled fire pits is that the gel fuel burns without producing smoke or scent.
Thanks to its versatile nature, it can also be moved out or indoors.
It can create an attractive appearance on your patio table.
Gel fueled mini tabletop fire pits are beautiful to sit around, and they do not produce smoke, ashes, or soot.
They, however, produce less heat compared to other types of fire pits and will require frequent refills.
Ethanol Fire Pits:
Ethanol is known to be a clean-burning biofuel, which means that ethanol fire pits are bio-friendly.
Besides, it does not produce air pollutants or smells.
Ethanol gel can especially be a good option for a tabletop fire pit and can even be used inside in the house on a coffee table or living room.
The gel is available in bottles which can be poured into the fuel reservoir of the fire pit.
Ethanol tabletop pits burn cleanly, are renewable, efficient, and eco-friendly.
However, buying fuel refills may be expensive, and the flames can easily be blown by the wind.
Frequently Asked Questions:
Final Verdict!
When it comes to purchasing the best tabletop fire pit, the most important factors to consider include the price, quality, design, and durability.
Based on the reviews, our top two picks are:
We loved the simple design and convenient nature of the Landscape Quality Tabletop Fire Bowl Made of Concrete with a 50,000 BTU Stainless Steel Burner.
This qualifies it as a must-have for those who want a top-quality propane fire pit and still save some cash.
The mini tabletop fire bowl is also durable, cheap and the compact design increases its efficiency.
Our second best; Terra Flame OD-TT-WAV-BGE-03N Fire Bowl is the best portable fire pit for you due to its easy setup, odor-free flame, and beautiful design.
Besides being of high quality, it is also very affordable and compliments any type of patio furniture you already have.