After reviewing dozens of electric fireplaces, we've identified the 21 best electric fireplaces of each major style:
Wall Mounted, TV Stands, Stove/Heaters, Inserts, Log Sets, and Freestanding Mantels.
Of the 21 electric fireplaces, we then selected our top choice for each category,
---
QUICK PICKS: Our Top Picks In Each Category
Best Wall Mounted/Recessed – Sideline Elite Smart Electric Fireplace by Touchstone
Best Electric Fireplace Heater – Infrared Electric Fireplace Stove by Duraflame
Best Fireplace Tv Stand – The Liberty Electric Fireplace Tv Stand by RealCozy
Best Electric Fireplace Insert – Western Electric Fireplace Insert by PuraFlame
Best Freestanding Electric Fireplace – Featherson Electric Fireplace and Mantel Package by Dimplex
Best Electric Fireplace Log Insert – Electric Log Set Heater by DuraFlame
Best Portable Electric Fireplace – Golden Vantage Portable Electric Fireplace Heater
---
All of these options are well designed and built by reputable brands and manufacturers such as Touchstone, Duraflame, Puraflame, Ameriwood, and MagikFlame.
21 Best Electric Fireplaces in 2022
Before you make your decision on which electric fireplace to buy, make sure you know the 3 most common mistakes that first-time buyers make.
Avoiding these mistakes will save you lots of time and money.
Mistake #1: Buying the Wrong Type of Electric Fireplace
There are 2 major types of electric fireplaces: inserts and freestanding/wall mounted fireplaces.
(We will cover the other types of electric fireplaces in the FAQ section at the end of the article.)
Electric fireplace inserts
go inside your wall as a built-in.
It typically replaces an existing fireplace where there is already a predefined space carved into the wall.
It is a common project to replace an existing, traditional wood-burning fireplace with an electric fireplace insert.
A freestanding electric fireplace is a unit that you place on the floor, typically against a wall or in a corner.
They do not go inside a wall and they are easily moved from place to place similar to a space heater.
The costly mistake lots of new buyers make is to buy an insert when what they really needed was a freestanding unit. Or vice versa.
If you want an electric fireplace to stand on its own like a space heater, buy a freestanding unit.
If you want an electric fireplace to be built into a wall, buy an insert.
Look carefully at the product listing to determine if it's an insert or a freestanding unit. It usually will be obvious, but there will be some larger units that look like inserts but are not.
Electric fireplace TV stands are examples of these.
Look at the below quick reference chart of our picks for 2022's best electric fireplaces before we cover the 2 other mistakes.
You will see that there are many different types of electric fireplaces on this list.
It includes inserts and freestanding units to wall mounts, TV stands, and even log inserts.
Now that you are more aware of what type of electric fireplace you need, you are in a better position to select the right fireplace.
Mistake #2: Buying An Electric Fireplace That Doesn't Fully Warm Up Your Room
The most common complaint about electric fireplaces is that they don't fully heat up the room.
Imagine the frustration!
You've spent all this time researching and picking out the right fireplace only to realize that there's not enough heat. And now you need to buy an extra space heater to keep warm.
Why does this happen?
This happens because of two reasons:
Most buyers either don't know how much heat output they need for their room or
They fail to buy an electric fireplace that is as powerful as they need.
To avoid this costly mistake, do these two things:
Measure and know the size of your room you want to install the fireplace in.
Is it 500 square feet? 1000 square feet?
Buy an electric fireplace that can warm up more than the size of the room if possible.
So if your room is 500 square feet, buy an electric fireplace that is rated to warm up to 1000 square feet.
It is always better to have your unit put out too much heat and let it run on 50% or 75% heat output versus running on 100% and not being warm enough.
Each electric fireplace you look at will have a heat output rating measured in BTUs (British Thermal Unit).
It will typically translate that into square feet. But remember, overcompensate and get a fireplace that outputs more BTUs than you need.
Mistake #3: Buying an Electric Fireplace Insert That Doesn't Fit
This mistake is a common one for buyers of electric fireplace inserts.
You need to know the exact dimensions of the space in the wall that the fireplace will fill.
Buying one only to find out that it is too small or too big will give you a migraine. Measure the width, depth, length at least twice.
Pay attention to the dimensions of the electric fireplace insert that you are looking to buy.
It needs to match.
Another thing to be aware of is the size of the fireplace mantel.
You will want a mantel that is proportionate to the size of the fireplace and the room.
It is common for buyers to buy the right size fireplace insert, but the mantel may look too big and awkward for the room.
Here's a tip:
Outline the area on the wall that the fireplace and mantel will take up with blue tape so that you can better visualize the future fireplace.
Do this for each model you are considering, take a photo and compare it to see which one fits the best.
Now that we've reviewed the 3 most costly mistakes, let's get to the in-depth reviews.
---
21 Best Electric Fireplace Reviews
---
Features we love:
Ships immediately
Variety of size from 42″ to 100″ inches wide
Wi-Fi enabled and can be turned ON/OFF with Alexa or Google Home
Can be built into wall OR mounted on a wall
Plugged in or hardwired
Two heat settings (750W/1500W) with a thermostat (68-88°F) or constant ON
Flame works with or without heat for year-round use
6 flame color options and 10 media bed color options
Includes log set, crystals, and driftwood.
Remote control for heat and flame setting (batteries not included)
Built-in timer mode for shut off up to 8 hrs
Price: from $819
The Touchstone sideline elite wall mounted electric fireplace is our favorite all around option on this list. The level of quality for the price coupled with the endless array of features, makes this fireplace perfect for luxury fireplace seekers as well as value seekers.
This fireplace has great reviews and can easily be wall mounted or placed into a recessed wall cut out. The Alexa and Google Home compatibility make it a breeze to turn on and off without the use of a remote control .
This fireplace has a realistic flame and allows you to choose from a variety of different flame styles and colors, as well as choose from a variety of inserts that are sent with the fireplace (logs, crystals, driftwood).
The fireplace has a built in thermostat that you can set from 68-88 degrees and can easily heat rooms of 400 sq.ft.+.
If you are looking for a great all around wall mounted electric fireplace that will look amazing on your wall but that won't break the bank, then this option is a great choice for you.
---
What we love:
Portable and free-standing
Easy installation
Industry leading heat. Heats 1000 sq.ft. room
Auto-safety shut off
Realistic flame
Sturdy and well made
Digital thermostat for maintaining temperatures in a room
The Duraflame DFI-5010-01 Infrared Quartz Fireplace Stove Heater is a great addition to any room. It is portable, convenient, and ideal for homes with children and pets.
The infrared heat helps in maintaining the natural humidity in your room, supplying comfortable heat without drying the air.
Easily move whenever you like and get the comfortable warmth for a relaxing rest and sleep.
With the realistic 3D flame effect, the Duraflame DFI-5010-01 is a nice addition to every living space.
The flames are found in front, behind, and in between the logs, creating a layered look that simulates a real fireplace without the stress and hassle of cleaning ashes and dirt.
It has five adjustable brightness settings for the flame's customized look to match your weather, home décor, and your mood.
The Duraflame DFI-5010-01 also provides peace of mind with its safety features. It is equipped with a Safer-Plug built-in thermometer that is currently patent-pending, used for monitoring plug temperature.
If the plug temperature increases and reaches above the safe level, it will automatically shut off to prevent overheating and the risk of fire.
With infrared technology, the heat produced by this fireplace stove is instant with a wide zone heating coverage of up to 1,000 square feet.
Now, you can create a healthier environment for your home through infrared heat because the heat is gentle, thus maintaining the air's natural humidity without drying out.
In addition, infrared heating can also reduce static electricity.
You can operate the flame effect with an ember bed and glowing log with or without the presence of heat so you can experience a comfortable and gentle rolling fire ambiance all throughout the year.
It is durable with its structurally solid construction utilizing metal housing and beveled glass. The plastic legs are well secured with screws and are also very sturdy.
When it comes to heating, the Duraflame DFI-5010-01 Infrared Quartz Fireplace Stove Heater can be a very good investment.
It has a reasonable price given its features and benefits.
---
What we love:
Comes fully assembled! (zero tools or set up required).
Handcrafted in the USA.
Heats 1000 sq ft room.
Customizable flame.
PRICE: From $1499
If you are looking for a quality fireplace stand that you don't have to assemble and that won't break down and fall apart over time, then this is a great option for you.
RealCozy handcrafts all of their tv stands here in the USA and offers free returns within 30 days, incase you decide you don't like it.
Their tv stands come with an adjustable flame setting and are able to heat rooms up to 1000 sq.ft. meaning they can serve a variety of functions.
You can also choose from 2 different sizes and multiple finishes to match your decor snd style. Waycozy also offers a whole line of different products incase the Liberty isn't your exact style.
---
What we love:
Realistic flame
Affordably priced
Raving reviews
3 flame settings
Heats 400 sq.ft.
This product provides heat and gives you comfort efficiently. Additionally, users applauded how the product is easy to use and install.
This product heats best on rooms with areas of 400 square feet.
Despite the increasing market competition for LED-based fireplaces, the following are the reasons why you should choose PuraFlame 30″ Electric Fireplace Insert;
Multi Functioned Remote Control:
It incorporates a remote control that could be used on switching on and off, temperature adjustments, and manipulating flame intensity and brightness.
Easy to Install and Uninstall:
This new product gives you convenience upon assembling and disassembling it in less time and effort than even first-timers could manage on getting it directly.
Also, it consists of a procedure manual that is simple to read and follow.
The flames that mimic a realistic fire could be altered to three different intensity and brightness variations that you could choose the way your mood desires to.
This new technology heats an entire room efficiently and, at the same time, consumes less energy.
Sophisticated Design and Structure:
It is framed out with a rectangular three-sided brick wall design that is embellished through realistic logs and ember beds that brings out the ultimate fireplace experience that you'll never have.
---
What we love:
Comes with 28″ XHD Series Electric Firebox
Glowing Logs included
Easy installation.
Natural Stone Finish
Plugs into a standard household outlet.
Multi-Fire XHD™ Flame Effect – high-contrast flames feature improved brightness and character for a dazzling, lifelike effect
Use with or without the heater
Adjust the speed of the flam
Adjust the interior lights within the firebox
Thermostat from 62 to 78 ℉
Sleep Timer from 30 mins to 8 hours
PRICE: From $2093
The Featherston mantel will impart the relaxed mood of a mountain lodge to any room you choose. The warmth of wood accents in the recessed header and mantel brackets serve as a rustic complement to the crisp architectural ledge rock theme.
This mantel comes with a 28″ firebox with glowing logs. The firebox is capable of producing 5,118 BTUs of heat and can heat up a room up to 1,000 square feet.
Turn off the heat during the summer and enjoy the flame display and ambiance all-year-round!
---
6. Touchstone 80001 Onyx Wall Hanging Electric Fireplace – Best Budget Friendly Electric Fireplace
What we love:
Wall mount installation. Includes wall-mount brackets
Realistic flames
2 heat settings (high and low)
Dual mode, operates with or without heat for only flame effect
Built-in timer mode for shut off in 30 minutes to 7.5 hours
Log set and crystals included
Remote control for heat and flame setting
Achieve elegance, sophistication, and comfort through Touchstone 80001 Onyx Wall Hanging Electric Fireplace, and make a statement with strong design in your living room, bedroom, family room, or office.
You'll surely love the warmth and comfort it brings through its fast heating temperature settings and realistic-looking flames. When it comes to functionality, this unit won't let you down.
Touchstone Onyx Wall is a recessed wall-mounted electric fireplace that measures 50 inches, offering lifelike flames that are set on a crystal heart or a pile of faux logs. Both options are available in the box regardless of your choice, lying behind a contemporary black frame with durable tempered glass.
It provides a cozy and appealing atmosphere of an authentic fireplace. You can heat your living room, bedroom, or office up to 400 square feet, allowing you to control the warmth produced through the low and high heat settings.
You can adjust the flames of Touchstone 80001 Onyx Wall Hanging Electric Fireplace depending on your preferred luminosity with its 5-flame brightness setting, ranging from a dull ember glow up to full blazing light. This electric fireplace can match any home décor and you can use it all year round.
You can operate this unit with or without heat with its dual-mode feature. It has an auto-shutoff feature and built-in timer to be set from 30 minutes up to 7.5 hours.
You can save on the costs of the heating coil and natural gas because this fireplace adopts the LED technology, requiring less energy when heating a room. It is safe both for children and pets because LED bulbs are mercury-free and cool to touch.
Now, you can enjoy a simple and hassle-free installation with the use of step-by-step user instructions provided. The unit also comes with an easily mountable wall bracket.
---
Now you can enjoy pure comfort and great ambiance with Comfort Smart Jackson Infrared Electric Fireplace Stove Heater.
It has a beautiful design that features a durable and large body metal construction, creating a unique look in any room.
It is efficient and neat-looking with linear details and a classic design.
The flame effects are dazzling, flickering from the log set that creates an illusion of real wood with burning fire.
When it comes to the design, this unit has a combination of a modern and classic look.
It measured 24" W x 24.75" H x 14" D and weighs 31 pounds. It can match any interior of any room for a stunning look, giving off the comfortable warmth you need most especially during very cold winter days.
Viewing the realistic flame can be very relaxing and also uplifting depending on your mood and settings preference.
Set the right atmosphere in your room with a Comfort Smart Jackson Electric Fireplace Heater all year round.
Now, you can experience a true-to-life or real burnt wood appearance because the ember bed and charred logs are molded using the real thing.
The Comfort Smart Jackson Electric Fireplace Stove Heater is top-mounted with 4,800 BTUs which can warm your room up to 1,000 square feet.
Comfort Smart CS-25IR-CRM powered by 1500 watts for superior performance.
There's nothing better than experiencing warmth and comfort inside your home or office without the stress and hassle of dealing with real ashes and wood.
In addition to convenience, a user-friendly remote control allows you to adjust the temperature thermostat, flame brightness, and an on and off-timer.
The manual controls offer similar functionality located behind the stove door.
Enjoy the inviting and relaxing atmosphere in your living room or bedroom brought about by Comfort Smart Jackson CS-25IR-CRM.
Whether you are watching TV, reading a book or newspaper, listening to your favorite music, or dining with the whole family, this electric fireplace heater can make your bonding time more meaningful and comfortable, most especially during freezing cold days.
Given its price point, the Comfort Smart Jackson Electric Fireplace Stove Heater is a very good investment. Expect that its great durability and the best performance will last for many years.
No need to worry about dealing with the mess and risks of a traditional fireplace because you can have peace of mind using Comfort Smart Jackson with the real-like flame and heat it provides.
---
What we love:
Wall Mounted Installation
3-Sided design with modern mantel
5 flame brightness and color settings
Two heat settings (750W/1500W)
Safe to install under a TV and electronics
Mounting brackets included
Price: $999
The Touchstone Chestmont is a modern wall mounted fireplace that features a three-sided mantel, realistic 3D flames, multiple heat settings, and simple installation. Touchstone Chestmont is available in crisp white or modern black colors and will definitely add elegance, ambiance, and warmth to your home.
This 50″ wide electric fireplace can be mounted on the wall of your bedroom, family room, or anywhere in your home to offer the aesthetic appeal of a finely crafted fireplace without the troubles and stress of actual fire.
The Chesmont offers 5 flame brightness settings ranging from a dull ember glow to a full blaze and 3 color-changing options (orange, blue, and blue-orange). The Chesmont's flames are so realistic, your electric fireplace will be mistaken for a real gas fireplace!
Touchstone Chestmont electric fireplace comes with a combination of decorative driftwood and glass crystals. The tempered glass box offers a three-sided view of the beautiful decorative media and the flames. All fireplace settings are adjustable with the included remote control or manually on the touchpad on the face of the fireplace.
Offering both a high and low heat setting, you can quickly add heat to a room up to 400 sq. ft. It is designed to warm up an area on a cool evening, or bring the temperature of a room up a few degrees. The built-in timer can be used to time the fireplaces heat duration for up to 7.5 hours.
Mounting this fireplace to your wall is so simple that one person can get the job done. It is safe to install under artwork, TV, and electronics because of its front heating vent.
---
Looking for a fireplace that screams quality and class for your home or office and serves as a good conversation piece?
Then the Golden Vantage 32 inch fireplace may be a unit just for you.
With the Golden Vantage fireplace, you will enjoy the warmth and relaxation you have always wanted.
It is created from very strong steel and tempered glass hence making it a perfect addition to your home decor.
If you are environmentally couscous, this fireplace will not disappoint.
Why is this? This is because it does not require coal, wood, or even gas to burn but instead, it runs off of electricity.
With the Golden Vantage, you don't have to worry anymore about safety and health hazards such as splitting logs, creosote buildup, and carbon monoxide.
These units are reliable and functional and can pump out 750w / 1500 W at a simple touch of a button.
You can find the user controls at the very top of the box thus allowing for a myriad of features.
The Golden Vantage is dimmable and is capable of running even without the heating element.
It produces dancing flames and realistic logs that simulate a real fire to decorate the middle unit.
It also features an overheating safety cutoff that protects your children and loved ones.
---
What we love:
Affordably priced
Heats rooms up to 400 sq.ft.
Remote control operated
Highly reviewed
Give your home an attractive rustic makeover with the Ameriwood Home Farmington Electric Fireplace TV Console and its ultimate bedroom furniture collection.
The farmhouse-style design from Farmington highlights the rustic undertones you would see in an old barn or reclaimed piece of furniture.
The electric fireplace adds to the rustic look of your home and is sure to catch the attention of your guests as well as keep your family cozy year round.
You also have the option to combine the tv stand with the matching Farmington coffee table or side table to complete the look.
The farmington tv stand can hold up to a 60 inch flat panel TV and can hold up to 135 pounds.
The console also comes with a 23 inches electric fireplace insert, allowing for you to set the perfect room temperature, featuring LED lights and a remote control for convenient use.
---
What we love:
Fancy Pedestal Base
Luxurious Solid Hardwood Decorative Side Columns
Convenient Hidden Compartment for Media Components
Up to 5,000 BTU's
1,500 Watts
Adjustable Flame and Ember Light Control
Can be Plugged In or Hardwired 120V
Price: $1,219
Offering a distinct mantel option, the Braxton has a modest footprint while housing the largest electric firebox in the Cinema™ family at 29 inches. The Braxton electric fireplace mantel package by Napoleon has solid hardwood decorative side columns that hold a black granite styled surround around the impressive 29" wide Cinema™ fireplace. A hidden compartment allows you to hide any possessions within or use it to hold electronic media components with the wire management system found inside.
---
The Hamilton freestanding electric stove delivers a dancing flame and a classic front in one small package.
You do not have to worry much about the expensive fuels, messy ashes produced by a real wood [FFFFF] stove as well as the chimney fires.
With the Hamilton electric stove, all you have to do is just place it anywhere of your liking then connect it to any of your standard household outlets.
For this reason, it can be used in family rooms, sunrooms, or anywhere of your choice to add some extra heat.
It comes equipped with a very powerful and strong fan-forced heater.
This allows you to reduce your central oven temperature thus cutting down on your heating cost.
This electric fireplace is enhanced by a white finish and its traditional style.
You will love Hamilton's powerful and strong heater on cold nights because it can warm up to four hundred (400) square feet and still stay cool to touch, thus keeping your pets and children safe.
This stove can also be without a heater for enjoying all year-round.
This compact stove is capable of giving you the ambiance and traditional stove warmth on a small scale.
Its 3D effect gives the fire its dancing flames and depth.
---
What we love:
Versatile mounting: 1,2 or 3 sided mounting options
44″-96″ Wide options
Heats up to a 800 sq.ft. room
Connects to WIFI for Alexa or Google Home control options
Realistic flames
Variety of customizable inserts
Variety of flame and color options controlled by the remote.
Price: From $2379
The Modern Flames Landscape Pro Multi is a versatile electric fireplace, with state of the art technology, that can be installed in 12 different ways. Fully controllable with its remote, Wi-Fi APP and Smart Home. Yes, you can ask Alexa to turn on the fireplace! Available in 5 sizes, this impressive multifaceted fireplace is great for any room in your home.
This high-tech electric fireplace can certainly meet your custom build's needs. It can be configured as a single-sided, left corner, right corner, or 3-sided bay fireplace for wall-mount, 2 x 4 partial or fully built-in clean face wall installations. You can even install it in a cabinet if you wish. Its versatility is what makes this smart fireplace great for any build.
What makes this fireplace even more remarkable is its heat output. By connecting an optional secondary line, it is capable of providing up to 10,000 BTUs of heat, a lot higher than most electric fireplaces. Enough to provide ample heat for any room of approximately 800 sq.ft.
Landscape Pro Multi features a beautiful light display with multi-colored flames, ember bed, and downlight. Its display is enhanced further with decorative media – a hand-painted canyon driftwood log set, clear acrylic stones, and black smoke acrylic crystals are included with the fireplace.
Have full control of your fireplace's full spectrum of colors and heat by using the remote control that comes with this fireplace. More control options are available using the Modern Flames WiFi App with Smart Home Capabilities. Just sit back and relax while enjoying the view of the display. Wireless Thermostat and Full Wall Control is an optional add on, select before checking out.
Modern Flames Landscape Pro Multi is available in five sizes, 44″, 56″, 68″, 80″, and 96″ which makes it perfect for rooms of different sizes. Its potential high heat output coupled with advanced control options makes this electric fireplace an excellent choice for any modern home or commercial space.
---
Are you looking for a great fireplace to provide you with the warmth and feel of a real fireplace yet it doesn't require any special electrical tools to install it?
Well, the Dimplex DFI2309 Electric Fireplace Insert is your perfect choice.
Why is that? This is because all you have to do is just unpack it and simply plug the fireplace insert into a standard household outlet.
This fireplace insert is an excellent idea if you have an existing fireplace that you are under-utilizing.
The Dimplex DF12309 insert comes with only one flame setting, and there are no different light levels or effects, meaning that setting a mood is one-dimensional.
You will enjoy the flame effects produced by the included motor and two 60 watt bulbs.
The quiet inbuilt fan-forced heater evenly heats up to 400 square feet of room space and also turns on the two 60 bulbs to create an amazing fire glow even when the heater is off.
The heater features two heat settings: high/ low, three switches: heat.
On/off and high/low switch and remote control that enables you to control only the on/ off function.
This insert fits perfectly into your existing fireplace or the Dimplex Expandable Trim Kit and provides the beautiful look and feel of a real fire without the smoke, soot, and any danger associated with a real flame.
If you are environmentally conscious, you will love this Dimplex DFI2309 fireplace insert since it runs on electricity, meaning that it is combustion-free hence doesn't release harmful gases like carbon monoxide that pollute the environment and better yet, its glass is cool to the touch hence your pets and children can play around it without having to worry about fire-related accidents.
If you have a small fireplace that cannot accommodate large wooden logs or you simply don't want the hassle of building, cleaning, or tending a fireplace, the Dimplex DFI2309 insert is recommended to you.
---
What we love:
Comes fully assembled! (zero tools or set up required).
Handcrafted in the USA.
Heats 1000 sq ft room.
Customizable flame.
Multiple stains available
PRICE: From $1499
The Barnwood style of the Napa electric fireplace tv stand is classic yet unique. It goes with a variety of different decor styles and is sure make a statement in any room
The console comes fully assembled and is handcrafted in the USA. This is a furniture piece that will last for years to come and one that you will not have to constantly replace every few years.
With a realistic flame and the ability to heat rooms up to 1000 sq.ft. this piece will not only look soothing but will keep you and your family cozy and warm all season long.
You can choose between 2 different sizes to fit into a variety of rooms or to fit a variety of different television sizes.
---
What we love:
Available in a variety of sizes
Shallow 8.5″ depth for recess wall mounting
Fire crackling sounds
Remote control operation
This is a great option for getting a traditional style fireplace into any wall in your home. The 8.5″ depth is much thinner than a traditional fireplace insert.
The fireplace comes with 2 different heat settings and a variety of different flame styles and colors to meet your decor and ambiance needs. This fireplace comes at a very affordable price for the quality and is a product that will last for years to come.
This fireplace also comes with a built in optional crackling noise to give the ambiance of a real fireplace. It is offered in a variety of different sizes to meet your specific needs.
---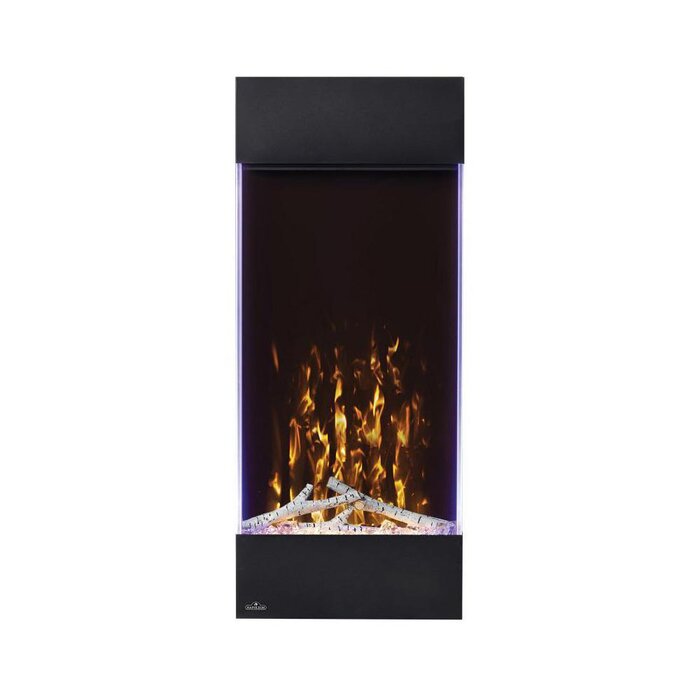 What we love:
Slim vertical design
Simple to wall mount
32 or 38 inch options
Realistic flame
Clean look with no vents
Price: $439
Create a stunning focal point in any room with Napoleon Allure Vertical Electric Fireplace. The narrow vertical design (only 16″ wide) of this wall-mounted fireplace makes it a perfect fit for rooms with little wall space. Available in heights: 32″ and 38″ high.
You will love the tall flame of this vertical fireplace and the glass sides that allow viewing the flames from more angles.
Napoleon Allure™ Vertical is designed to be hung on a wall and can be simply plugged into a standard electrical outlet. With wall mount installation it will only stick out 5 5/8″. You can also partially recess it into a wall for a more clean look and even hardwire it in.
Napoleon Allure™ Vertical has a clean face design without any grills, thanks to the hidden vent and angled glass that allows heat to be efficiently moved out into the room. As with all electric fireplaces, the flame works with or without heat so that you can enjoy this gorgeous decor piece all year round no matter the season
---
What we love:
Wall mount OR Recessed installation
Realistic flames
2 heat settings (high and low)
Dual mode, operates with or without heat for only flame effect
Wall mounting brackets included
Remote control for heat and flame setting
Price: $329
The Touchstone Ivory Wall Mounted Electric Fireplace is a beautiful 50″ wide modern fireplace with realistic flames and a contemporary white frame that will make a strong design statement in your living room, family room or any room in your home.
The Ivory is designed to mounted on your wall, but it can be recessed by disabling the heating feature. Flick the switch behind the unit to disable the heater. If it is to be installed beneath a TV, we recommend mounting your TV at least 24 inches above the top of the fireplace unit.
This modern fireplace delivers the beauty of a fireplace without the fire and smokey smell. It features realistic flames with 5 flame settings. The Ivory has 2 heat settings (high and low) and will heat a room up to 400 sq. ft. A handheld remote control is included so you can adjust settings with a click of a button.
---
The Duraflame is designed to be placed into an existing fireplace. Relax while watching its dancing flames project onto the back of your existing fireplace.
It features a rolling, pulsating flame effect that works whether the heat is on or not, and also an ember bed and realistic log set that sits in an Antique Bronze finish fire grate.
This heater is a great supplier of supplemental zone heats up to 400 sq. feet.
The DFI021ARU electric log set heater allows you to have great control over your heat distribution in your home.
You can keep in check the energy and savings of the zone heating by ensuring that you only warm the room you are in. This in turn lowers your monthly energy bills.
You require no vents or hookups rather, simply plug the heater in.
Included is a remote control that lets you control the log set from any place in the room.
With its thermostat, the heater auto turns off when overheating is detected.
Moreover, the Duraflame comes fully assembled and ready to heat and also includes a simple easy to follow manual.
---
The Artemis electric fireplace by MagikFlame is an awe-inspiring glimpse into the future of electric fireplaces.
Its elegance is rivaled only by its charismatic charm and gorgeous flame effects.
We never thought we would test an electric fireplace that is indistinguishable from the real thing but the 28" HoloFlame comes really close…
Key Features of the Artemis Electric Fireplace:
The Magikflame HoloFlame has the most realistic flames of any electric fireplace we've ever tested.
This comes down to the technology they use that works like no other electric fireplace.
While other fireplaces on the market use a mechanical effect to create their fire effects, the HoloFlame uses actual videos of real fires and their own proprietary technology to project those flames onto physical logs making them appear to actually burn!
A great visual fire is incomplete without sound. MagikFlame has sampled the sounds of real wood-burning fireplaces and applied them to all of their flame effects.
Thus, their flames not only look like the real thing but also sounds like the real thing as well. Most other electric fireplace manufacturers don't offer sound with their fireplaces but MagikFlame offers 26 different flames all with high-quality sounds.
We could write an entire article on just the features of the MagikFlame HoloFlame since there are so many.
First and foremost is the built-in backlit touch screen that can be used as a smartphone.
It can be used in a dark room or in dim lighting to easily control the fireplace.
The fireplace can also be controlled by a smartphone app with your iPhone or an Android. Rejoice in the fact that you can now use your favorite device to control your HoloFlame fireplace.
Great visuals and features are nothing if it can't warm you on a cold chilly night.
The MagikFlame HoloFlame features a 4,600 BTU infrared quartz heater that can take the chill out of your bones on cold winter nights.
It's a variable built-in thermostat that allows you to set the temperature and forget it keeping you warm all night.
If you can afford the nearly $3,000 price tag for the HoloFlame by Magikflame you're getting the best electric fireplace money can buy [read the full review here].
We've never seen flames more realistic than we have on this fireplace because of their amazing HoloFlame technology.
The features on this fireplace are absolutely second to none with voice control coming soon in 2018.
This company is constantly pushing the limits of what's possible with electric fireplaces and we love their innovation.
We've never tested an electric fireplace here at fireplacelabs.com that looks and sounds absolutely amazing as a MagikFlame HoloFlame electric fireplace.
---
The Real Flame Calise is a refined, multifunctional electric fireplace tv stand that comes in a detailed design, quality construction, and provides ample media storage.
This fireplace is a great addition to your bedroom or even living room to bring the warmth of a gel fireplace and great experiences.
It is capable of supporting 50 inches in diagonal width TVs all the way up to 100 pounds.
This fireplace adds a distinctive, warm flair to your room setup.
The multiple shelves that surround the firebox can hold books, A/V equipment, and any other item you wish to display or store.
Real Flame Calie has realistic flames that offer the ambiance of a real fireplace without the hassle of upkeep or the toxic smoke.
It features a vivid Flame Firebox that emits up to 4700 BTUs/ hour.
The in-built thermostat and the variable heat settings allow you to enjoy the perfect amount of heat just when you need to.
With its elegant craftwork and the real flame's attention, the Calise is sure to catch attention from both family and friends.
The enclosure is integrated with a multi-level surface and dual cabinets with glass doors. As a result, the fireplace makes an elusive and bold statement in your room.
The Calie Electric fireplace emits enough power to cover 144 square feet thus allowing you to feel enwrapped in its warmth.
The Carlie's fireplace heater is perfect for creating warmth, ambiance, and storage of all your media items in a convenient design.
It is made of wood and veneered MDF that combines beauty and durability thus ensuring that your fireplace stays beautiful for a long period of time.
Since it's a freestanding electric fireplace, it doesn't require any permanent installation or mounting.
You simply plug it in and you are good to go.
---
Related Top 15 Electric Fireplace Insert 2018: Reviews and Comparison
Also Read: Best Fire Pit 2022 – Top 10 Fire Pit Reviews and Guide
[/box]
Electric Fireplace Inserts:
Do you still have the traditional fireplace in your home?
It is time to let go off of the actual burning wood which is too smoky and messy.
Electric inserts are a quick and practical solution for you.
Just as the name suggests, this fireplace can be inserted into your existing traditional fireplace.
They are capable of transforming your wood-burning fireplace into an effective, efficient, and attractive electric fireplace.
You can easily handle and maintain these inserts thus they are a perfect match for people who don't use their traditional fireplace yet want to enjoy the cozy ambiance produced.
There are 2 categories of electric inserts. If you are looking for the simplest and the cheapest option of an electric fireplace, the free-standing electric fireplace log insert is what you should go for.
With this electric insert, you simply insert it in your traditional fireplace where you once kept your wood logs.
It looks like real wood with glowing embers but still remains cool enough to the touch when operating. For more realistic flames, the electric firebox insert is the best choice.
This can act as a good replacement for your former fireplace since its installation is done in space.
However, inbuilt inserts are more expensive and often require a contracted expert to install them.
Mantel Electric Fireplaces:
These electric fireplaces come in a design similar to a real wood-burning fireplace.
They come with no requirements for their installation hence can be easily integrated with any room.
You simply plug it in then turn it on. They come with a frame that makes them perfect for offices, or small apartments and houses.
The mantel electric fireplaces are self-contained and are a great addition to any room.
Their prices range quite a bit and depending on your size and aesthetic preference, you can get one for a few hundred dollars although some luxurious high-end models can run well over a thousand dollars.
Wall Mount Fireplaces:
The wall mount fireplaces are becoming so popular in apartments, lobbies, and condors for the quality decorative they add to these rooms.
There are 2 types of wall mount electric fireplaces: models recessed into your wall and those mounted to your wall.
Installing fireplaces that are mounted on your wall is simple although some of the users prefer their fireplaces built in a wall.
The wall mounts are more portable compared to other fireplaces and they also consume less floor space.
The wall mount fireplaces will not require a professional installation thus saving you on extra expenses.
They vary in their prices with some priced at a couple of hundred dollars but the majority come at a higher cost.
Instructions on how to hang the fireplaces vary from model to model although this shouldn't be a difficult task.
Electric Fireplace TV Stands:
You may agree with me that there is nothing more difficult than trying to add a new item to your room while ensuring it matches well with the existing items.
The task becomes even more difficult if you need to ensure that everything in your room is functional and stays in its place.
So why don't you choose an electric fireplace that can multitask?
Electric TV stands have a design similar to wall fireplaces and they are built with high-quality materials that make them durable.
Not only do they come in plenty of colors and styles to match your home decor, but they also include ample storage space for all your entertainment and media selections.
Just like all other fireplaces, the price will range from a couple to 100 dollars to 1000 dollars depending on the size, style, and material that you are looking for.
Related: Best Patio Heater 2022 – Top 10 Reviews and Buyer Guide
4. What Factors Should I Consider When Choosing the Best Electric Fireplace for My Home or Office?
When it's time for you to buy an electric fireplace for your room, you will come across a wide variety of brands and models with each having a different size, shape, and aesthetic style from the other.
Therefore, it is of importance to consider the following guide to help you in your decision-making.
Size:
The size of an electric fireplace influences how much heat it produces, the cost, and where it can be placed.
The larger the fireplace the more space it occupies and the more the amount of heat it produces than a small one.
It is important to have the exact measurement of the space you are intending to install the fireplace in order to ensure that your purchase fits in that space.
If you are looking for a model that allows you to move it from place to place, the portable one is a perfect match since it can plug into any standard outlet easily.
Location:
Many electric fireplaces are designed with the placement area in mind.
For example, some are specifically made to fit perfectly into a corner, onto a wall while most are designed to fit well into standard sizes for traditional fireplaces.
Therefore, when choosing a model that best suits your needs (size, look, shape, and features) location will come in handy.
If you want an electric fireplace that will be centered in your living room, a mantle would probably be the best fit for you because you can place decorative items or pictures on it.
For your dining room or bedroom, you would probably want to consider a sleek model that takes up less space like attractive and beautiful wall-mounted fireplaces.
Additionally, a TV stand fireplace would do great for anyone who likes an appliance that is multi-purpose (used as both entertainment and a heater).
Cost:
Different electric fireplace models come at different prices.
Depending on what you are looking for you can get one for as low as a couple of 100 bucks or over 1000 dollars.
For the in-built or some classy wall mount mantle, the cost is high.
Cost is determined by a number of varieties such as the type, shape, size, and number of functions and features included for each unit.
Generally, if you want an electric fireplace that is permanently built into your room, has a perfect look, and is made of the highest quality materials, then digging deeper into your pockets is unavoidable, but in the end, it is worth it.
But if you are just looking for something simple enough and functional, you can find such models at a lower price and still get to satisfy you.
Aesthetic:
Have you ever seen an item on display, walked past it but its resisting beautiful and attractive design made you go back to take a closer look?
This is what I am talking about when I mention aesthetics.
The main purpose of an electric fireplace is to provide you with warmth in the cold nights and chilly winters, but the big question comes in, is that all you would want?
Of course not. No one wants to wake up to a boring-looking electric fireplace every morning.
For this reason, do not shop for functionality over style but instead, let the 2 complements each other.
Look for a model that is eye soothing, produces realistic flames, and puts off a pleasant glow.
If you want a wall mount, mantle, or media console fireplace, then choose the right look that blends perfectly with your home décor.
Add some beauty to your room and smile as you go about your day-to-day life.
Features and Specifications:
Digital setting - These make it easy for you to set your electric fireplace at any temperature depending on your mood.
Lighting settings - Just like an actual fireplace, your electric fireplace should not always stay at the same lighting. While some models allow you to control your lighting levels, others also give you an opportunity to change the flame color. So, it all depends on your budget, aesthetic, and style preference.
Remote control - If you don't like been bothered while resting, consider an electric fireplace that has a remote control. With the remote, you can turn it off without leaving your bed and couch.
Programmable thermostat - Make your task easy by buying an electric fireplace that you can set to automatically turn on or shut off at particular times.
[/box]
5. Which Electric Fireplace Will Be Best For Me?
I just can't get enough of the look and simulated flames of my Touchstone Onyx 50" Electric Wall Mounted Fireplace.
The Touchstone will surely exceed your expectations and I must admit that this is one of the best additions to my room this year.
Are still wondering why I am just talking positively about this heater?
Let me answer you based on my experience with it.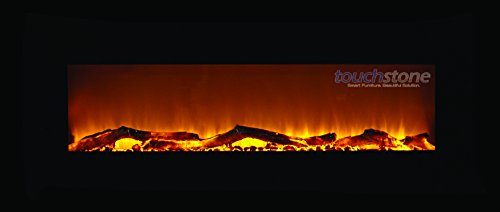 When I first purchased this heater, although the mounting bracket holes didn't line up with the studs on the specific places.
I wanted to mount it on my wall, the installation was easy and didn't require a professional to do it.
I love its included remote control since it allows me to switch the unit off while lying on my bed or couch.
With its timer function, I just set it to automatically turn on or switch off at particular times.
Also, this electric fireplace lets me adjust the flame intensity for the best radiance based on my lighting and the mood in the room.
The best part of it all is that I don't have to worry as my kids and my pet Tommy' play around it because I know that they are safe from any danger.
If you are looking for the best fireplace, give this a shot.
It will fascinate you with its glowing logs that add to the ambiance and great look.
6. What Are The Advantages of an Electric Fireplace?
Are you still on the fence about whether or not an electric fireplace is a great choice for your apartment?
Here are 6 benefits associated with an electric fireplace that will make you make you feel the need of having it.
Easy to Set Up:
Simply plug them in. You don't need vents or chimneys but enough space and a standard household outlet.
Cheap to use:
A good number of electric fireplaces are quite energy-efficient hence however how much you use them, they don't add much to your monthly bills.
In fact, if used as a supplemental heating source, they will greatly help you save money.
Heat rooms efficiently:
Unlike the traditional fireplaces whose most of their heat escapes through the chimney and only the person seated really close to it gets to enjoy much warmth, these heaters heat your room space evenly
Easy to maintain:
No chopping logs and hauling, cleaning soot, or messy ash, all you need to do is change the light bulb out after a couple of years.
They're safe:
No risks associated with a real fire.
They come with safety features that ensure you are safe from any dangers associated with fires.
How a Faux Fireplace Work:
You might be wondering how these faux fireplaces work and run, here you can check out the details.
The working approach of these faux fireplaces is pretty simple and straightforward.
Furthermore, you may call these fireplaces the name of electric fireplaces.
The purpose of using these units to draw and extract cool air and bring out warm air into your room!
Moreover, these units heat themselves internally and make use of a heating coil to run and function.
It is seen that a few of the faux fireplaces use infrared technology for the sake of directly and immediately heating any objects.
You may have seen lots of faux fireplaces available in the market and make sure that you choose the correct model and version suiting your needs and demands.
In addition, these faux fireplaces give a lot of flexibility to the user as compared to using any of the gas-burning fireplaces and traditional wood fireplaces.
This fireplace does not need and requires any kind of venting installation procedures. It does not need any professional installation at its end.
It draws in cool air and then heals itself internally by using a heating coil. Besides, this faux fireplace forces all of the warm air back into your room.
Their flames remain to stay cool and do not harm your kids or pets. So, if this fireplace matches and suits your taste, then try using such fireplaces.
How Are The Faux Flames Made?
Here is the guide for you regarding how these faux flames are made and prepared.
You can keenly check out these details and if you have questions on this faux flame manufacturing and making process, then freely ask from us.
This whole process encapsulates this fact and concept concerning how you make fake fire and brings out the visual and artistic effect of flickering flames.
The use of these fake fires is pretty common and seen in the campfire props and also in the stage settings:
Step 1:
The first step is to measure your faux fireplace. You need to do careful planning in this area and your prepared flames have to be half-height as compared to your fireplace opening.
Furthermore, decide and plan out how much width and height are going to be of your faux flames.
You have to come up with accurate dimensions and measurements so that your faux flames can look real.
Like, if your fireplace opening is around and about 30 inches in dimensions, then your fake fire flames have to be 15 inches tall.
Step 2:
The second step of making faux flames is to buy small logs.
You can even go on buying split logs in this regard.
The width of your faux fire flames and the length of these small logs have to be matched with each other.
Step 3:
After that, you can set and fix a mirror all against the backside of the wall where you have placed and installed your faux fireplace.
This way, you can increase and enhance the light effect and be able to sense the fire motion aspect as well.
Step 4:
In this step, you have to draw and make flame shapes. It is of different heights that you can make the shapes of these flames.
Make sure to create different heights and also different shapes so that realistic effect and touch can be seen on your created flames.
Step 5:
Now, you can go on cutting the cellophane all into your desired and wishes flame shapes.
Moreover, you need to stack and gather the fireplace logs and give them the look as they are a real fire.
Make sure to leave some space all in the middle section of your fireplace logs so that you can install and keep a fan over there.
Step 6:
You need to place this fan right on the fireplace floor. Make sure to aim and target it in an upward direction.
In addition, you can get a small fan for this job and it has to be small battery-powered.
Such fans work best and ideal for these tasks.
Step 7:
In this step, the individual has to start applying glue on the flames bases and also on the fireplace logs.
In other words, you have to glue and attach them to each other.
You need to allow this flame and glue to dry for about a duration of 20 minutes.
Step 8:
The last step is to place and keep a flickering kind of faux candle completely in the middle zone of your fireplace logs.
Turn On This Faux Candle And Turn On The Fan Too:
There are all of the simple procedures to make faux flames.
And if you have already tried making these flames, then share your stories and experiences with us.
Why Size Matters For Your Faux Fire- Cherry:
Whenever you plan and wish to get a faux fireplace for yourself, then this aspect of size matters a lot.
Keep in mind this size factor whenever you shop for such a kind of fireplace.
You should get that sized fireplace that matches your room size.
If you have a big room and your faux fireplace is tiny enough, then there is no point in using that fireplace.
There are lots of fireplaces that are a hundred square feet large. It is recommended to buy bigger electric fireplaces if you have larger rooms or if you wish to warm your entire home.
And you should only prefer buying those small electric fireplaces if you are living in a small home area or you have got small rooms.
Apart from that, it depends on your room size and your faux fireplace size regarding how much amount of a dedicated circuit you want to create and make.
You need to make a dedicated circuit so that you can well and completely avoid overloading your circuit operations.
Important Safety Tips:
Those who wish to use these faux fireplaces or electric fireplaces, have to keep in mind precautionary measures in this regard and specific category.
Avoid using these fireplaces by showing the utmost negligence. You have to use them responsibly and also with extreme caution.
There is no need to use traditional space heaters and with the correct use of electric fireplace heaters, you will have the best experience.
Furthermore, these fireplaces are sturdier as compared to using space heaters.
They are impossible to best and knock over.
You can have a look at these fireplace safety guidelines and always keep them in your head:
Keep this fireplace away from objects:
You have to choose a careful location regarding where to place such a fireplace.
Keep it away from certain objects, otherwise, they may catch fire.
Avoid allowing this fireplace to touch the surface:
When you mount this fireplace, then make sure it does not touch the surface.
If it constantly touches the surface, then there is a risk that your floor will get too hot.
Keep this fireplace away from the reach and access of kids:
You need to keep this electric fireplace completely away from the reach of pets and kids.
Avoid leaving your kids and pets unattended, otherwise, they may harm themselves.
Avoid using this fireplace outside:
It is not at all advised to use this fireplace outside. This unit is only made for indoor surroundings and the environment.
Plug this fireplace in the safe outlets:
You have to double verify this point that whether your electric fireplace is plugged in the safest outlet or not.
Your chosen outlet zone has to be safe, if it is not safe then your electric fireplace may fall and land into serious problems and issues.
Frequently Asked Questions:
Conclusion!
After all the reviews we have made of the various types of electric fireplaces, it is evident that they are quite beneficial to us especially during the cold nights and winter.
They are capable of adding a lot to the style and look of your room as well as help you stay cozy and warm in the cold months without experiencing the hassle that is associated with a traditional fireplace.
Regardless of your available room space or your stylish preferences, there are a variety of fireplaces you can choose from.
With a little sacrifice and proper research, finding the best electric fireplace that matches your needs should be easy.
Also when buying an electric fireplace for your home or office, be sure to avoid the 3 costly mistakes by doing the following:
Know what type of electric fireplace you need beforehand to avoid buying the wrong one.
Check the square footage of the room to be heated and buy an electric fireplace that can heat a room that is double its size.
Measure the dimensions of the space you will be installing the electric fireplace and buy one of the right sizes.
Do your homework, follow our advice and join the happy many who enjoy their electric fireplace in their home curled up next to their loved ones.
The SEI Cartwright Fireplace in espresso brown is a beautiful and versatile electric heater that can easily become the center of attraction in any room.
It heats well and looks absolutely classy.