If you are looking to purchase a fire pit, you have probably realized there are endless options on the market, all with different features and different benefits/down-sides.
In this post we have gathered our favorite fire pits across all of the categories from wood burning, to propane and gas options.
Each of the products listed has unique benefits or features that make it stand out among the rest of the products in the industry.
It is important to decide what it is you want out of a fire pit, in order to choose the right fit.
Do you want to enjoy wood burning fire to enjoy on occassion in your backyard? Do you need a fire pit table so you can eat or drink by the fire? Do you want a smokeless option? No matter your need, we have listed an option below for you.
The 12

Best

Fire Pits

to Buy Online
---
1. The Iron Embers Fire Bowl by Frontera (

customizable

with imprinted name optional) –

Editor's Top Pick
What we love:
Customizable name imprinted on the side (optional)
Solid, sturdy build
Lots of accessories available
Multiple size options
PRICE: $499
The Polygon Bowl is a simple, sturdy fire pit. Built with the same 1/4″ thick steel the Polygon Bowl has 32 side faces for a unique aesthetic on your patio.
The raised fire bowl radiates heat down keeping your legs warm all night, and small water drainage holes in the corners of the floor prevent rainwater from collecting.
You can customize this fire pit with a name, saying, etc… for a truly one of a kind piece. They also have a variety of accessories available, from cooking grates to covers and tools.
Since it is made to order, this fire pit does currently take a little time to ship, but we believe it is worth the wait.
---
What we love:
Solid steel construction
Wide 36″ bowl
Includes: spark screen, poker, wood grate and a cover
Affordably priced
PRICE: $199
Solid and sturdy steel construction, this Fire Pit is designed with a large 11 inch deep fire bowl, that measures about 36 inches in diameter.
It is designed with unique weave cutouts around the easy-to-clean black finish for a classic outdoor decor.
It comes with a fire poker, a wood grate, a smoke screen and a cover so you do not need to purchase any additional accessories to tend to the pit.
---
What we love:
Electric control panel and ignition
Solid design. Made of fiberglass reinforced concrete
Stores up to a 20 lb propane tank
Includes decorate rocks
PRICE: $915
This propane fire pit table is an affordably priced fire pit with a luxurious appearance. The fiberglass reinforced concrete makes it sturdy without being too heavy.
The control panel on the side makes it easy to turn on and adjust the flame with a click of a button. You can easily plug in a propane tank up to 20lbs and fit it inside the table.
For the size and quality, this fire pit is much more affordable than many of the competitors on the market.
---
What we love:
Cast iron construction
Easy assembly
Convenient 11″ Cooking ledge
Affordably priced
PRICE: $375
This fire pit is a solid design made of cast iron. The 11″ inch ledge allows you to easily cook meals, simply add oil and start cooking!
Compared to many of the other cooking ledge fire pits on the market ,this option comes at a great price for the durability and quality.
With a 45″ diameter and 8″ depth this fire pit allows for plenty of room to enjoy a late night fire or to cook the whole family a meal.
---
What we love:
High heat output
Easily adjustable
Portable for on the go heat
Heininger, is known for their innovative and unique products. They introduced this Heininger 5995 lightweight and easy-to-use fire pit, which is perfect for any adventure or outdoor camping experience.
Fueled by propane gas, it burns clean and is virtually smokeless. It also has a great heat output, producing approximately 58,000 BTU.
---
What we love:
High quality construction
Built in shelves
Rust resistant
Includes grate and fireplace tools
Black or Copper color options
PRICE: $2260
This outdoor fireplace is a great way to have a luxurious outdoor fireplace without having to build a permanent structure.
Included in your purchase are all the tools you need to tend to and clean the fireplace as well built in shelves for holding tools and fire wood.
The chimney style means all of the smoke goes up and out of the top, leaving you and your family or guests smoke free.
---
What we love:
Virtually smokeless design
Zero assembly required
Efficient, well-rounded burn
Sturdy, well made design
Solo Stove Bonfire has been designed with a unique airflow system, using a double wall construction. This means you have very minimal smell or smoke and your logs will get a well-rounded efficient burn.
The fire pit comes fully assembled, so you do not have to worry about tools or putting it together. Simply take it out of the box and enjoy!
---
8. The Lotus Fire Pit Table by Frontera (Gas or Propane) –

Best luxury fire table
What we love:
Modern sturdy design
Propane or gas option
Ledge for drinks or food
Solid fiberglass reinforced concrete
Multiple finishes/color options available
PRICE: $4317
The Lotus Fire Table has a sleek contemporary design that will accentuate your outdoor living space. This fire table will keep you warm in the evenings and will provide a welcoming atmosphere, whether you want to sit by the fire or enjoy a meal.
The higher price point comes from one of the longest standing and most trusted outdoor furniture brands in the industry, which means you can be certain it will last for years to come.
---
What we love:
Sturdy build
Easy assembly
Deep pit for large fire
Affordably priced
Looks great even when not in use
PRICE: $179
This fire pit comes with a removable screen and a tool for tending to the fire. Its deep pit means you can make a larger fire while keeping it contained.
This fire pit is extremely well designed and looks beautiful in any backyard, even when not in use.
---
What we love:
Strong, sturdy legs prevent rocking
Slow, efficient burn
Smoke directed up and away from guests
Screen prevents sparks from shooting out
Flue cap keeps out rain, snow, and debris
PRICE: $375
This chiminea fire pit has a rustic design that wears beautifully over time. The grate and the chiminea style means the smoke is directed away from your guests, while sparks are kept in the fire pit.
This is a great option for families who want to enjoy a fire pit without the hassles of smoke and embers. The slow efficient burn also means less tending to the fire or restocking with wood.
---
11. The Propane Fire Table by SunJoy – Best budget friendly fire table
What we love:
Affordably priced
Easy to put together
Holds a 20lb propane tank
Plenty of table room for food/drinks
PRICE: $399
Made of ceramic tile and rust-resistant powder-coated steel this transitional design is sure to complement any outdoor space. Adjust the level of fire and heat with a conveniet control knob. Conceal your propane tank (tank sold separately) out of the way underneath the firepit.
---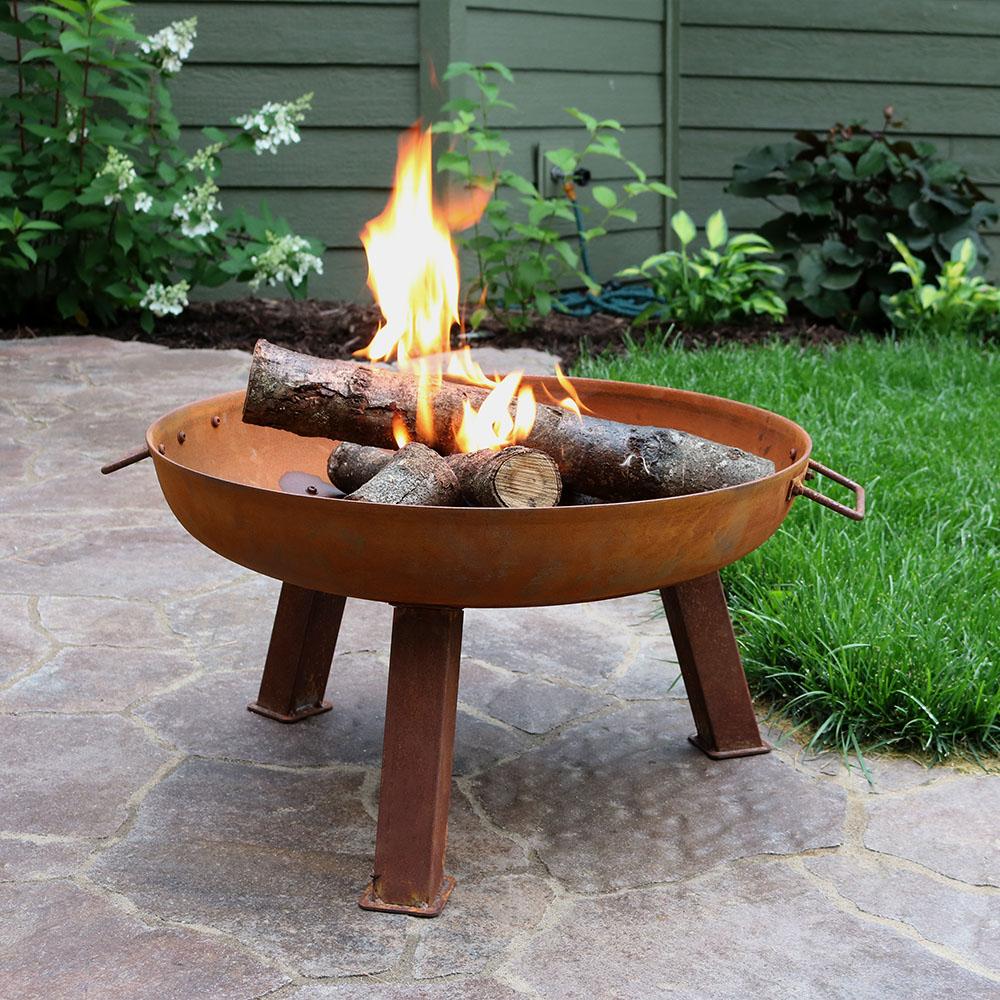 What we love:
Heavy duty cast iron construction
Handles for easy movement
Multiple finish options
Easy assembly
PRICE: From $127
Built from durable oxidized cast iron material for an antique and rustic appeal that will last for many seasons. The handles on each side of the cast iron fire pit bowl allow for easy transportation and cleaning.
Whether you are having a large get-together or simply enjoying a relaxing evening, this cast iron fire pit bowl is a great value and will last for years to come.
---
What we love:
Clean modern design
Variety of finishes and add-on options available
Multiple finish options
Natural gas or propane
PRICE: $3416
This round fire pit is a classic design with unlimited add ons and options. From a bluetooth ignition, to different finishes and rocks and lava to put inside, you can truly make it your own.
If you are looking for a more permanent fire pit option that will add to your backyard landscape then this is a great pick.
---
Be aware of the Top 3 Mistakes that first-time Buyers Make!
Avoiding these 3 costly mistakes will not only save you time and money but will also help you select the perfect outdoor fire pit.
Mistake #1: Buying the Wrong Type Of Fire Pit For Your Needs:



The first mistake is not identifying your primary reason for wanting a fire pit.
Typical uses of fire pits include:
Using it as an outdoor decor item in your yard or patio for the primary purpose of ambiance.
Using it as an outdoor heater or cooking appliance in your yard or patio.
Using it as a portable outdoor heater or cooking appliance on trips, such as camping trips, beach bonfires, etc.
Even though you will likely use the fire pit for multiple purposes, there will be a primary use case.
Determine what this is before you start your fire pit search.
Then determine which fire pit type best suits your need.
Common types of fire pits include!
Here's The Takeaway:
The first thing to determine is the primary purpose of the fire pit.
This will help you narrow down your choices very quickly.
If you fail to do this, you will be bouncing back and forth between numerous choices, making finding the right fire pit nearly impossible.
Mistake #2: Failing to Consider the Fuel Type of the Fire Pit:



Fire pits come in 3 main fuel types. Each fuel type has its pros and cons.
Matching your needs and preferences to the fire pit with the right fuel type is an important step in choosing the right fire pit.
Wood-Burning Fire Pits:
Wood-burning fire pits are the most authentic and traditional option.
It is the most popular type of fire pit, the most portable, and the least expensive.
However, there are several downsides.
For one thing, they are more troublesome. Lighting a fire is not always a simple task.
You need wood, match, and time. Clean up is not quick either.
You will need to dispose of ashes and other residues.
Also, wood-burning fire pits produce smoke. This is a concern for a couple of reasons.
The first is environmental. Smoke pollutes the air and thus some cities or regions regulate the use of wood-burning fire pits.
The second is that smoke can be bothersome to those around it.
The smell and irritation of smoke will be something that you will need to manage.
Propane Gas Fire Pits:
Propane gas fire pits are the easiest to ignite, as they normally come with an ignition button.
Clean up is a breeze as there are no ashes to worry about.
They also usually include lava stones or logs as an added design element which really adds to the ambiance of your patio, backyard, or outdoor living space.
These units are also smoke-free, allowing you to enjoy the warmth of a fire without the hassle of smoke.
Disadvantages lie with the propane tank.
While some high-end brands include a compartment to house the propane tank, other models require the tank to be placed outside the unit.
If having a visible 20lb propane tank on your patio is not the look you are going for, you will need to find a proper location to hide it.
Natural Gas Fire Pits:
Natural gas fire pits are a high-end solution that requires professional installation.
However, it is a fantastic option if you can swing it.
You will never have to worry about refilling your propane tank, and you will save lots of money on fuel.
This option is primarily available for large, permanent fire pits.
Here's a Tip:
If you intend to use the fire pit in your patio or yard as a permanent or semi-permanent structure, start looking at propane fire pits first.
Especially those that have a compartment to house the propane tank.
If you intend to use the fire pit on camping trips or elsewhere, start looking at a wood-burning fire pit first.
The portability of wood-burning fire pits just can't be beaten.
Mistake #3: Failing to Overcompensate For the Heat Output of the Fire Pit:



One of the most common complaints about fire pits is that they fail to generate enough heat to warm up the desired space.
What a frustrating situation to be in!

Imagine spending hours researching fire pits to pick out the right fire pit only to realize that it doesn't generate enough heat.
This is a common occurrence because of two reasons:
Most first-time fire pit buyers aren't sure what heat output they need for their outdoor space OR.
They fail to buy a fire pit that outputs out more heat than needed.
Make Sure You Do These Two Things To Avoid This Costly Mistake:
Determine the square footage of the outdoor living area you want to warm up with a fire pit.
Look for a fire pit that has enough heat output to warm up twice the size of the area.
So if the area is 500 square feet, buy a fire pit that can warm up to 1000 square feet.
You will be better off with a fire pit that can put out more heat than needed than a fire pit that needs to run at full power to generate enough heat.
Heat output of fire pits will be measured in BTUs (British Thermal Unit).
It will typically translate that into square feet.
But remember, overcompensate and get a fireplace that outputs more BTUs than you need.
---
How to Choose the

Best Fire Pit

? – A Buyer's Guide:
Backyard BBQ and camping with friends have never been more fun and convenient with the use of these fire pits as it is not only easy to operate but reliable to help brave the cold with its high heat output and durable makeup.
It can be used as an attractive ornament at home with its luxurious and rustic design as well.
Because the market has been generous with choices, finding the perfect one is not an easy feat.
The following are the things to consider before finally deciding on the one.
Design:
Whether to place it in the backyard or patio, FirePits make perfect design ornaments.
By not sacrificing the performance and efficiency.
The style has become part of the package that manufacturers aim to continuously innovate and improve to cater to individual needs and aesthetics.
Fuel Source:
As previously mentioned, while there are several sources available to power these fire pits, wood and gas are the most common options because of several reasons.
Depending on what works for you, each has specific advantages and disadvantages so take care in selecting the right type.
Material Construction:
Durability and maintenance are perhaps two of the things we hoped and expect for the best fire pit that will suit our needs.
And this can be dependent on the materials used during construction.
By using it outdoor makes it prone to weather changes, thus, it should be sturdy and resistant to endure any environmental conditions.
Steel:
Most fire pits available are made of this material as steel is proven to be sturdy and solid to tolerate the heat and regular and prolonged use.
The common concern with this material, however, is that it is prone to rust and dent, thus, high-end models would cover it with a powdered coat finishing.
Cast Iron:
This material is typically lightweight but also durable to use.
If you are looking for something portable and easy to transport, then this could be perfect for you.
Slate And Tile:
This is usually used for patio fire pit as its rustic look serves as a decorative element and a good use for a centerpiece.
Construction-wise, it is also durable and heavy-duty, though maybe more high maintenance than others.
Size:
Depending on the availability of space at your home, fire pits come in different sizes as well.
And just like any other product, it is divided into small, medium, and large.
It is important to be keen when choosing the size to be able to maximize the space.
Small-Sized Fire Pits:
The great thing about these fire pits is it is lightweight thus more portable and convenient to carry and bring anywhere.
Medium-Sized Fire Pits:
This is probably the most commonly used and preferred as it has the perfect size for home and backyard use.
It is efficient and convenient as it can carry just the right amount of wood to light an entire room.
This fire pit is mostly designed with legs and a cover top to secure and contain all embers.
It is still generally lightweight, hence the easy transport and placement.
Large-Sized Fire Pits:
Large-sized fire pits are made for heavy-duty performance, as they can hold more wood thus produces more fire and heat output, which is highly ideal for huge spaces.
Yet because of the size, it requires more cleaning and maintenance.
Cleaning And Maintenance:
Cleaning your fire pit is a vital process to ensure its lasting efficiency and usage.
Admittedly, it is not, however, the most fun part of having a fire pit.
Hence, choose one that is easy to clean and maintain for a more enjoyable experience.
Frequently Asked Questions:
Final Verdicts!
Regardless of where and what you use, the design and functionality of the fire pits make it a great addition to make your home warm and cozy.
Whether for outdoor fun and activities or a quiet time with family and friends, it has everything you need and desire and even more.
Multi-functional and convenient to use, it offers several options and unique features that suit your style and preference.
The process may seem to be complicated as finding the best may always require loads of research and reading tons of reviews.
But once you clearly understand and know your priorities and what you want, it will be a breeze.
Having a checklist of things to consider can be a huge help as well.
The best fire pit has optimal heat output, safe to use, and easy to operate. It is because of these reasons that these top ten stood out from the rest.
Whichever you choose, you can guarantee you will have the best fire pit on the market.
In the end, the choice will all boil down to your own personal need and preference.