Heating up a room during the cold seasons is as easy as turning up the temperature on the thermostat. However, raising the temperature in the room by way of your home's HVAC system will bring additional expenses to your monthly costs. Your utility bill will definitely rise and may cause problems for your savings. Instead, you can try using the Ameriwood Home Bruxton Electric Fireplace.
This product allows its users to precious time, money, and effort. It doesn't produce real fire nor does it require you to feed it a constant supply of firewood. All you have to do is plug it in and you're practically good to go. It can bring a comfortable warmth to a small to medium-sized room with little to no problems getting in its way.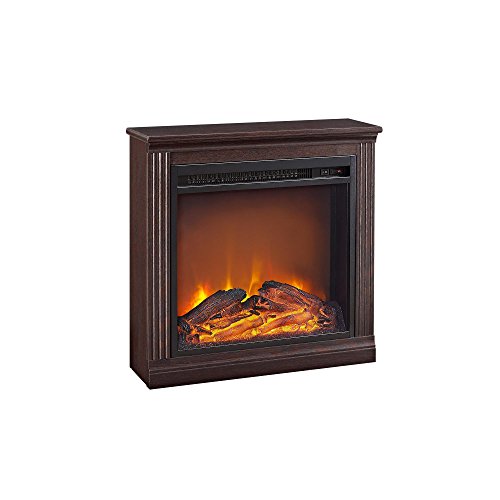 Since you're here, you might be on the fence if you're still going to buy this product or not. We're here to help you out in that regard. Just continue reading through this page and you'll find valuable information to help you with your decision-making processes.
Pros
The compact and lightweight design makes it easy to move around

The premium cherry woodgrain finish makes it look more expensive than its actual price range

It comes fully assembled. No assembly required.
Cons
No remote

No adjustable heat levels

It has some hard-to-clean elements
What Users Saying About the Ameriwood Home Bruxton Electric Fireplace
Most of the reviews of this fireplace are positive. People are enthusiastic about its simple demeanor and the great warmth it provides small-to-medium spaces. It can effectively bring comfortable heat to rooms of up to 400 square meters.
Aside from the great warmth, reviewers also tell of its beautiful design. It can look good in living rooms, game rooms, and even bedrooms as it adds an additional layer of comfort. There are even some users who place this fireplace in their RV to allow for the perfect place to chill and relax during outdoor getaways in the cold seasons.
However, it doesn't mean that all reviews about this fireplace model are positive. Some reviewers indicate that they've acquired problems with the glass and Styrofoam bits found in the unit. They can be a problem to clean as these elements are difficult to pull out of the unit.
Click Here To View 80+ Buyer Reviews
Key Features of the Ameriwood Home Bruxton Electric Fireplace
No Fuss Operations
Say goodbye to complicated instructions when you get your hands on this electric fireplace. While there might be some similar models out there with buttons and dials to let users gain access to their features, this unit only has very simple controls. In fact, all you have to do is to plug it into a compatible power outlet and it'll give you the comfy heat you want from it.
Maintenance-Free Flames
Traditional fireplaces require homeowners to constantly feed the hearths with fresh firewood to keep the flames and warmth going for the benefit of the people in the area. The entire process of getting firewood, keeping them, and chucking the wood into the fire can become daunting and tiresome. This electric fireplace, on the other hand, uses LED technology for its flames. With this feature, homeowners can enjoy a similar glow to a classic fireplace but without the hassles of using real firewood.
Premium Finish
A premium look awaits interested buyers who want to own this fireplace. The folks over at Ameriwood Home produced this electric fireplace with a warm cherry woodgrain finish accompanied by a black metal firebox insert. The decision to create this design allows homeowners to be worry-free when installing this model into their homes as it blends well with most interior decorations.
Fully Assembled From the Start
Buying electric fireplaces can sometimes be troublesome because of the fact that they require manual assembly. On the other hand, this unit comes fully-assembled from the start. Hence, all you have to do is find the perfect place for it in your home.
Compare Ameriwood Home Bruxton Electric Fireplace vs. DONYER POWER Mini Electric Fireplace
Aside from the difference in price tags, perhaps the most apparent difference between these two fireplaces is their size. DONYER POWER's variant comes with dimensions of 14.7 x 7.87 x 9.76 inches whereas the Ameriwood Home unit comes with 22.75 x 22.81 x 7.31 inches.
Furthermore, the DONYER POWER model comes with two heat settings (low and high) whereas the Ameriwood Home fireplace only has one.
What's the Disadvantage of Ameriwood Home Bruxton Electric Fireplace
The lack of a remote control for this fireplace can be a disappointment for some. There are other similarly-priced electric fireplaces on the market that have a wireless remote in its package. Instead, users have to walk up to the unit to turn it on or off every time.
Furthermore, it doesn't have flexible heat level controls (which might explain the lack of a remote). Users will have to turn the heat on or off with no possibility of choosing different warming levels. It will always deliver a constant heat level of 4,600 BTU across the board.
Why Should You Choose It or Not?
The Ameriwood Home Bruxton Fireplace is a great choice for any homeowner looking to add additional warmth and comfort to rooms. Its premium wooden finish makes it a must-have for people looking to add an additional visual flair to their homes. Its compact design is also ideal for adding a comfy heat to small rooms as most traditional fireplaces come with large dimensions. However, the lack of a remote control or flexible heat levels may disappoint some interested buyers.
Final Verdict
Despite some caveats, the Ameriwood Home Bruxton Electric Fireplace is still a good choice for any homeowner looking to install a fireplace without complicated assembly or installation instructions.
Its no-fuss design makes it a great choice for people who simply want to add a comfy warmth to their rooms without having to deal with pressing multiple buttons or turning dials. Finally, the unit's compact design makes it possible to bring warmth to small rooms without worry of making the place too cluttered.
Related: 15 Best wall mount electric fireplace reviews 2018
Related: Top 15 Electric Fireplace Insert Reviews 2018
Related: 16 Best electric fireplace tv stand 2018 – Reviews and Guide