Forget about chilly nights outside your house especially on your patio with a great addition of a warmer that will definitely bring memorable nights for you and your family.
AZ Patio Heaters is an outdoor electronic unit that releases warm hugs for those days or nights when the temperature becomes uncomfortable to the body. The heat generated comes from a propane tank that can be installed to the system.
This is a much safer option compared to the typical actual burning of firewood to produce heat that is evident in campsites or fire pits. Get ready to feel the warmth and comfort that will take you to another level of outdoor fun and activities.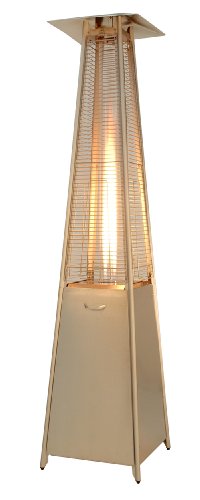 Classy design that fits any patio.

It provides a sufficient amount of warmth and lighting.
It is too tall.
There are issues wherein strong winds can blow it over causing the glass tubes and the unit to break. It lacks much stability which is contrary to what the product description states.
Assembly is quite tough.
The provided instructions state that it can be assembled in a matter of 90 minutes but a lot of users took them hours just to set this unit up. The procedures present are also hard to decipher.
Gloves must be worn in assembling it since there are parts that may cause cuts and injuries if handled haphazardly.
What Users Saying About AZ Patio Heaters
A lot of people who have tried this patio heater gave this product a good review while some were dismayed by its capability as a stand-alone warmth provider.
Users were amazed by the classy and elegant look that AZ Patio Heater offers. It went well on their patio and acted as a great addition to their already beautiful outdoor area. Others were also fascinated by how it can generate a sufficient amount of heat and double as a light source during parties.
You get more than what you pay. The price is really cheap for such a quality product. These what gained the trust of the consumers.
There are also comments which state that the provided instructions were very difficult to understand and it took a lot of understanding and time before the whole unit is properly assembled. There are also sharp edges present on the parts that may cause cuts if handled without caution.
Click Here To View 76+ Buyer Reviews
AZ Patio Heaters HLDS01-CGTSS vs. Thermo Tiki Outdoor Propane Heater
Let's get to know the AZ Patio Heater by comparing it with another unit with almost the same capabilities. The Thermo Tiki Outdoor Propane Heater, unlike the former, is a bit low on the ratings and consumers are not satisfied with its workability.
The first thing that you'll notice is the size. Thermo Tiki Outdoor Propane Heater is a bit smaller compared to the AZ Patio Heater. It is also lighter in terms of weight which makes it more portable.
Both products use propane as a mode of the heat source which can last up to 10 hours. But when in terms of heat production, Thermo Tiki Outdoor didn't live to the expectations of the customers and didn't provide the quality warmth that they need during the cold weather outside. There were also complains regarding the insufficient parts and screws needed to assemble the unit.
When it comes to the price, the AZ Patio Heaters comes in cheaper compared to Thermo Tiki Outdoor Propane Heater. The value of your money will best manifest on the former and will guarantee you the amount of warmth needed during those cold days and even nights.
Key Features of the AZ Patio Heaters HLDS01-CGTSS
Portability and design
This patio heater is designed and crafted using stainless steel materials that will definitely last for a lot of years. There are built-in wheels for added convenience and portability so that you can easily take it anywhere you like to place it without the hassle of carrying it and lifting it up.
AZ Patio Heaters also boasts an anti-tilt safety feature that prevents it from accidentally tripping over when hit or pushed back.
Quality tested
It is CSA approved which means it passed a rigorous testing of quality and safety. The main heat-releasing unit is made from a glass tube that can radiate heat up to 42,000 BTU which can be controlled through a thermostat. There's also a thermocouple installed on this unit so that you can monitor the temperature that it emits.
What's the Disadvantage of AZ Patio Heaters
Based on what people are saying about this product, one of the main concerns was the inability to completely understand the vaguely presented instructions. The assembly of this unit also took them a lot of hours before they can actually use it. There was also the presence of sharp edges that is detrimental to those who are not careful in setting up this patio heater.
Another setback of this AZ Patio Heater is the inability to stand still during a windy day. Once a hard wind blows towards the unit it can easily be stumbled which leads to broken parts especially the glass tube. This made it hard to allow the unit to stay outside on the patio during those days when the wind blows terribly.
Aside from these, there is not that much problem coming from the heat that it produces. Although there are a few who are not clearly satisfied with the heat production, many managed to find the right buttons to push to allow this unit to work at optimal settings.
Why You Should Choose It or Not?
Despite the disadvantages that this patio heater poses, a lot of customers and people still fascinated by the capabilities of this unit to provide the heat and warmth needed during times of low temperatures. Its slick design that can adapt to any themed patio made it rise above the standards of heaters in the market.
It makes the value of your money worth it and promises that it will not go to total waste. It is reliable and convenient plus the portability that it gives is outstanding to a lot of people.
Final Verdict
The AZ Patio Heaters HDLS01-CGTSS is an economical heater that will match the needs of people who wants to enjoy outdoor activities even on a cold day or night. The specifications of this product are tested properly that's why it gained a CSA approval to be available in the market. It lives up to the expectations of providing comfort, security, and safety for you and your family.