Now, you can take your outdoor cooking to a higher level with the Camp Chef SmokePro LUX Pellet Grill. It is designed to fit every home need when it comes to grilling, smoking, roasting, braising, baking, and barbecue.
Avoid guessing with its digital temperature so you can cook your favorite smoked recipe anytime. Let's find out more about this amazing large SmokePro LUX pellet grill today!
Easy assembly

Easy to use

Full temperature control

Large cooking area

Great food smoky flavor

Affordable
Calibration Issue
The temperature cannot be dialed into a specific testing. The temperature calibration is low or off by 20 degrees. Some customers say they are burning more pellet wood than expected.
What Users Say About Camp Chef SmokePro LUX Pellet Grill
Customers are happy with Camp Chef SmokePro LUX Pellet Grill as evident on the 88% 5-star ratings until today on amazon. They love the clear instructions and easy assembly of this grill. The assembly time is about 30 minutes to an hour. A customer at amazon tested the accuracy when it comes to temperature, and the result shows 1 degree lower than the thermometer pen reading.
Hence, cooking brisket was excellent with a beautiful smoke ring and slight tug. It is a very spacious smoker that can offer a juicy and tasty barbecue and grilled food recipes suitable for large families and groups.
This grill is competitive. Given its price point, it is more affordable than other grills with the same features. The pellets last longer and keep the flavor of food great.
The final outcome has the same level as grilled or smoked food recipes found in restaurants. More than the great performance of this grill and smoker, customers also love the customer service of Camp Chef.
Click Here to View 26+ Buyer Reviews
Key Features of the Camp Chef SmokePro LUX Pellet Grill
Precise Temperature
Eliminate guesswork when cooking using SmokePro LUX grill, because it has a built-in digital temperature chip for a steady temperature and smoke. Temperature swings are avoided for a more consistent and even cooking. It features innovative and dual temperature sensors and digital smoker controls.
Easy to Clean
This grill is easy to clean because of its Ash Can Cleanout System. It means that you have more time to spend time with your family and friends than doing the after-care work. Enjoy every picnic or simple gathering using this very spacious grill.
Great Performance
The real secret of juicy and delicious barbecue is slow and low-temperature cooking. The SmokePro LUX pellet grill has an extra large cooking area, so you and your family and friends can enjoy grilling all day or all night long! The Camp Chef pellets generally burn hotter for a longer lasting use, and better flavor due to its pure properties without additives or fillers.
Now, you can enjoy smoking and grill with the wood fire flavor and aroma without using gas or propane. Serve delicious barbecue to your family and friends anytime for any event or occasion.
Durable and Heavy-Duty
The design and make of Camp Chef Grill is solid. You can expect that this grill can withstand frequent usage because of its durability and strength. The warming or smoking rack measures 6 by 34 inches with a total rack surface area of 875 square inches.
In terms of hopper capacity, it can accommodate 18 pounds of pellets. You can use this grill for many years to come, so it means more picnics, parties, and campings all-year round.
Compare Camp Chef SmokePro DLX vs. Camp Chef SmokePro LUX Pellet Grill
Coming from the same company, Camp Chef, both grills are durable and have a large capacity. The Camp Chef SmokePro DLX wood pellet grill is smaller with grilling area dimensions of 19.5 by 22 inches, and warming or smoking rack dimensions of 6 by 24 inches. It has a total surface area of 570 square inches.
On the other hand, the Camp Chef SmokePro LUX pellet grill measures 19.5 by 34 inches for the grill area dimensions, and 6 by 34 inches for the warming or smoking rack dimensions. It has a total rach surface area of 875 square inches.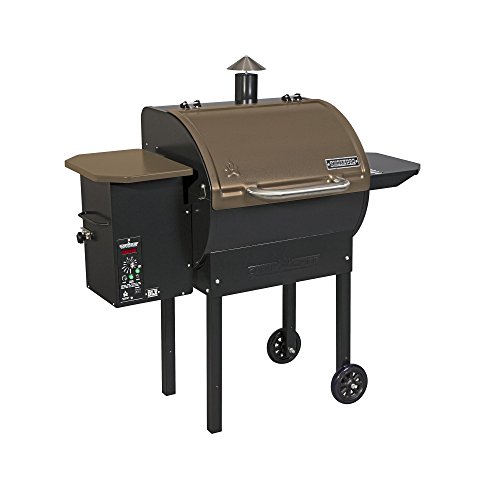 Both grills have auto-start ignition for easy use, as well as Dual ELD temperature display for easy temperature monitoring and even grilling. When it comes to the price, the Camp Chef SmokePro LUX pellet grill priced at couple of hundreds lower compared to the Camp Chef SmokePro DLX pellet grill and smoker.
Both come with free shipping. The difference lies on the automatic auger of Camp Chef SmokePro DLX that dispenses pellets which greatly improve the efficiency of the smoker.
What's the Disadvantage of Camp Chef SmokePro LUX Pellet Grill
Albeit some customer reviews say that there are discrepancies when it comes to temperature, comparing thermometer pen result and the digital built-in temperature display, these are minor discrepancies.
The internal probe works well. They don't affect the final result, and food recipes are cooked evenly and perfectly without issues. The price is far cheaper than other grills with similar features.
Why Should You Choose It or Not?
Choose Camp Chef SmokePro LUX pellet grill because it is durable, easy to use, evenly cooks meat, steady temperature control, and affordable. You will never regret investing on this very spacious grill and smoker.
Enjoy unlimited barbecue and grilled foods like you always wanted for pure fun experience whether you are having a picnic, party, or any other special event.
This is a recommended grill for large family use. If you are seeking an affordable and high-quality grill, we highly recommend this product to you. You can get the best value for your money and enjoy grilling different types of meat like pork chops, chicken wings, and beef steak.
Undoubtedly the Camp Chef SmokePro LUX pellet grill is a very wise investment for a more enjoyable picnic or any special event.
Related: 10 Best Charcoal Smoker 2018: Reviews and Comparison Chart
Related: Best Electric Smoker $200: Reviews & Guide 2018
Related: Oklahoma Joe Smoker Reviews 2018 – Compare Classic and New Model
Related: Best offset smoker 2018: Top 5 Reviews and Comparison chart