Serving grilled or smoked food is now easy with your very own portable grill at home. Updated grills and smokers nowadays are equipped with the latest features and improved design to let you cook a variety of different food. The Camp Chef SmokePro PG24B is one of the most updated outdoor cookers and grills with convenient features that will let you efficiently grill, smoke, sear, broil and more. It also has convenient clean up features so you can clean the grill easily after use.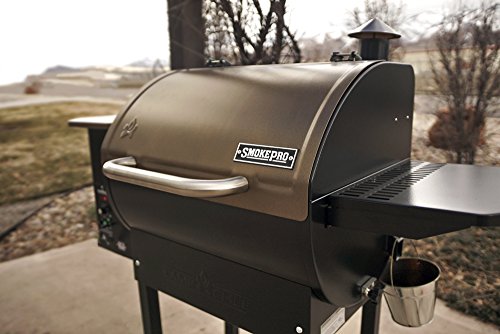 Key Features of the Camp Chef SmokePro PG24B
With the exclusive ash cleanout system
The Camp Chef SmokePro lets you enjoy grilling and spend less time cleaning with its unique ash cleanout system. Simply remove the ash cup from the bottom of the grill and you will easily remove and throw away ash and other debris. You don't need to sweep ash away or to use a vacuum cleaner anymore.
With electronic ignition
The efficient electronic ignition system lets you start the grill fast. Faster startups mean faster grilling and cooking time. You won't go wrong even when the weather is too cold to start a fire. Instant electronic ignition also helps you cook faster and even cook different dishes at a time and save time and effort.
Monitors temperature more efficiently
You will find it easier to monitor cooking temperatures and food temperature with its dual LED temperature readout. With this LED, you can easily make changes to the cooking temperature to prevent burning or overcooking and also to prevent undercooking your food. Improved temperature monitoring and adjustment will also help you cook different kinds of food and use a variety of cooking methods as well.
Improved smoking efficiency with the automatic auger/dispenser
With the Camp Chef SmokePro, all you need to do is to grill and cook. The automatic auger will load pellets as needed to improve cooking efficiency. No need to get your hands dirty because pellets are automatically dispensed. And with this feature, you will also be able to maintain your cooking temperature.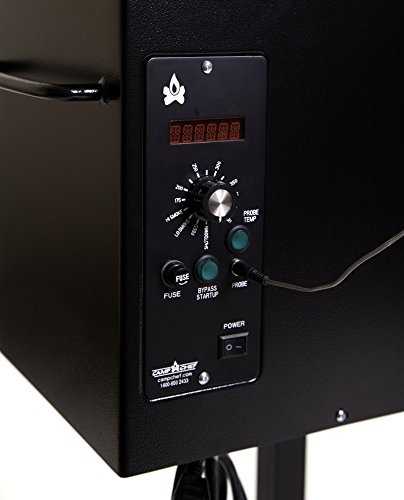 With large-capacity pellet hopper to let you cook longer without refilling.

With electronic auto-start ignition system to easily start your burners every time.

With dual LED temperature display to view internal cooking temp and food temp

Simple temperature selector

Large grilling area, smoking and warming rack
Issues with the ash removal system

Complaints that the grilling area is not enough
Related: Best Pellet Smoker 2018: Top 10 Pellet Smoker Reviews and Guide
Compare Pit Boss 71820FB Pellet Grill vs Camp Chef SmokePro PG24B
The Camp Chef SmokePro PG24B is comparable to the Pit Boss 71820FB Pellet Grill. When it comes to cooking space, the Pit Boss wins with its 820 square inches of cooking space compared to the Camp Chef with only a total of 570 square inches. However when it comes to cleaning efficiency, the Camp Chef offers faster and more efficient cleaning with its exclusive ash cleanout feature which is located underneath the grill. The Pit Boss also has an ash removal system but it is located at the side of the grill. Overall, these two grills offer versatile cooking and allow you to grill, sear, smoke, roast, barbecue and braise. Both have unique grill designs but still both offers more efficient cooking techniques, even cooking and faster cooking times.
There are many winning features of the Pit Boss Pellet Grill but when it comes to clean up, the Camp Chef SmokePro seems to be the clear winner.
Unless you want to spend more time cleaning than cooking, the Camp Chef lets you cook easily and evenly without worrying about ash accumulation inside the grill body.
This is a good value than any other feature since ash accumulation can affect your food's flavor, taste and smell. Cleaning away ash is also a very tedious task that no user wants to do. The ash removal system of the Camp Chef SmokePro lets you clean effortlessly.
What users say about the Camp Chef SmokePro PG24B?
The Camp Chef SmokePro has received high marks online especially for its features and unique ash cleaning system. Consumers mentioned that they have found the best grill while some agreed that they have found the best smoker. Some had issues with the temperature system and gauge but soon learned that these were easy to use in the long run. Some users also commend the Camp Chef because of its versatility. With this grill, you can cook in a variety of ways and even cook large cuts of meat like a 15 pound brisket in just a matter of hours.
Click Here to View 29+ Buyer Reviews
How durable and affordable is Camp Chef SmokePro PG24B?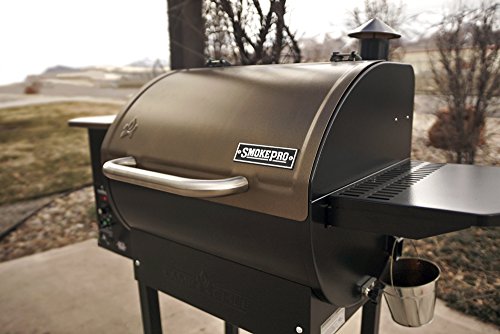 When it comes to heating, this outdoor grill will let you adjust cooking temperatures so you can cook different kinds of food at the most efficient time. The automatic auger dispenses pellets when necessary to improve efficiency of the smoker so meats, poultry or fish comes out perfect. It is recommended that you use Camp Chef hardwood pellets to burn hotter and cleaner; no worries about your food tasting and smelling like smoke. The SmokePro is also durable. It is made of quality materials and has an improved design to let you cook for years.
Why you consider

Camp Chef SmokePro PG24B

Pellet Grill
If you are shopping for the ideal outdoor grill, a Camp Chef SmokePro is a pellet grill that will allow you to cook food in a variety of ways. This has great features that will let you cook, grill and smoke like a pro: it has simple digital temperature settings, huge cooking and grilling area and an efficient ash cleaning system that lets you clean the grill body easily. It also has an automatic wood pellet reloading system to maintain heat to cook food well and of course it uses hardwood pellets to let you cook naturally, will last longer and to improve flavor of food.
The Camp Chef SmokePro PG248B is an outdoor grill and flame broiler that lets you cook in a variety of ways with its efficient digital temperature settings and large cooking area. Its exclusive ash cleanout system lets you clean the body of the grill easily and completely so you can use the grill and cook food evenly and efficiently. You will save time and effort in cooking for a party or a gathering when you use the Camp Chef SmokePro.
Related: Best Electric Fireplace 2018: Top 12 Reviews and Buyer Guide
Related: Best Fire Pit 2018 – Top 10 Fire Pit Reviews and Guide
Related: Best Patio Heater 2018 – Top 10 Reviews and Buyer Guide