Winter days done always have to be dull and boring, at least not when you have the ClassicFlame 33II310GRA 33-inch Infrared Quartz Fireplace Insert installed in your home. It's an amazing fireplace insert that will repurpose an existing, unused firebox or traditional fireplace instantly to provide you with warmth and a cozy ambiance all through the year.
Once plugged in, this unit will provide supplemental zone heating to a room space that is less than 1000 square feet. The infrared heat maintains the natural humidity of the surrounding air to provide moist and comfortable heat while ensuring not to dry out the room's air.
The 33-inch wide ClassicFlame 33II310GRA comes fully assembled. Thus, it's easy to install. It uses a Safer Plug technology, an integrated thermostat that continuously regulates temperatures in the plug. If temperatures rise above safe levels, the plug automatically switches the unit off to prevent overheating and any possibility of fire occurrence. This technology makes it possible to install this fireplace anywhere in your house safely.
You can mount your flat screen TV 3 feet above this fireplace and have a little fun while curling around a fire. Besides the ClassicFlame 33II310GRA can be used concurrently with ClassicFlame mantels, flush-mount trim kits and TV stands with insert capacity. All these units are sold separately.
Pros
Flame effects operated with or without heat
Heats a room that is up to 1000 square feet
Provides up to 125 customizable flame effect options
Easy to install
Cons
Some users complained that it is supposed to heat up to 1000 Sq. Ft. but you have to stand in front of it to feel the heat.
What Users Saying About ClassicFlame 33II310GRA Infrared Quartz Fireplace Insert
A majority of users liked how easy it is to use, and from most of their comments, they also enjoyed the supplemental heat, auto-timer, and its realistic flame effects. They also liked that it doesn't produce smoke, dangerous fumes and soot like the traditional fireplace.
Another notable comment was in regards to featured remote control that gave them the ability to tweak settings from their own comfort. The LED touch was another aspect that gave this unit a big plus.
Others were very happy with the different settings and colors for the flame effects. A common comment was that this fireplace is easy to set up; takes less than an hour and that instructions provided were concise and pretty straightforward. Users were also pleased with how much heat this unit could produce and how fast it heated up a room.
The few users who felt dissatisfied complained that this unit didn't produce enough heat for their rooms, which was contrary to the comments of the majority users whose reviews praised its heat output.
Click To Know 75+ Users Opinion
Key Features of the ClassicFlame 33II310GRA Infrared Quartz Fireplace Insert
Its fan is rated at 5,200 BTUs of heat per hour and is capable of providing supplemental zone heating to a room space up to 1,000 square feet
Flame effects cab be operated with heat on or off and still provide the ambiance of a gentle fire all through the year
Integrated SpectraFire Plus technology lets you choose up to 125 flame effect options, 5 flame colors, 5 flame speed options and 5 adjustable brightness
There's an adjustable thermostat that monitors the temperatures in the room
The infrared heat produces comfortable and moist heat without drying out the surrounding
The remote control lets you adjust virtually all settings on this unit
Frequently Asked Question (FAQ) about the ClassicFlame 33II310GRA 33-Inch
Q: Does it come fully assembled?
A: Yes it does. No assembly is required
Q: What are the actual dimensions?
A: It measures 10.4 D x 34.1 W x 26.1H inches
Q: Is it safe if I place my TV above it? Does it push the heat off above or behind it?
A: It's safe because the fan pushes all of the heat to the front
Q: Does it plug into 110v or 220 v power outlet?
A: It plugs into a 3 prong grounded 120-Volt power outlet.
Q: Is there a glass front?
A: Yes, there is a tempered glass front
Q: How long is the cord?
A: 6 feet long
Truly how worthy the Classic Flame 33II310GRA for your home?
The ClassicFlame 33II310GRA Insert doesn't only excel at its powerful heat supply but also at its beauty. Its compactness makes it possible to set it up anywhere in the room, regardless of how full or cluttered it may be.
A lot of people who have it in their homes say that they receive compliments about the aesthetic value it adds to their rooms. Moreover, it produces a low noise effect, which is barely noticeable so, it won't cause any disruptions when running.
My experience with the ClassicFlame 33II310GRA Insert
I purchased the ClassicFlame 33II310GRA to replace my old traditional fireplace which had a leak due to poor construction. The first time I laid my eyes on it, I was pleased with its cosmetic design and compactness. My husband installed it in a custom built in our living room and immediately, we started to enjoy the heat that came out of it.
I love that the remote control lets me customize this unit with up to 125 flame effect options to create the desired mood and ambiance, suitable for any style.And when I am not in the mood for a particular flame effect, I just choose the auto-cycle that fades in and out to a new flame effect after a period of time.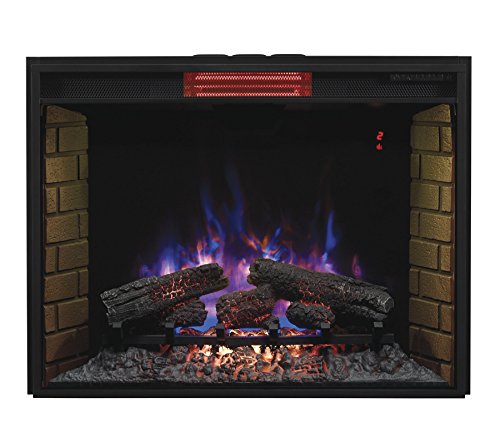 With the different speed settings, I can choose from a gentle, calm flame to a fast, roaring fire. Besides I can also choose from 5 different colors: amethyst, SpectraFire, campfire, and sapphire and midnight fire.
The controls, situated on the front face of this unit, are pretty much straightforward. I can opt to manually operate these controls or use a remote control to perform the same functionalities. Mostly, I like to use a remote because it gives me added convenience; I can adjust the flames intensity, brightness, turn the machine on/off and choose a flame effect from anywhere in the room.
Unlike with my traditional fireplace where I had to put out the fire before going to bed, with my new electric fireplace insert, that's not a concern anymore. I have programmed the unit's timer to shut off after 5 hours which I can also decrease or increase from as low as 30 minutes up to 9 hours.
If you are looking for a simple, elegant yet fully functional electric fireplace, the ClassicFlame 33II310GRA Insert fits your description. It comes with a wide array of features including all the basic features of an electric fireplace with the addition of a remote control and integrated smart technologies to provide you with adequate warmth.
Besides, it's a great conversation piece amongst strangers and visitors in a room. The ClassicFlame 33II310GRA is one great deal that you can't afford to miss.
Related: Best Electric Fireplace TV Stand 2018: Top 12 Reviews and Buyer Guide
Related: 12+ Best Wall Mount Electric Fireplace Reviews 2018
Related: Best Electric Fireplace Stove Reviews 2018 – Top 10 on users choice
Related: Best Electric Fireplace Heater Reviews: Top 10 Unbiased Listing