Whether you want to add style in your room or re-purpose your existing brick fireplace, the ClassicFlame 36EB110-GRT Traditional Built-in Electric Fireplace Insert, is the way to go. This electric fireplace insert is 36 inches wide and has an elegant design that harmonizes with most decor. It is indeed a great alternative to the messy, expensive and environmentally unfriendly traditional fireplaces.
This hearth holds nothing back to offer you an incredibly amazing log set and rolling ember bed that simulates a real fire burning. The flame effects can be operated with the heat on or off and still offer all year enjoyment ambiance.
You can adjust these effects using a remote control, included in the package. You can also choose to manually control the temperature, light and brightness intensity using the on-screen indicator at the upper right corner of this heater.
The ClassicFlame 36EB110-GRT can be installed on any wall; exterior, interior or corner wall. The inbuilt zero clearance design together with the total surround flange enable you to flush-mount this heater on drywall, tiles or other home finishes.
Other features include a timer option, five brightness settings, an adjustable thermostat, etc. For more on what the ClassicFlame 36EB110-GRT has to offer, scroll down this electric fireplace insert review.
Pros
Easy to install
Produces realistic flame effects
Allow you to adjust the brightness settings up to 5 options
Safe around your kids
Key Features of the ClassicFlame 36EB110-GRT 36″ Electric Fireplace Insert
LED flame technology
The ClassicFlame 36EB110-GRT uses a patented, state of the art SpectraFire technology. It produces the most realistic LED flame effects with an amber and blue touch. LED bulbs have a lifetime of 50,000 hours. Thus you will never need to change them. The fire effects incorporate five adjustable brightness options including amber and blue, blue, amber and automatic color cycling. Hence, you get to choose your preferred settings depending on the current mood of the room.
Zone heating
This electric fireplace integrates a fan-forced heater, rated at 4,400 BTUs per hours. The supplemental zone heat is capable of comfortably warming a room that is less than 400 square feet. Zone heating ensures that you only heatonly rooms that are in use instead of heating your entire house. It's a great way to save on energy and monthly bills.
Remote Control
There is a slim, multifunctional remote that lets you customize your hearth the way you like. It uses 2 CR2 batteries, and they are included in the package. With the remote control, you can turn your fireplace on or off, and choose from 9 downlight and 9 up-light colors. You can also adjust your fire to enjoy a calm, gentle fire or crackling flames.
Installation
Electric fireplace inserts are the easiest to install. Just retrofit it on your existing brick fireplace. Electric inserts are an excellent solution to repurpose you old, available fireplace systems and add aesthetic value to your home. However, if you are looking to remodel your brick fireplace, it is recommended to use a professional mason such as https://brickit.net.au to install your fireplace in order to maintain your warranty and insurance.
The ClassicFlame 36EB110-GRT is powered by electricity. So, to get started, plug it into a standard 120v 3-prong power outlet. Or if you like, you can use the 14 AWG wire to hardwire it directly into your electrical system.
Timer function
The electronic timer can be programmable to shut your heater from 30 minutes to 9 hours. So, you won't have to worry if you fell asleep without powering it off. Your heater will shut off after the pre-set time.
Tempered glass
On this heaters front face, there is a viewing window panel that remains cool to the touch. The only time it gets a little hot is when blowing heat out. But the heat is not hot enough to cause any damage. Therefore, your loved ones will always be safe around it.
Wall mounted thermostat
With the inbuilt thermostat, you are able to control your room's temperature.
What User Saying about ClassicFlame 36EB110-GRT 36″ Insert
Users applaud it for its ease of installation, beautiful design and the adequate amount of heat it produces. The different lighting options on this machine also make it very likable. Users appreciated the fact that they can change the uplighting, down lighting and flame color.
Also, many users found the inbuilt thermostat and timer function fascinating and very useful. The ClassicFlame 36EB110-GRT is truly an electric fireplace insert that users would recommend to anyone enthusiastically.
Click Here To View 150+ Buyer Reviews
My experience with the ClassicFlame 36EB110-GRT Built-in Electric Fireplace Insert
For so long, I had always wanted to replace my traditional fireplace with something less messy, economical and great looking. And when the time was right, I felt the ClassicFlame 36EB110-GRT is what I was waiting for all these years.
When I first received this heater, I took it out of the box and plugged it into a 120-volt power outlet. It's an amazing LED hearth, and I like it because it offers me with so much. First, it is great looking and not even I, can argue with that. It also runs silently and lets me adjust the height of the flames, and I also get to choose from 2 settings for adjusting the ember.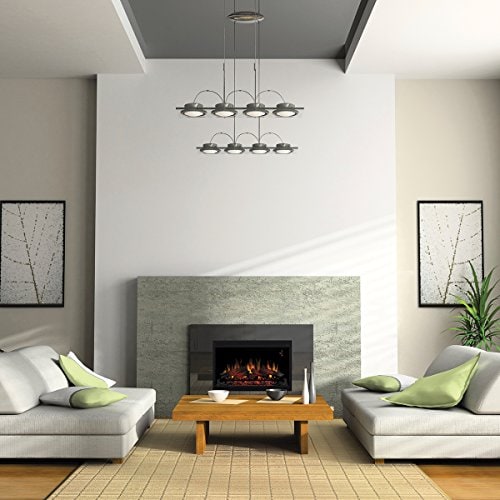 Another reason why I can't get enough of this fireplace is for the inbuilt timer that automatically shuts down after a particular set time. The ClassicFlame 36EB110-GRT gives me a calming relaxation, similar to that of my traditional fireplace, minus the ash, soot, smoke and tedious cleanup. I could be any happier.
How affordable is the Classic Flame 36EB110-GRT for your home?
The ClassicFlame 36EB110-GRT is neither an entry-level nor a high-end fireplace. It falls somewhere close to the high-end models and so is its price. A price tag under $500, is what most people would consider expensive. Well, I would agree with them if only this fireplace returns no value for money.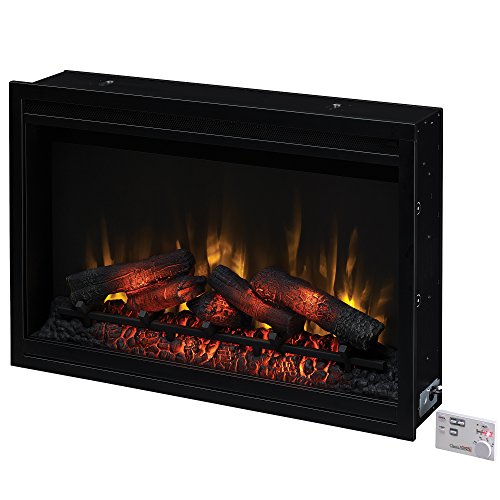 Sadly, I wouldn't want to be in that mix because when you buy this hearth, you will be paying for is its tons of features, outstanding performance, versatility and durability, aspects that you can only get from high-end models. The price is perfect for anyone looking for a machine to amuse them.
Frequently Asked Question (FAQ) About ClassicFlame 36EB110-GRT 36″ insert
Q: What area does it heat?
A: 400 square foot area
Q: I would like to flush-mount it, how deep should it be on the wall?
A: 7 inches deep
Q: Is there a fan forced heater?
A: Yes there is but not too powerful for a large room that is more than 400 square feet.
Q: Is it Ventless?
A: Yes it is Ventless, doesn't require a chimney, gel, gas, fuel, etc. It's a plug and play unit
Q: What is the warranty cover?
A: 2 years
Q: Can it produce multi-colored flames with background effects?
A: It has 9 up-light and 9 Downlight colors, 3 flame colors and 5 brightness settings
Q: Do I require a trim kit with this unit?
A: No, but if you would like to have it to cover the openings you can buy. It's optional
Q: What are the dimensions in cm?
A: 91.44 cm W x 19.3675 cm Dx 60.96 cm H or 36" W x 7.62" D x24" H
Final Thought
The ClassicFlame 36EB110-GRT is truly a classic electric fireplace insert that is worth investing in. Compact design, easy installation, an extensive array of features and a gorgeous layout, is what it will offer.
Not forgetting to mention the adequate amount of heat it will distribute in your room giving you a relaxing and ambient surrounding. All these is what you are missing out if you haven't made your purchase yet. How about you get your today and join and tell your story too. It's never that difficult.
Related: Best Electric Fireplace 2018: Top 15 Reviews and Buyer Guide
Related: 12 Best Wall Mount Electric Fireplace Reviews 2018
Related: 12 Best Electric Fireplace TV Stand Reviews and Comparison Chart 2018
Related: Best Electric Fireplace Heater Reviews: Top 10 Unbiased Listing