Upon entering our spaces, one thing that guests will always evaluate is the design and materials used within the surrounding environment.
That is why, as much as possible, people not just buy a fireplace to keep them warm but choose something that will deliver an impression to the guests and relatives who come over usually.
Likewise, we will give you an idea through the use of this fireplace. Presenting this product review the Clevr 32″ Vertical Wall Mounted Electric Fireplace Heater.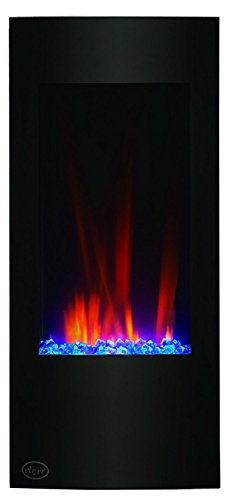 Pros
Futuristic Design

Various Flame Effects

Simple to Operate
Cons
Limited Design

Quite Heavy
What users saying about Clevr Vertical Wall Mounted Electric Fireplace Heater?
Having a futuristic look, this electric fireplace would definitely not just keep your rooms warm. Nonetheless, it will increase the glamour and sophistication with its curvy vertical shape and fireplace design that will ease your mind upon a long day's work. Its durably built enlivened with rich flame colors that a lot of users love.
Utilization is very direct and straightforward. You don't have to install or click unnecessary buttons into it. The only concern some users have is its unnecessary soft yet still disturbing noises that come upon operation.
Aside from that, Clevr Vertical Wall Mounted Electric Fireplace Heater very heavy. You'll have a bit difficulty upon mounting it in the wall with its weight. It's best to get an accompany during the installation to not spend a lot of time with it. Also, the design is quite limited. It would be intuitive if you could position the device horizontally for convenience.
Other than that, almost all users seem prettily convinced with the device's performance. It has an overall average rating in Amazon of 4.3/5 which is still quite good for a device for use.
Click Here To View 71+ Buyer Reviews
Key Features of the Clevr Vertical Wall Mounted Electric Fireplace Heater
Modernly Built
Rectangular in shape, this device has dimensions of 15.5 x 5.5 x 32.2 inches black finished with curvy tempered glass front. This black front interface is manufactured from reliable quality plastic and metal materials. Its center layout includes a fireplace that is conveniently placed creating an aesthetic look into the surrounding environment.
Flame Effect
Empowered through the 3D Flame Technology, the fireplace into its center comes with a decorative pebble-like crystals that are blue illuminated when in use. Soft LED-based fire continuously sparks over these crystals to create a realistic fire-like look as needed. The LED-based fire could be adjusted into six multiple colors including blue, orange, and purple with an intense backlight (on its sides) for flexibility and convenience.
Safe to use
This UL Certified device is perfectly secure for use by everyone. It does not excrete any by-products such as ash or smoke similarly to any fire pits. It does not use any solid fuel or gas for heating the surroundings. Nonetheless, it includes a tip over and overheating protection with a thermal cut out to ensure that it will not cause any fire upon use.
Heat Distribution and Efficiency
The device comes with dual heat settings for low and high adjustments. Nonetheless, it powers either from 750 watts or 1500 watts exclusively. It would be fitting for use in areas, not above 250 square feet. To become more efficient, it is important that one should adjust a meter clearance at the top part of the heater.
The vent is located at the top for which is used to release intuitively the heat to provide warmth into the surroundings. Thus, this is done to maximize the heating efficiency of the device.
Ease of Use and Operation
One side portion of the device situates easy to use buttons and one switch to operate the device. Nonetheless, the three buttons are conveniently pressed to alter and put some adjustments on temperature, lighting, and flame colors.
Likewise, it features also a remote control that is added into the package. The remote control contains five buttons used for flame effect and temperature adjustment as needed.
Compare

Touchstone 80001 Onyx vs.

Clevr Vertical Wall Mounted

Electric Fireplace
Basically, both devices are empowered with the LED technology to create a 3D realistic fires into it. Both are innovatively black finished with a futuristic setup. At the centre of the devices, a fireplace is conveniently situated. Though, the orientation for both devices is not flexible and different. The Clevr could only use as portrait while the Touchstone 80001 Onyx is heavily landscaped when used.
Nonetheless, the Clevr seems to be 10 pounds lighter than the Touchstone 80001 Onyx. Both must be wall mounted during installation through secured pins and screws that should be included in the package.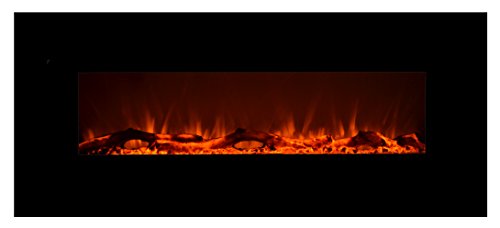 At to its heating capability, the Touchstone provides more heat across the room with a maximum area catered to about 400 square feet. This is expected since the Touchstone is much bigger for use. Unlike the other device, it features a five flame brightness setting depending on your preference.
But nonetheless, this feature is matched over by Clevr with its multiple color flame adjustment that most of its users love. Other than that, the Touchstone 80001 Onyx includes also a timer for which the latter does not have.
As to its price, it's quite expecting that the Touchstone 80001 Onyx will be much more expensive than the Clevr. It's about two times as costly as compared to the latter. Nonetheless, this is quite reasonable for its versatile functions and large heat capacity.
What's the disadvantage of Clevr Vertical Wall Mounted Electric Fireplace Heater?
If talking about disadvantages, there are few things that you should take note with this device. First, it's quite noisy. There are users who have complaints about the soft sounds and noises that the device exudes upon the operation.
Second, it has limited design and layout. It's more convenient if the device could be oriented in portrait or landscape mode for versatility. And lastly, its quite heavy. You'll have to let someone accompany you, especially during the installation.
Why should you choose it or not?
If you desire to purchase something different from the classic fireplace design, then this innovative electric fireplace could be a good choice. It's beautifully designed with a LED-based realistic fire that will capture anyone's attention when they're inside the house.
Nevertheless, it does not really provide much heat into your homes as compared to other devices. It's quite impractical especially for very large rooms. Otherwise, you'll really love its design, then you should buy this.
This unique design fireplace isn't just to warm your spaces. It's modernly built to give a cosmopolitan ambiance with durable material quality that you'll really love on having into your houses. It's one of a kind fireplace that could be great of a choice.
Related: 15 Best Electric Fireplace Reviews and Buyer Guide 2018
Related: 10 Top Electric Fireplace Insert Reviews & Comparison 2018