Upset over the coldness of the outdoors. Light out your night and keep yourself warm by using a classic fire pit. Enjoy bonding moments with your loved ones at any hour in the night using a fire pit. You don't need to endure and frost over while relaxing outdoors. Presenting to you, Crawford Outdoor Square Liquid Propane Fire Pit. With its stone finish, it is sure to be the centerpiece of any backyard space.
This is a safe and efficient alternative to put fire into your nights. There's no need to use firewood or get dirty with ashes. Use fire pits to get things done easily. Nonetheless, if you are interested, then check this review to find out more about this Crawford Outdoor Fire Pit.
Magnificent Design and Built
The main square base for which the propane tank is well kept is surrounded by blocks of bricks made mainly from strong magnesium oxide and steel. At the top and bottom of it, the fire pit is streamlined with a grayish blend of steel. At the center of it lies a series of lava rocks for which where fire ignites up for operation.
At the rear of the base near the top, lies a square metal where two black coated knobs situate. The bigger knob is intended to be used for adjustments in the heat and light intensity of the fire experience. The smaller one is used for turning on and off the igniter switch. Nonetheless, instructions are written in good English and French so you could easily understand it.
At strong winds, the fire gets easily thrown and pushed over while utilization it. Thus, you should never use the fire pit when experiencing strong winds for it could be dangerous. Though there is a protective covering, there's still a risk with it. Users just hope that the manufacturer will do something with it like a windshield or anything to decrease dangers in wind. But nonetheless, this problem is not just experienced by this fire pit. Other fire pits even those premium brands don't have windshields.
As noted, the fire pit does not heat over the entire room as to what heaters do. With only 40,000 Btu heating capability, it only reaches small spaces preferably near to maximize the effects of heat on it. Aside from that, these fire pits are only intended to not heat an entire room. It's purchase to sufficiently warm you while in outdoors.
Key Features of the Crawford Outdoor Square Liquid Propane Fire Pit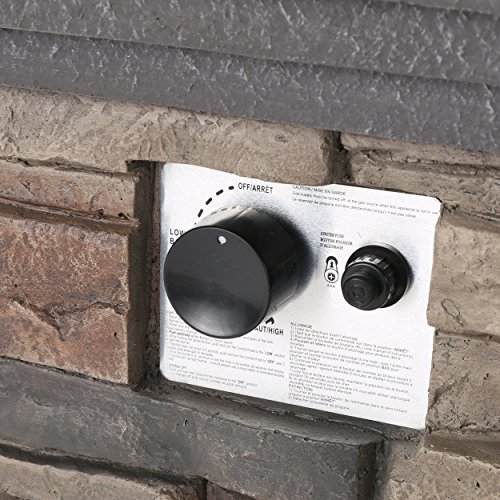 Simple Installation
There's no need to assemble anything because, upon purchase, everything lays down directly. Though since the propane tank and the rocks are not incorporated into the device, it's your responsibility to set up into the device to illuminate it up.
Sturdy and Well-Built
From the base to the top, the fire pit is durably constructed made from premium materials of steel and magnesium oxide. It's water resistant and does not corrode over even exposure to extreme moisture. Though it quite heavy weighing about 155.4 pounds, it's extremely reliable and flexible with different weather conditions.
Intuitive Ignition Switch
The battery-powered ignitor of this patio fire pit is installed directly as needed. The propane tank is accessible by opening one of the four faces on the base. It is enclosed very well with a panel to keep it secure. Nonetheless, it is connected with a hose to fire it over the top.
What are users saying about Crawford Outdoor Square Liquid Propane Fire Pit?
The thing about this fire pit is that you don't need to assemble it further. Also, the operation is simple and does not require a lot of controls and functions. It's very direct and straightforward. Also, a lot of users love the design of this fire pit. It induces a beautiful flame that warms sufficiently most of its users to coldness.
Though limited heat, it truly fits its purpose on just warming out its users. Aside from that, it is a great addition to your outdoor spaces. It has an empowering design constructed durably from high-quality materials.
Click Here To View 74+ Buyer Reviews
However, because it is heavy, you cannot easily move around the fire pit as you've desired. Though the fire pit does not corrode easily, this feature is somewhat not intuitive especially if you wanted to move your fire pit as necessary. But nonetheless, it is doable just needs extreme effort. Users just hope that the fire pit incorporates a windbreaker or shield to cater the weather extremes.
Also, the propane tank and lava rocks are sold separately from the fire pit itself. It would be better if the manufacturer includes few of this to not hassle around users on buying other components. As oppositely, this is sort of an advantage to some users since they have the freedom to choose on a tank and rocks with it.
Compare with Crawford Outdoor Square Liquid Propane Fire Pit vs. Endless Summer GAD1399SP
Just by looking with both fire pits, it is notable that Crawford Outdoor Square Liquid Propane Fire Pit has an edge as compared to the latter. It has an outdoor brick-like base with a square top that marks over durability against the former. Nevertheless, Endless Summer, GAD1399SP incorporates only a plain black base resembling a cabinet with a slate tiled square top.
As to heat output, Crawford gives off about 40,000 Btu heat as compared to Endless Summer with only 30,000 Btu. Nonetheless, Crawford ignites a sparkling and immense fire as advertised by the manufacturer. Though, it does not include lava rocks whereas the latter incorporates few black fire glass to illuminate it up.
Upon looking at its price, Endless Summer has its edge with as much as two times cheaper as the latter. But nonetheless, it has a 3.9/5 rating on Amazon as compared to Crawford with astounding 4.8/5 rating. Sufficiently, these ratings speak for itself that Crawford induces not just quality but longevity as what it promises to its users.
Does Crawford Outdoor Square Liquid Propane Fire Pit worth the money you spend on it?
An expensive brand means you'll need to ponder around whether to buy it or not. But nonetheless, looking at the reviews and the reliability of the brand itself, you'll basically won't have second thoughts on buying it.
It has an intuitive and durable material design with excellent heating output that fits into your outdoor spaces. Though it's quite expensive, there is an assurance that it does the job well that fits its intended purpose.
How better than any top rated Best Choice Products?
Indeed, the device could be compared over to any Best Choice Products. With the quality and durability might as well as design, the product could be even better than Best Choice Products. Though the manufacturer isn't that well known and its prettily expensive, the device is truly worth on purchasing of.
Overall, this is an excellent fire pit. It would be a great add-on to your outdoor spaces with durable material quality and design. Though it's quite heavy, it's still manageable. For best results, you could employ a windshield or buy a protective covering to keep every utilization safe and secure as much as possible.
Related: Best electric fireplace 2018 – Top 15 Reviews & Guide
Related: Top 10 electric fireplace insert reviews 2018
Related: Best pellet smoker grill 2018 – Top 10 From Popular Brands