One of the things I would look forward to during winter and cold weather is getting warm and cozy snuggled up in front of a glowing log or staring at an ambiance of a gentle rolling fire at home with family and friends. And what better way to do it than with an infrared fireplace stove that gives the benefits and ambiance of a fireplace minus the hassles and mess. And in this case, Duraflame DFI-5010-01 is easily your perfect and ideal fireplace heater because of its outstanding and efficient adjustable heat settings and child and pet- friendly feature that you will surely love and enjoy.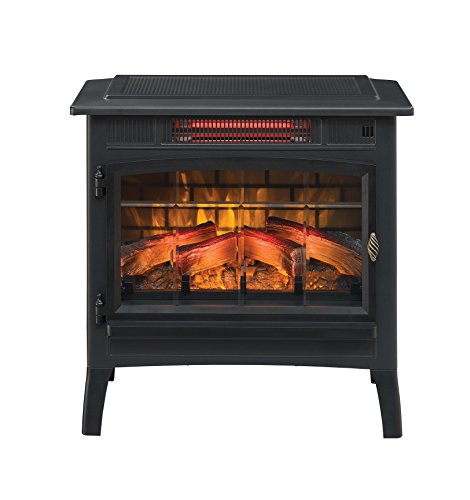 Key Features of Duraflame DFI- 5010- 01 Quartz Fireplace Stove
Here is a brief product description of the freestanding Duraflame DFI-5010-01 Infrared Quartz Fireplace Stove:
3D Flame Effect
While getting cozy and warm, watching the flames move and dance across the ember bed is one of the things most people finds enjoyable and magical. This infrared heater, fireplace stove, features a patented 3D flame effect design, which is the new frontier of many high- end fireplace stoves and allows you the experience of actually sitting in a real fireplace with a realistic flame effect and viewing windows to the entire log set, but minus all the hassles and troubles of having the real one in comfortable heat.
This is ideal for those who wishes to have wood- burning fireplace at their homes but does not have the time and patience of tidying the mess and maintaining the cleanliness.
Optimum Energy Efficiency
Managing energy consumption does not only let you save on money and resources, but makes life better as well. The Zone Heating feature of Duraflame DFI-5010-10 fireplace stove provides you the option and maximum control on the distribution of heating large rooms, or the entire house.
So you can save power for those areas that are not used all day long or on some specified time. Instead of heating the whole house, you will be able to set and adjust the central heating, or zone heating, to only those rooms occupied and shut it off on those that are not.
Adjustable Brightness and Heat Settings
In order to meet all your different needs, the Duraflame DFI-5010-01 fireplace stove comes with the five adjustable brightness settings on the control panel so you can conveniently set the size and the look on the flame depending on the weather, time of the day or merely as to what you would prefer. The heating temperature can be also customized to make the room more comfortable and cozier.
Overheat Protection
Perhaps one of the concerns of having a fireplace stove is the safety and security most especially for households that have kids and pets. Another standout component of this Duraflame DFI-5010-10 Quartz Fireplace is its cool to touch feature, thus you will not be worrying about them playing around the stove and the possibilities of getting hurt or burned with it.
With the overheat protection, the stove immediately shuts down before it even overheats, which is an essential feature in ensuring the safety and welfare of everyone in the house. A remote control and an electronic timer are also employed in case you would want to turn off the heater at a specified time even if you already fall asleep.
At a Glance Duraflame DFI-5010-01 Stove Review
Duraflame DFI-5010-01 Fireplace Stove VS. Dimplex CS33116A Compact Electric Stove
Aside from Duraflame DFI- 5010- 01, Dimplex CS33116A Electric Fireplace Stove is also another standout fireplace stove that you will find in the market as you scan and pick which ones will suit your needs. Just like the Duraflame, it comes with an adjustable thermostat which allows you to set the heat level, enough to keep the entire room's air warm and cozy.
Formerly known as Electralog, Dimplex CS33116A provides you the ambiance and view of an actual fire without the mess as it has its own patented life- like flame effect to trick visitors into thinking there is an actual fire going on, as well. Many find it convenient that both fireplace stoves are portable and stand to fit in to the room's overall look and décor because of their individual, unique rustic design.
Like most high- end and superior quality fireplace stoves, Duraflame DFI- 5010-01can warm an entire room while Dimplex does it efficiently on area up to 400 sq ft, thus ideal for small to medium- sized rooms too.
What users saying about the (Duraflame DFI-5010-01)
After using and experiencing its top notched features and the convenience of making life better, its users find the functionality and reliability of Duraflame DFI- 5010- 01 to be excellent and satisfying. It puts out a great supplemental heat and warms the room pretty well, which is its main goal and purpose. Many appreciate the energy- saving mode as it truly allows them optimum consumption of both money and energy, and increases the level of safety and protection.
They also rave about the flame to be very realistic, with the glass covering for a clear vision of it on all three sides, thus perfect to sit down and enjoy the view while getting cozy with family and friends. Some of them love that it even fooled their guests for thinking it was actual fire. The design and color receives many positive reviews as well, which makes it a great addition and fit to any living room aesthetics.
Click Here to View 235+ Buyer Reviews
How about Durability and performance of the Duraflame DFI-5010-01
To ensure the superior performance and long use of this fireplace stove, the body is constructed using solid durable metal body construction with side view glass window and an operable beveled glass to withstand wear and tear. It is easy and convenient to use as it can be operated either with or without heat, providing a warm and gentle fire ambiance all throughout the year.
Its thermostat can be adjusted to a lower level and can be controlled by turning off the blower to the heater air for those areas not used and consume the extra heat in the room where everyone gathers together. With the maximized use of energy, wear and tear of the HVAC units is cut down massively.
Why you consider Duraflame DFI-5010-01 – does it worth the money?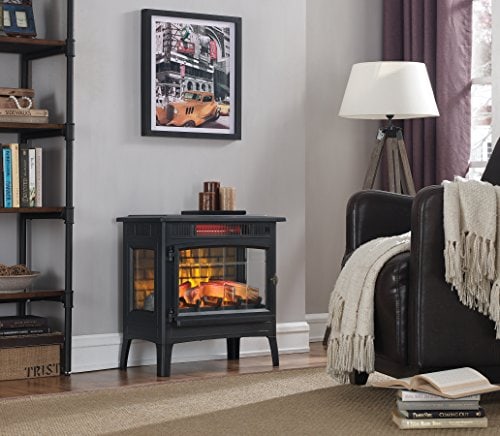 Based on the performance, functionality, and ease of use, it is no doubt that Duraflame DFI- 5010- 01 is a wise investment and a great value for your money. Aside from providing you adequate warmth with its 3D flame, it also helps a great deal in keeping the natural humidity of the room by emitting right amount and level of heat that does not dry out the air. Its adjustable features allow you great savings on energy and money as you can adjust and optimize its use based on your needs.
At the same time, your comfort is ensured as a remote control is provided for your easy access and setting on automatic timer especially during night time. What I also like about this fireplace stove, which I bet you and many others will appreciate, is its safety features that is ideal even for kids and pets.
Overall, from the many fireplace stoves available in the market that can meet your different needs and demands, Duraflame DFI- 5010- 01 is definitely a useful and excellent addition to your living room because you can rely on its efficiency, safety and comfort of use. It is also portable, thus easy to move around when deem necessary and allows wise management of energy and money. And since its surface does not get hot when used, it is safe around the kids and pets. Hence, it is definitely ideal for any household.
Related: Best Electric Fireplace TV Stand 2017: Top 12 Reviews and Buyer Guide