If you want a perfectly grilled food recipe, you'll need a reliable and excellent grill like Green Mountain Grills Davy Crockett Pellet Grill. Unlike other ordinary grill brands in the market today, Davy Crockett features a digital WiFi controller that is applicable both for iOS or Android smartphone or any mobile application.
Now, you can control the settings anywhere and anytime without stress and hassle of manual work. You can now achieve an even and delicious food recipes only from the best. Let's find out what this pellet grill brand has more to offer! Also, review the advantages and disadvantages of this product to help you make an informed decision before buying one.
Holds temperature well

Good for everyday use

Delicious smoked flavor and aroma

Easy to operate

Portable

Affordable
Temperature Issue
One customer mentioned the temperature getting a little high. The customer contacted the manufacturer's customer service and was assured that this happens rarely from the thousands of units they produce. The unit was replaced because of this factory defect and the new grill works perfectly fine. The customer at Amazon gave a rating of 5-stars!
Instructions Issue
Another customer has complained about setting up and operating the pellet grill. The instructions for the three different models of green mountain grills reviews, Davy Crockett Pellet Grill are all in one booklet. So there was a little bit of confusion right there. Upon sending an email, the customer received clear instructions with a video included to fix the matter. In the end, the company received 4-stars from this customer.
What Users Say About Green Mountain Grills Davy Crockett Pellet Grill
Customers love the Green Mountain Grills Davy Crockett Pellet Grill because of its portability. You can bring it anywhere you want to have a barbecue party even outside the home. Users love the easy operation and maintenance too.
While the Wi-Fi is a good feature, some customers complain of the accessibility distance. It is best to use a reliable internet connection if you are using the Wi-Fi feature to avoid dismay. Nevertheless, more customers are happy with the temperature control of this pellet grill.
Click Here To View 307+ Buyer Reviews
Compare Z Grills ZPG-700D vs. Green Mountain Grills Davy Crockett Pellet Grill
Both these pellet grills have their own amazing features with high-quality built and performance. When it comes to the product dimensions, the Z Grills ZPG-700D measures 51.2 x 22.5 x 48.4 inches with an item weight of 172 pounds, whereas Davy Crockett measures 32.1 x 16.5 x 20.9 inches and weighs 57.3 pounds.
We can say that when it comes to portability, Davy Crockett wins. So far as the food load capacity is concerned, the Z Grills ZPG-700D wins given these measurements. Also, you can feed a very large group with Z Grills, which is perfect for big events and celebrations while Davy Crockett is suitable for a family get-together and small group parties!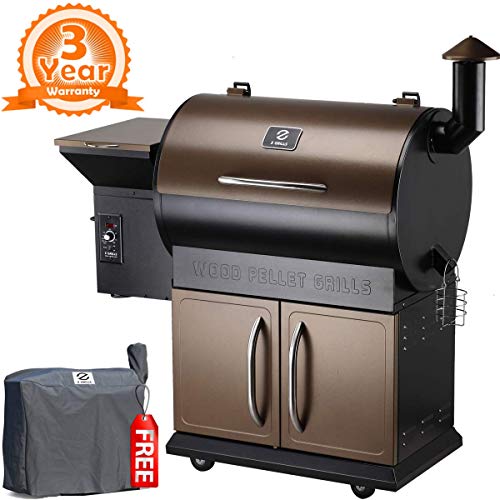 The Z Grills ZPG-700D comes with state-of-the-art features such as the Z Grills wood pallet technology, getting your food recipes with a wood-fired flavor without using gas or propane, allowing you to cook up to 20 hours of meat using 20 pounds of wood pellets.
Both pellet grills come with a stainless built which depicts durability and strength. Both have a good temperature control, with the Wi-Fi advantage of Davy Crockett. Both are easy to clean and operate for a perfect barbecue and grill party!
Key Features of the Green Mountain Grills Davy Crockett Pellet Grill
Portable Pellet Grill
The Green Mountain Grills Davy Crockett Pellet Grill is very portable. It has folded legs that can also serve as handles. Now, you can enjoy grilling, smoking, braising, roasting, and barbecue anytime and anywhere with this portable pellet grill for your entire family and friends.
Versatile Pellet Grill
This portable pellet grill runs on 120AC or 12V, making it a perfect grill for home use, camping, hunting, tailgating, house-boating, beach picnics, and music festivals. It weighs 57 pounds and the legs can be folded so you can easily place it in your car trunk and take it wherever you want to use it.
Great Performance
With the Sense-Mate technology, the Green Mountain Grills Davy Crockett Pellet Grill surpass other best pellet grills and smokers because of its superior performance. This thermal sensor is an innovative solution for constantly monitoring the temperature of the grill. Even with the control panel, you can adjust the temperature 5 degrees Fahrenheit at a time.
You can also manipulate the fan and auger speed with the use of the PID controller for anticipating and fine micromanaging temperature. The Wi-Fi system allows you to control the temperature settings within an accessible distance, thus reducing the stress and hassle of going near your grill every time.
You can program more exact temperatures with 1-degree adjustments using the app. The temperature comes out from a cloud-based app for remote monitoring anywhere and anytime with an internet connection.
This means more time to run errands or just watch your children play baseball while you're grilling. You can also program instructions using the app, allowing you, for instance, to smoke for 5 hours and cook for 3 hours, and lowering the temperature to keep the food warm until you're ready to eat.
What's the Disadvantage of Green Mountain Grills Davy Crockett Pellet Grill
There are only a few disadvantages of Green Mountain Grills Davy Crockett Pellet Grill and these are resolved by their excellent customer service and technical support teams. Some customers complain about the temperature getting high or low and Wi-Fi concern.
However, these are properly managed and most issues are user issues needing a little bit of clarification and clearer instructions, most especially for new users.
Why Should You Choose Davy Crockett Pellet Grill or Not?
The Green Mountain Grills Davy Crockett Pellet Grill is a must-have grill given its affordable price point and portability. It can give you the best wood-fired smoke food recipes you want for your family bonding and other important occasions.
Majority of customers rate this product 5-stars not only for the good product quality but also their excellent customer service.
Grilling is more fun with Green Mountain Grills Davy Crockett Pellet Grill. It is a good investment for home use and even your outdoor adventures. It is portable, easy to use, durable, and affordable. Get yours today!
Related: Best charcoal smoker 2018: Top 10 Charcoal smoker reviews
Related: 5+ Best electric smoker under $200
Related: Oklahoma Joe Smoker Reviews 2018 – Compare Classic & Latest Model