Having a patio in your home means that you acknowledge the benefits that it offers. For one, they are an amazing way to give your home an outdoor extension. This is where you can enjoy spending time under the evening sky during summer months, relaxing with your family and friends. To intensify the experience even further, having a patio heater is a good decision to make. For one, they enable you to extend the life of your patio space, depending on the location.
One model that you can consider is the Hiland GSF-PR-PC fire pit. It is designed to fit in beautifully with any type of layout in your patio. Let us take a look at some of its amazing features and see if this is the model that you are looking for.
Pros
Sleek design

Fireglass included

Reliable heating capacity

Stainless steel lid included

Anti-tilt safety and thermocouple featured
Cons
It does not give enough warmth during winter

Not a campfire design
Key Features of the Hiland GSF-PR-PC Fire Pit
Beautiful Design
The Hiland GSF-PR-PC Fire Pit blends right in beautifully with any layout for your patio. It features a solid steel construction which makes it amazingly durable. It also introduces a hammered bronze finish that offers it a rustic look which perfectly suits outdoor living. For safety purposes, this model also comes with a thermocouple flame failure device.
Heating Capacity
This dependable propane patio heater emits up to a total of 40,000 BTUs of heat. Its clear fire glass covers the patio burner, adding further touch of elegance. It also comes with an easy to access door that is situated at the base, thus allowing you to conceal a total of 20 pound propane tank.
One Year Warranty
This patio heater comes with a one year warranty that will provide protection against manufacturer defects. The good thing about this brand is that they are among those few suppliers in the USA that offers a complete line of replacement parts, along with a full service repair center. All you need to do is to call the 800 number, contacting their 24/7 support team. The technicians will help in troubleshooting any issue over the phone, while the warranty department will replace defective parts free of charge up to a year right after purchase.
What Users Saying About the Hiland GSF-PR-PC Fire Pit
Most of the feedbacks coming from actual users of this model have been positive. One customer mentioned that he was impressed with the overall quality of the unit, in comparison to the amount paid. All he needed to do was to put a new bottle of propane, lit it up, and there it goes. Another customer mentioned that he liked the fact that this model serves both as a fire pit and a dining table.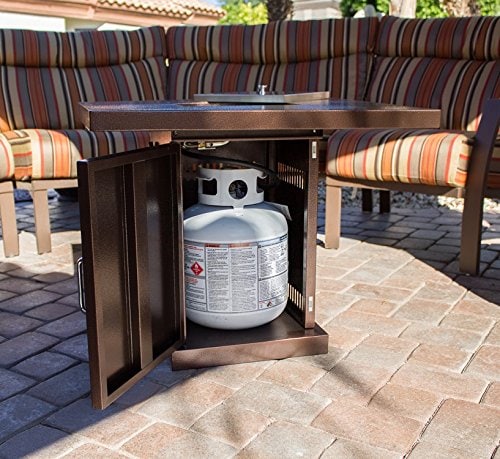 The quality of this model is also amazing, as it turns on quite easily, warming the area comfortably. One customer liked the fact that it comes with a lot of fire glass nuggets. By putting all the glass in, the top will not fit, which is why an extra space would have been nicer.
Click Here To View 126+Buyer Reviews
Compare Hiland GSF-PR-PC Fire Pit with the AZ Patio Heaters GS-F PC Propane Fire Pit
Both the Hiland GSF-PR-PC Fire Pit and the AZ Patio Heaters GS-F PC Propane Fire Pit serve as dependable burners that will certainly improve the ambiance of your patio at home. Both offer a heating capacity of 40,000 BTUs. There are just some differences however. The latter is taller, which may be challenging to deal with for covered patios.
The fire pit model from AZ Patio Heater is made out of chunky and clear fire glass which covers the burner, while adding a hint of elegance to the unit. It also features an easy to access door that is located right at the base, thus allowing the model to conceal a propane tank that weighs 20 pounds inside.
The AZ Patio Heater GS-F PC Propane Fire Pit also quite heavy, which means that you might need someone to install it with. As a matter of fact, the assembly time often takes up to an hour. Still, this installing experience is well worth the price. It is also important to note the manufacturer's disclaimer about the unit's powder coat finish. For this reason, it is recommended to purchase a cover, using it when dry, and not hot.
What is the Disadvantage of the Hiland GSF-PR-PC Fire Pit
Some customers also talk about some disadvantages offered by this fire pit. For example, after a couple hours of continuous use, the thermocouple cage can be seen as filled up with soot or carbon, thus stopping the thermocouple from getting enough heat. This will require you to clean everything, which may take your time. However, when you get used to this cleaning process, then cleaning will be easier as well.
Why Should You Choose it?
If you are looking for a fire pit that will serve as a source of heat in your patio, the Hiland GSF-PR-PC fire pit is certain a good option to take into consideration. The design of the model is simple enough, yet elegant to add to your patio and easily make it as a conversation starter among your guests, family and friends. Aside from serving as a good source of heat, it also has space where you can place some items while having your meal.
Final Verdict
Overall, the Hiland GSF-PR-PC fire pit is a good option to take into consideration when you need a fire pit that you can place in your patio. Now, you can enjoy your patios even better, making it a place where you can cook food, entertain your guests, or simply relax. With this patio heater, you can heat up your outdoor space without any hassle. Install it with someone, and you already have a reliable fire pit ready to entertain your guests in your patio.