Improve your outdoor life with something that will bring forth warmth and comfort during those times when the environment becomes a bit chilly. Enjoy a relaxing and a great time with your family and friends with HY-C FG-16 Flame Genie Wood Pellet Fire Pit that provides a genuine heated ambiance that will lift your spirits up.
You can now forget about chilly nights that makes it harder for you to enjoy a rest day or vacation time. This device can create a natural source of warmth that will tingle your skin and insides. It can also heighten that campsite feels even in the benefit of your backyard.
The HY-C Flame Genie FG-16 Wood Pellet Pit will look good on your porch, front yard, backyard, or any outdoor recreational sites.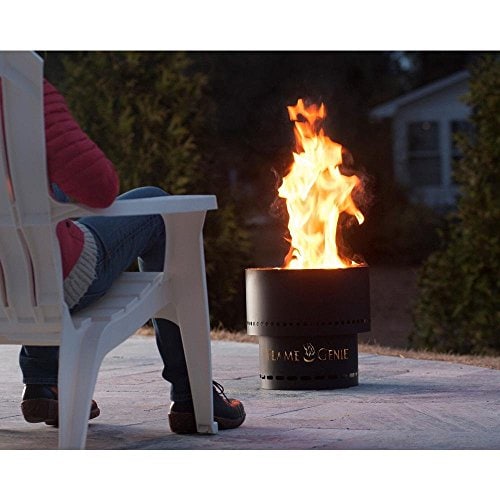 It doesn't produce any smoke.

This fire pit provides sufficient warming for the whole family.

It comes with a bag that makes it portable and convenient to carry around.
Fire doesn't last that long.
It can only last for about 15 minutes then you need to put some wood pellets to maintain the heat produced. It's a bit of a hassle if you want to generate long-lasting fires during campsites to keep you warm during sleep.
The paint job is awful.
The paint used on the metal pit is not of high-qualityhigh-temperature capability. During the first use, the paint will fall off instantly.
What Users Saying About HY-C Flame Genie Pit
People have mixed emotions towards this fire pit but reviews still lean towards a positive one. Let's get to the points users stated in their statements one by one.
The first thing that people noticed about it is the amazingly hot flame that it produces which is alluring to the eyes. It also doesn't cause any burning sensation on the eyes because there's no smoke produced by the pit.
The problem with it is that it needs to be constantly fed with wood pellets to keep the fire burning which is a bit hassle during camping wherein you will be left out cold while sleeping. It is only reliable during those small talks and mini-activities that don't require much heating.
The great thing about is that it can produce flames in a flash which is just right when you need immediate heating when the temperature begins to drop. The fire also is sufficient enough to cater to a large group of people. Clean up is also a breeze and doesn't require too much energy to do so.
Portability is also what people liked about this fire pit. It can be taken anywhere you want without being too bulky or heavy. The bag was also convenient for a lot of people since it can help you carry and transport the product with ease.
The paint job on the metal pit went out easily after the first use and there was also evidence of rusting on it.
Other than these, there were no other issues regarding this and the experience it brought the customers were quite good.
Click Here To View 152+ Buyer Reviews
HY-C Flame Genie FG-16 Wood Pellet Pit vs. Solo Stove Bonfire Fire Pit
Let's check things up with another fire pit with almost the same functionality. Solo Stove Bonfire Fire Pit garnered better reviews compared to HY-C Flame Genie FG-16 Wood Pellet Pit.
The problem with the Solo Stove Fire Pit is that it was rather hard to create fire with it. It takes some time before flame will pop out of the pit unlike with the HY-C Flame Genie Pit which burns in a flash. Cleaning it is also a hassle because the ashes stick too hard on the surface of the pit.
The bottom side of the Solo Stove Fire Pit got deformed and disintegrated every after use. It also still produces smoke compared to the HY-C Flame Genie Pit which is 100% smokeless. The former also gets rusty even though it says that it is stainless steel.
You can't see much of the beauty of the flame because of the metal sides that are blocking the view. This made the HY-C Flame Genie Pit more functional and reliable when it comes to aesthetics and source of comfortable warmth.
When it comes to the price and quality parameters, HY-C Flame Genie Pit is cheaper and meets every expectation towards a fire pit.
Key Features of the HY-C Flame Genie Pit
State-of-the-art Gravitational Afterburner System
One of the unique features of this fire pit is the Gravitational Afterburner System that allows the longer duration of flame to occur and discourages the production of smoke. Now you'll have a worry-free experience of heated delight without your neighbors getting irritated by the smoke. It also prevents embers and sparks from flying away from the actual pit reducing the risk of burns or fire hazards that are typical with other fire pits.
It also uses wood pellets compared to the conventional lumber used for burning. It is more convenient and easier to manage and will not cause any threat or is not bulky when placed inside the pit.This method produces less ash making it easier during clean up.This system also creates a very amusing display of flames that will surely mesmerize everybody who sees it.
The overall material used for this pit is made from heavy gauge steel that makes it tough and incredibly durable.
Sturdy bag for portability
The tote bag that comes with this fire pit is crafted for increased convenience and portability so you can carry it around whenever you like and wherever you are going. It is double-stitched for durability which can carry even the whole unit without any hassle. Transporting and storing it is a breeze with this bag that comes in every unit which fits any corner of your house until the very next usage.
What's the Disadvantage of HY-C Flame Genie Pit
There were just a few things that cost it to lose stars on the chart. First is the longevity of the flame wherein you need constant putting in of wood pellets and lastly the paint strips off easily from the metal pit.
Why You Should Choose It or Not?
It is a good addition to every campout or a night out that will definitely bring out the best in every outdoor activity during cold days and nights. This metal fire pit lives up to the expectations of the users since it gives out adequate heat and beautiful dancing flames that will ignite the night away. Its portability is also what makes it a great choice for campers or even outdoor lovers.
Final Verdict
The HY-C Flame Genie FG-16 Wood Pellet Pit will be a great addition to your camping needs or even just for a chilly night where you need to feel cozy and warm. It is smoke-free and safe to use with durable materials present on the metal pit. The fire comes out easily while adding an interesting ambiance to your surroundings.
Related: Best Electric Fireplace 2018: Top 18 Reviews and Buyer Guide
Related: Best Wall Mount Electric Fireplace Reviews – Top 15 of users choice