Warming out your indoor spaces and homes is not easy to do especially during cold days. That is why a lot of people installed out wall mounted electric fireplace into their spaces to ensure that heat will be evenly distributed into your place. Not just it provides warmth, but wall mounted electric fireplaces improve the ambiance and establish comfort into your homes.
Nonetheless, if you are interested with buying one, then try to look at this Innoflame Wall Mounted Electric Fireplace through this short product review.
Pros
Ease of Use and Installation

Great Design and Layout

Durable Quality

Multiple Flame Effect
Cons
Limited Heat Capability

Produces Tiny Sounds
What users saying about Innoflame Wall Mounted Electric Fireplace?
This Innoflame Wall Mounted Electric Fireplace is made delivering vibrant flame colors and effects with a great heat output. Consequently, it's easy to use and install with a healthy interface having a remote control that one could use at long distances.
Its durable and sophisticatedly made adding beauty to your living rooms or bedrooms. Aside from that, it heats and warms out the room limitedly up to 400 square feet as advertised.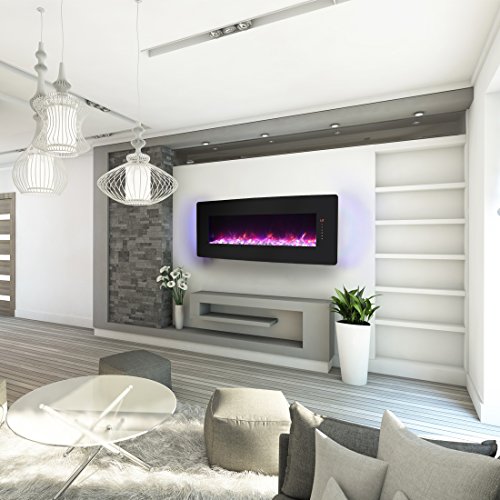 Nevertheless, few users keep on complaining about its noise. Though the noise is quite soft almost clock-like, it's a bit distracting especially to those users who are not getting used to it. As said by some users, its recommended to buy an adjustable fin for convenient distribution of heat into the device.
Click Here To View 15+ Buyer Reviews
Key Features of the Innoflame Wall Mounted Electric Fireplace
Elegant Wall Mount Design
Rectangular in shape having dimensions of 48″ L X 5″ W X17.3″ H, this 44-pound device is created with a curved glass design. Its streamlined with black sidings and a centered LED-based realistic flame effect that is very beautiful upon use. Aside from that, its interface is incorporated with indicator lights and temperature reading for you to be constantly monitored out things as needed.
Wide Range Heating Output
Featuring a 1400 W power compatibility, this device supplements heat up to 4777 BTU per hour. Nevertheless, the device could warm out a room having temperatures from 64 deg. Fahrenheit to 82 deg. Fahrenheit. Aside from that, the device could supplement heat up to 400 square feet.
Easy to Use Interface
Control out the device using a long rectangular black finished remote control. Nonetheless, it includes 7 intuitive buttons for heat, power, flame effects, ember bed, sidelights, a timer, and an adjustment button to increase or decrease out things. The main interface also incorporates easy touch buttons that you could use to control out things easily.
Flame Effect Versatility
Shift out your flames at different colors with seven option from blue, orange, and a combo of blue and orange, blue, green, and pink respectively. Aside from that, the device includes three ember bed options from the traditional wood log, crystals, or pebbles depending into your convenience.
Safe Utilization
Armed with overheating protection, this device features a secure design without combusting out or lighting any fire into it. Its empowered with a safe to use design and direct operation. Just plug the socket and it will lit out as needed. Nevertheless, it has a 120 volt AC to use it out easily.
Compare with PuraFlame Alice Recessed vs Innoflame Wall Mounted Electric Fireplace
A bit larger than Innoflame, the PuraFlame measures about 52.5 x 23.3 x 10.3 inches rectangular in shape as it should be. The PuraFlame has the similar black finished streamline with a LED powered flame effect into its center.
The PuraFlame has more flexible and adjustable flame options with four different flame settings and incredibly 14 embed bed color settings. Similarly to the latter, it could be controlled using the remote control or through the touch buttons that is situated on the interface of the device.
Nonetheless, there's only a slight difference in temperature measurement into the two devices. The Innoflame has a 62 deg Fahrenheit to 82 deg Fahrenheit temperature reading for which is 1 minimum degree higher than the other one. The PuraFlame has a timer that you could set off from 30 minutes to 9 hours of use. Whereas the latter also has a timer but the maximum time that you can set out isn't mentioned as needed.
The Innoflame induces a 1400 watt power for which is a 100 watt lower than the Puraflame having 1500 watt power. Other than that, the Puraflame has two heat settings from 750 to 1500 watts with a front heater blower vent into the top of the device. Nonetheless, the latter does not have this function.
Since the PuraFlame Alice Recessed Wall Mounted Electric Fireplace is larger, you'll expect that it will be much heavier weighing 72.4 pounds. Consequently, this is about 30 pounds heavier than the Innoflame with a 44-pound weight. As to its heat coverage, both have similar heat distribution up to 400 square feet.
As to its price, it's obvious that Puraflame would be expensive than the latter. It's larger and heavier than the latter. Aside from that, it exhibits more power than the Innoflame. A 100 dollar difference seems to be quite convincing for the flame effect variety and larger dimension of the device as compared to the Innoflame.
What's the disadvantage of the Innoflame Wall Mounted Electric Fireplace?
Basically, it only heats up limited area at a maximum of 400 square feet. Thus, it does not heat out efficiently with greater lengths as it should be. Aside from that, this device produces tiny and clock-like sounds for which is quite distracting according to some users.
But nonetheless, its easy to use with multiple flame effect that's quite conducive for use as needed. Installation is simple with few things to remember. Overall, it has minimal drawbacks though there's nothing spectacular or amazing with this device. It has a similar mechanism and capability as to other electric fireplace devices.
Truly Innoflame Wall Mounted Electric Fireplace worth your invest according to specs?
For the price it has, the device is quite recommendable for purchase. It has a great design suitable for use in your living rooms and bedrooms. It's modernly built to enhance the sophistication and comfort of your room. It heats efficiently and safe to use.
Setup is no hassle and could be controlled using either its interface or the remote control. Overall, it's not as intuitive as other wall mounted electric fireplace but it's definitely something that you could worthily purchase.
Wall mounted electric fireplace is an efficient way to improve out the beauty and provide warmth into your place. With a lot of existing electric fireplace available in the market, it's difficult to choose something that could truly warm your cold days.
If your looking for something that could heat out small spaces, then Innoflame Wall Mounted Electric Fireplace is a great option for ease of use and convenience.
Related: 10 Top Electric Fireplace Insert Reviews 2018
Related: 12+ Best Electric Fireplace TV Stand Reviews 2018
Related: Best Electric Fireplace Stove Reviews 2018 – Top 10 on users choice
Related: Best Electric Fireplace Heater Reviews: Top 10 Unbiased Listing