One of the most popular fire pits in the market is the Landmann 23875 fire pit. This could be the perfect outdoor heating and cooking device you have ever used. The Landmann 23875 is the best choice for outdoor gatherings and cookouts because of its large heating and cooking area. And with its bear cutouts along the sides of the pit, you will have a lovely, "up North" feel that will make your outdoor gatherings more memorable.
This review will highlight the Landmann 23875 Fire Pit; its pros and cons, features, advantages and disadvantages and a comparison with another top model, the Landmann Big Sky. This review will surely help you identify if this fire pit model is the best one for your outdoor heating and entertainment needs. https://reviewsbite.com/
Large fire and cooking area

Can be moved from one area of the lawn to another

Safe to use with the large spark screen

Lovely bear cutout designs
No water holes underneath

When left outside, water can pool inside the pit. A small drainage hole would be great to remove water easily or to drain water easily.

A hassle to clean with no ash removal system

This fire pit is like other fire pits in the market; it does not come with an ash removal system, therefore, you must take the screen, grate and the coals out to get to the ash.  This is the only way to completely remove the ash from this fire pit.

Too small cooking space

Although this fire pit was not really designed to cook food, it would have been better if it had a larger cooking area to cook more food like burger patties, steaks, poultry, fish, veggies, etc.
Key features of the Landmann 23875 Fire Pit
Keep in mind the following key features of the Landmann 23875
Made of strong steel
Compared to other fire pits that are "paper thin" the Landmann 23875 has a thick and deep pit. This guarantees longer and more efficient use for years and years to come.
With large burning and cooking area
This fire pit offers a large burning and cooking area, therefore, you can use this to burn longer and brighter flames and to cook moderate amounts of campfire food like burgers, marshmallows, and veggies to name a few.
Safe to use
This fire pit has a safety ring that works as a handle so you can transport it easily from one place to another. A convenient spark screen helps protect you from stray sparks that can hurt you or damage your patio furniture and flooring.
Stylish and fun bear cutouts
The bear cut outs create a whimsical effect. It is stylish and fun making the fire pit a good centerpiece for any nighttime outdoor event or special outdoor occasion.
What users saying about the Landmann 23875 Fire Pit?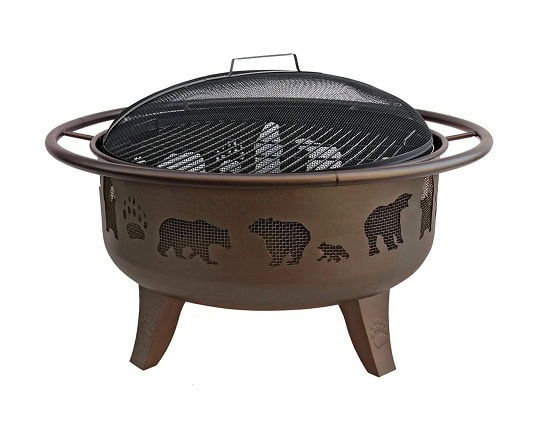 Those that have purchased the Landmann 23875 agreed that it was better than other cheap fire pits purchased locally. The Landmann had thicker pit walls while locally purchased ones were paper thin. Many loved its safe fire screen because it effectively kept stray sparks which commonly makes a mess with outdoor furniture. Finally, those that have used this fire pit before recommend this to other consumers because it has top quality construction and features.
Users that love the Landmann 23875 fire pit agree that the bear cutouts were a hit during family gatherings. It is actually the highlight of using this type of raised fire pit. There may be other models in the market but no doubt that this feature is a lovely attraction to look forward to every time you use it.
Click Here To View 199+ Buyer Reviews
Compare the Landmann 23875 Fire Pit with the Landmann Big Sky Fire Pit
The Landmann 23875 Fire Pit has a bigger fire bowl at 30" while the Landmann Big Sky has only a 23.5" bowl. Both are made of solid steel with sparks screens. The Big Sky has maple leaf pattern cut-outs while the 23875 fire pit comes with bear cutouts on the sides. Both come with a poker and legs to raise the fire pit from the ground.
The Landmann 23875 fire pit has a larger burn area and even cooking area in case you wish to use it to roast or barbecue food. The Big Sky fire pit has a smaller burn and cooking area which may not be suitable for cooking large pieces of food. Finally, the 23875 fire pit is heavier and hence sturdier; it is difficult to take anywhere without having to lift it. The Big Sky, on the other hand, is lighter and therefore easier to take anywhere in your backyard or patio.
What is the disadvantage of the Landmann 23875 fire pit?
The Landmann 23875 fire pit hardly has any disadvantages but if there would be one, it would be its lack of ash bin. This could be an opening at the bottom of the pit so you can remove the ash conveniently. With its current design, you need to wait until the fire is consumed and the pit is cool before you can reach the ashes and clean. You also need to remove everything just to completely get rid of the ash.
Why should you choose it or not?
You must choose the Landmann 23875 fire pit if you are into entertaining outdoors during the evening. This fire pit creates a warm and lovely centerpiece that will light up your night. The cool bear cutouts serve as a warm and inviting highlight of the evening and will surely be the talk of your guests for a long time.
And if you love to host parties AND cook then you can show off your hosting and cooking talents by using this fire pit. You can grill and roast moderate amounts and sizes of food in its cooking area. This may not be as big as an outdoor grill or a roaster but it can still cook and grill for a small number of people.
Final Verdict
When it comes to choosing the ideal fire pit, the Landmann 23875 fire pit is an efficient heating and small cooking station. It can help you host a small outdoor gathering at night so you can admire its bear cutout designs along the sides of the fire pit. This is a lovely sight to behold when you invite friends over for any nighttime event.
And compared to using regular fire pits, the Landmann 23875 has thicker walls and raised body. This is well-recommended by many users and it's a hit in parties, outdoor gatherings, and family gatherings. This could be the best fire pit that will fit your needs.