Staying comfortable outdoors as you read your favorite book or even sipping your favorite drink is one of the best things that you can do in the privacy and comforts of your own home. However, during the colder months of the year, doing your favorite can turn out to be a very daunting one. While you can always keep the feeling of coziness under a hoodie or a sweater, you can still opt to install a best patio heater that serves as source of heat in your outdoor spot.
One dependable model that you can take into consideration is the Legacy heating patio heater. Aside from using it during your cozy, private moments, it is also one that you can use as a décor during gathering and parties in your patio. It is also an amazing way to impress your visitors. Let us take a closer look at the features of this model and see if it offers the things that you are looking for.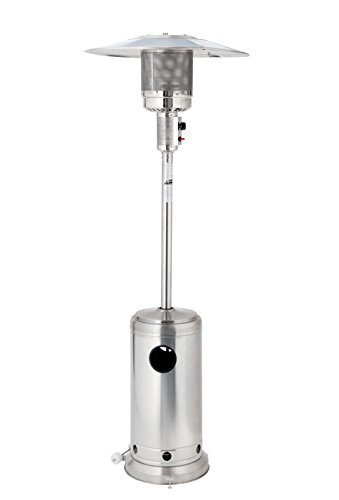 Easy to transport around

Safety shut-off feature

Adjustable heat control settings

Control knob feature

Ideal for high ceiling covered patios
What Users Saying About the Legacy Heating Patio Heater
This model has received a good number of positive feedbacks. One thing commented by a user is that it was quite easy to assemble. The user had it for several months already and they love using it when it gets cold and windy outside. The heating is quite good and stays on for several hours. He also loved the fact that the flames can be adjusted high or low. It is also efficient when it comes to propane use.
Another positive comment about this model is that it comes with its wheels, making it easy to move around. Others also love its simple and elegant design. Despite its simplicity, its presence a lot of personal touches to any patio, especially when it is turned on with its flames.
One drawback about this model, based on the feedback, is that it looks quite cheap, given the materials that are used in its construction. Still, overall, it has caught the attention of a lot of users, and they love the fact that it is a perfect addition to any patio garden, giving the warmth needed in the place for a better ambiance.
Click Here To View 8+ Buyer Reviews
Key Features of the Legacy Heating Patio Heater
Sleek Design
This model is designed for outdoor patio use. If you love a minimalist look and choice of color for your patio heater, this is definitely a good choice. It features a durable powder coated hammered black finish. Since it also reaches a height of 7.4 feet, it is an amazing choice for high ceiling covered patios. No doubt that this patio heater can make as a solid addition to your patio garden. It is also constructed using hammered steel construction, adding to its overall durability.
Easy Control
In terms of control, this patio heater features a front high output to low output without a pilot. It runs using piezoelectric ignition, and features a safety auto shut-off tilt valve, thus making it safe for use among families with children.
Mobile Wheels
This propane patio heater features a wheeled design which ensures easy mobility. On top of that, it also comes with a tip-over protection mechanism, thus ensuring a safe operation, especially when moving it around.
Compare Legacy Heating Patio Heater vs. Fire Sense 61322 Hammer Tone Table Top Patio Heater
Both Legacy Heating Patio Heater and Fire Sense 61322 Hammer Tone Table Top Patio Heater can prove to be amazing additions to your patio garden. However, there are some distinct differences that you might want to take into consideration. For example, the dimension, while the Legacy model is at 30 x 30 x 88 inches, the Fire Sense model is smaller at 13.4 x 20.9 x 34.6 inches, making the latter fit smaller spaces.
The Fire Sense model is often praised because of its space-saving design, which makes it a regular option for fixtures in an open restaurant setting. It offers 46,000 BTU heating power, in contrast to the 47,000 BTU heating power of the Legacy heater.
When it comes to the duration of its heating power, the Fire Sense patio heater has the capacity to last up to 10 hours of power. This duration of power can only be achieved once its 20 pound gallon tank is filled. Another good thing about this model is its availability of color options, which means that you will certainly be able to choose one that will complement the décor of your patio.
What is the Disadvantage of the Legacy Heating Patio Heater
In terms of the overall product, good reviews are being said about this patio heater. However, there are some who mentioned about some drawbacks as well. For example, one customer described this model as one that is built cheap.
This is not a shared opinion, however, which means that others still love the fact that this model is simple, yet elegant enough to grace any patio garden. Also, this model is only recommended for outdoor use, and not on a covered patio in order to ensure safety.
Why Should You Choose it?
This model is no doubt one of the most affordable propane heaters that are out in the market these days. It is constructed using hammered steel, which makes it both durable and fashionable. Because of the fact that it is powered with 47,000 BTU of heating power, this heater is capable of consuming about 20 pounds of liquid propane before running out, talk about cost savings.
Final Verdict
By putting the Legacy Heating Patio Heater right in the midst of your patio garden, you can add extra warmth and cozy ambiance to the surroundings. With its minimalist design and color, it will certainly become the talk of your party, as it attracts the attention of your guests, making them want to have their very own heater at home.