Wearing jackets or drinking cups of tea is the most traditional way that people do to warm themselves from a cold environment. That is why jackets and muffins are a fashion statement during winters and spring. But nonetheless, not all people know that there's another basic way to deal with the cold. The fire pits coming from a variety of sizes, shapes, and designs are used to not just warm people out but also cook food and barbecue grills into it. Primarily, there are a lot of classic fire pits existing in the market. One of the entry levels is Outsunny Outdoor Patio Backyard Fire Pit for which we will be learning more with this product review.
Pros
Simple Setup

Versatile Use Design

Sturdily Made Accessories

Cost-Efficient
Cons
Prone to Corrosion

Heats out Limitedly
Key Features of the Outsunny Outdoor Patio Backyard Fire Pit
Innovated and Sophisticated Design
Matched with a tabletop design, this gray brick finished fire pit incorporates a convenient 32 inch square top matched with modern and metal accent for versatile use for outdoor patios and verandas. Aside from that, its fence-like connected legs are situated at the edges of each side in the table having dimensions 2.5″ L x 2.5″ W x 12″ H for stability upon use.
Durable Construction
Made mainly from steel, its body and basin is powdered finish with heat and corrosion resistant features that will be able to withstand at a maximum heat of 940 degrees Fahrenheit. Its basin measuring about 22″ L x 22″ W x 4.75″ H, will keep a 360-degree view around your fire pit as much as possible.
Simple Operation and Cleaning
You don't have to worry much upon setup and utilization of this device. All you have to do is build a fire by putting all the solid fuel into the durable basin. Nevertheless, ash is easily disposed of with six small holes into the basin.
Safe and Secure Utilization
The device features security features in order to ensure safety upon the use of it. Nonetheless, it incorporates a spark screen and an additional water-resistant outdoor cover to ensure that the fire won't escape or will blow out directly into you. Also, it includes a poker to prevent any fire debris or sparks that could cause harm to anyone.
Easy Transport
Moving from one place to another isn't a problem for this device. Weighing about 27 lbs, one or two people could manage it out as needed. Aside from that, the device has a convenient disassembling method for simple transfer.
What users saying about Outsunny Outdoor Backyard Fire Pit?
With a high rating on Amazon, it's considered a direct and reliable evidence that this fire pit works efficiently. It's very lightweight and small with a tabletop design for flexibility of use. Nevertheless, you could use this device for grilling barbecues or making yourself warm through winter or spring days. Also, it's quite sturdy, made mostly from steel. But nonetheless, the material strength is not really as astounding as premiere fire pits.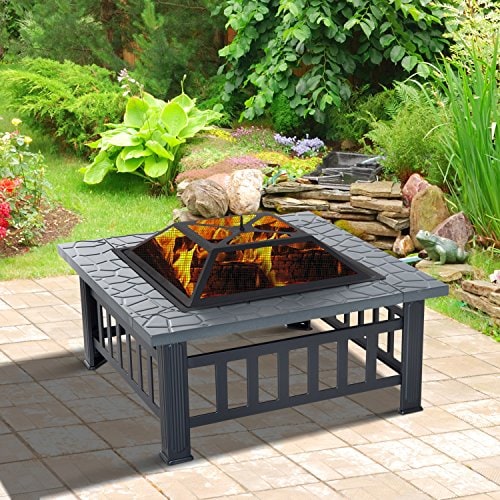 It's easy to use with the quick assembly process. All you have to do is follow the instructions written into the manual. The cover is very durable. It does its job on protecting the fire pit against moisture and droplets of rain.
Click Here To View 18+ Buyer Reviews
As to its function, it does heat up you well. However, it's not really as intuitive as other brands you've known. It's a good entry level fire pit for those who just want to keep themselves warm. It does not use well enough with larger spaces.
Overall, its quite a safe, inexpensive, and great entry level fire pits to those who wanted to go camping or just keep themselves warm during outdoors. It won't be recommended for use as a heater into your homes.
Compare with Outland Firebowl 870 vs. Outsunny Outdoor Patio Backyard Fire Pit
The shape and the build itself are very different from these two fire pits being compared. Knowing that they are coming from varying companies, we will explore deeper into the differences rather than the similarities of the two fire pits.
The Outland Firebowl 870 has a bowl-shaped design, heavily black finished measuring about 19-inch diameter. Its made from stainless steel with a regulator to adjusts out fire levels into the device. Whereas the latter has a table square top design, still steel finished with no regulator or adjustment function that the Outland possesses. Looking into it, the Outland has an edge in terms of durability, design, and innovation as well.
For performance, both are easy to use with a simple setup. But nonetheless, the Outland is much an easier option for its gas-powered than the latter with manual use. However, still, you could build fire with the two devices.
With the price, the features itself will tell you which is more expensive. The Outland Firebowl 870 is as twice more expensive than the latter. Thus, it's just up to you on what type of fire pit you'll be using, the gas-powered one for which is more costly or the cheaper option. Its now according to the necessity and the purpose on why you'll be using it.
What's the disadvantage of the Outsunny Outdoor Patio Fire Pit?
Having a simple yet still elegant design, this outdoor fire pit is limited only for small spaces. It won't be conducive for use into indoors as heater. Also, it's not convenient to use it at big and large spaces for it is suited only for nearby fire warming use.
Nonetheless, it's really not that sturdy but reasonable enough for the price you'll be paying for this product. Overall, it's really not the best in the market but it's an excellent choice as an entry-level fire pit for those who wanted to find a device that is efficient and could be bought at an affordable price.
Truly Outsunny Outdoor Patio worth your invest according to specs?
Given that your finding an affordable and an entry-level fire pit, then this is totally recommended. Aside from its well-made design, it has a lot of add-ons from poker, mesh screen, and a very durable cover for which is very important to prevent this fire pit from rusting.
Nonetheless, this fire pit builds fire efficiently and warms you out as to its purpose. Its quite sturdy and could be used for how many years if taken care of it as needed.
While a lot of people are obsessed with technologically advanced devices, there are people who still go for the simple and basic like this Outsunny Outdoor Backyard fire pit. Other than that it's quite inexpensive, you'll be able to do things all by yourself for learning and a safer route.
It's not really as intuitive as other brands but Utsunny Outdoor Patio something worthy to warm you out during winter and spring nights.
Related: 15 Best Electric Fireplace 2018 – Reviews And Guide
Related: 12 Best Electric Fireplace TV Stand Reviews And Comparison Chart 2018
Related: 6 Best Electric Smoker Under $200 – $1000