Grilling and smoking is fun most especially if you'll do it into one device easily. Though not all grillers or smokers have this option, there are few for which you could use it two in one. In this article, we will look into PK Grill PK360-STBX-D Grill and Smoker and let's see how this device works.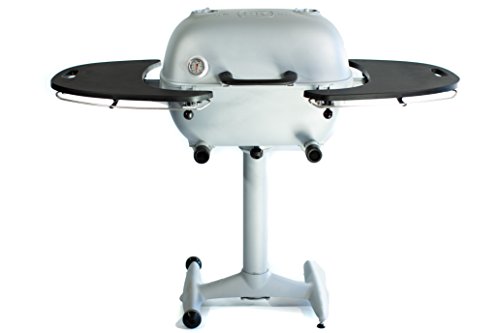 Pros
First Class Material Quality

Innovatively Design

Flexible Use

Easy to Use Interface

Ash Cleaning
Key Features of the PK Grill PK360-STBX-D Grill and Smoker
Uniquely and Well-Engineered Design
Standing with rectangular dimensions of 23 x 54 x 43 inches, this 90-pound device is white finished ellipsoidal in shape durably made from a thick aluminum casting. It has a single standing attachment with multiple strength bases to ensure stability and balance as needed during the entire operation. Aside from that, it comes with a lock/release hinges and a rear stabilizer as needed.
Multi-Vent System
The device has four vents that are situated in multiple parts of the system. Nevertheless, two are in the upper portion of the device. Whereas, the other two are into the sides of the lower part within the main body. This four vent system ensures that the device will be able to deliver a very efficient and safe use catering very high temperatures as needed.
Intuitive Temperature Management
Using the cylinder air intake, you could simply adjust out the heat and increase the temperature into the device. It incorporates a uniquely driven Tel-tru thermometer for which is highly accurate with +/- 1% error. Exclusively, the temperature could go as high from 180 to 700 degrees Fahrenheit as needed to grill or smoke food.
Expansive and Durable System
Grilling grate made from marine stainless steel system, it's assuring that the device is built for longevity. On the device's sides, black polished durabilium shelves are located. These shelves are made from engineered glass-fiber reinforced with polyester to easily lay over any cooking tool or food while you are still doing the operation. Nevertheless, this device is lightweight, rust resistant, and weatherproof for use.
Multi-Purpose Use
Transform this device into a griller or smoker by just either opening or closing over the thick aluminum cover its within. Nonetheless, you could use this device flexibly to any food converting to a variety of dishes as to the convenience of your loved ones.
Easy Ash Cleaning
Since it's fueled through charcoal or peat, there will be ash excreted upon combustion of the device. But nonetheless, you don't have to be dealing much with this problem. Its ashtray includes a hole so that you could easily sweep out any of these for easy cleanup.
What users saying about PK Grill PK360-STBX-D Grill and Smoker?
A two in one purpose grill and smoke device that's durably built and unique design that's built to last. It's entirely very reliable with versatile function and lightweight design. You could easily transfer the device into multiple places as needed.
Aside from that, it has a simple setup with an easy to use layout for which is conducive even to any first timer. Consequently, it has a four exhaust system for which is very convenient to ensure a safe operation. It has also a wide range temperature capability which could go up to 750 degrees Fahrenheit.
It has few user reviews in Amazon with not much negative complaints about this device except to its price for which is quite expensive and the availability of its parts for purchase. But nonetheless, the price quite reasonable for the quality and durability of the device.
Given skeptical with the device's quality because of very minimal reviews, the said device has been certified as a top-rated consumer charcoal grill and has been consistent by its users as a classical grills and smoker.
Click Here To View 22+ Buyer Reviews
Compare Char-Griller 1515 vs PK Grill PK360-STBX-D Grill and Smoker
Looking at both devices, you'll be able to easily determine the differences between both grillers. The design is entirely different for which Char-Griller is basic black finished with a cylindrical built and stable long bases into it. Whereas, the latter is uniquely designed with an ellipsoidal body having four vents into it.
Nonetheless, these devices aren't made from a similar material. The Char-Griller is housed mainly double steel as compared to the latter with a thick coated aluminum into it. Aside from aluminum, the Grill PK360 is finished with high-grade steel into its grates for easy cleanup and use as needed.
With regards to the size and capacity, the PK Grill has a larger area capacity having 360 square inches area as compared to the latter with only 250 square inches. Thus, you'll be able to grill more food into the PK Grill.
Utilization is both simple for the two devices. The Char-Griller 1515 doesn't have any temperature control or gauge as compared to the other one. This add-on is important to manage out heat and temperature around the system.
The price is not really as close as it is. The PK Grill is very expensive almost triple times as the Char-Griller. With the material quality and multi-purpose capability, the PK Grill has truly an edge as compared to the Char-Griller. Despite the price, PK Grill is still an intuitive option for practical users for longevity and versatility into large grilling or smoking capacity.
What's the disadvantage of the PK Grill PK360-STBX-D Grill?
As of now, there's really not many reviews with this product on Amazon. It seems like not everyone is a fan of the device because of its price. Its very expensive as compared to its competitors, almost twice or thrice as expensive. Though, the price is quite reasonable for the quality you'll experience.
Nevertheless, it has a unique design with easy operation into it. The four vent system is totally innovative for this device. Aside from that, its made sturdily that could last for a long time.
Other than the price, there are users who have problems with the purchase of additional cover. It isn't available readily and should be bought directly by the manufacturer.
Does it worth your invest according to PK Grill PK360-STBX-D specs?
Yes, definitely. The price could be discouraging but the quality and durability is no question for this device. In fact, a lot of its customers had been using this device for more than a year and still works efficiently as its first-time use.
Aside from that, you could use the device for various purposes, could be grilled or smoked as needed. Its very portable also with the easy to glide wheels attach to the bottom of the device. Overall, it's a sturdily made and flexible device that could be bought even for a practical user.
It's rarely that you've bought something affordable that is very durable and efficient. Oftentimes, purchasing the cheap option isn't that much intuitive as it compromises longevity and reliability. Thus, some people tend to look for an expensive one such as PK Grill PK360-STBX-D to ensure long-term use, flexibility, and safety when using.
Related: Best Electric Smoker (Under $200 to $1000): Reviews & Guide 2018
Related: Oklahoma Joe Smoker Reviews 2018 – Compare Classic and New Model
Related: Top 5 Masterbuilt Electric Smoker Reviews 2018
Related: Top 5 Traeger Smoker Reviews 2018 – Compare Classic & Latest Model