Everyone loves to eat. We always want to taste out a variety of meat dishes from the most simple to the rare and hard to cook ones. That is why a lot of cooking enthusiasts purchase electric smokers to widen out their knowledge into cooking. Thus, if you are looking for an entry-level and small electric smoker, then this product would be an intuitive one for you to choose from. Presenting to you, Smoke Hollow 26142E Electric Smoker with Adjustable Temperature Control.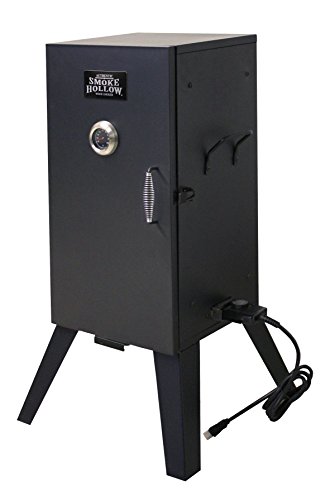 Pros
Adjustable Temperature Controls

Lightweight

Easy Transport

Durably Made
Cons
Thin Insulation

No Temperature Probe
Key Features of the Smoke Hollow 26142 Electric Smoker
Sturdy Construction and Design
Manufactured from fully welded steel, this 36.5″ x 19″ x 16.5″ device features a black housing with a comfortable grip side handle incorporating a sure-lock latch system and adjustable draft controls. It includes four angled bases measuring about 10 inches is attached to ensure the stability of the device.
Wide Range Temperature Capability
Powered through a 1500 watt heating element, this device is constructed with commercial quality interiors that resists well to high temperatures. Allowable temperatures through this device could go from 175 F to 325 F respectively. It produces heat through electricity with a 110-volt plug having a 30-foot socket.
Easy to Use Interface
Employing a grid track system, this 34.3-pound device is readily adjusted with a heat control indicator that is easily achieved through the use of the porcelain coated wood chips and water pan situated on the bottom part of the device. The front interface of the device has a temperature gauge to simply notice the changes in temperature within the device.
Multiple Capacity
The Smoke Hollow 26142 Electric Smoker has an interior smoking capacity of 1.3 cubic feet. Nevertheless, it has a dual racking system for versatile and large-scale smoking application. You could put a variety of meat, salmon, and even fruits or vegetables safely into this device. Aside from that, these cooking grids are readily adjustable to various positions and heights as needed.
What users saying about the Smoke Hollow 26142E Electric Smoker
Overall, Smoke Hollow 26142 is a classic electric smoker. It works as its advertised. It smokes out a variety of food and poultry with an easy use and clean interface for efficiency. It has few adjustable features from its racking system to the temperature controls.
Nevertheless, its durably made mainly from steel as needed. It has the typical smoking design for which is just reasonable for the price you'll be paying.
Insulation is not that concrete. It will be having a hard time to increase its temperature if the surrounding environment has a very low temperature. Thus, regulation of temperature is quite hard. It would be recommended to buy a temperature probe so that you'll be able to detect out easily temperatures of various products.
Also, as expected for its price, the water and wood chip pans are prettily small. It's quite limited for the function that it has. There are few users who have experienced leaks in the smoke through small holes into the rear sides of the device. It's best to adjust and tighten out the screw to make this more stable.
Click Here To View 161+ Buyer Reviews
Compare with Masterbuilt 20070910 VS. Smoke Hollow 26142E 26-Inch Electric Smoker
Both electric smokers coming from different manufacturers, the Masterbuilt 20070910 features a larger smoking capacity than the latter. It has an astounding 730 square inches capacity than Smoke Hollow having only 3 cubic foot capacity.
Nevertheless, both devices are black finished with a similar design and shape. Instead of long legs, the Masterbuilt 20070910 has a circular yet very short-length four bases situated on the edges of the device.
Likewise, both have a loading wood chips and water pan. Though, the Masterbuilt has its edge for the size as well. The Masterbuilt has four compartments whereas the Smoke Hollow has only just two. The Masterbuilt uses a digital and automated temperature control as compared to the latter who uses a temperature gauge.
As to temperature range, the Smoke Hollow has gained its advantage. It induces temperatures from 175 to 325 degrees Fahrenheit a bit higher than the Masterbuilt with only 100 to 275 degrees Fahrenheit. But nonetheless, both devices are flexible to whatever type of food or product you wanted to smoke with. You could do it using meat, fruits, and vegetables, or salmon as needed.
As to its price, the Masterbuilt 20070910 is twice as expensive as the Smoke Hollow. This is quite understandable for the larger capacity it possesses.
However, if you wanted to have a flexible adjustment of temperature then the Smoke Hollow is a better option with wide range availability of temperature. Though, both devices are quite recommendable for purchase with mostly positive reviews on Amazon.
How Durable and affordable Smoke Hollow 26142E Electric Smoker?
It's quite sturdy for its price. Made mainly from steel with a common smoking design and shape, this device is quite efficient. The insulation is not that well-made and a bit weak. You'll be having struggles with increasing the temperature at low environments.
Nonetheless, it possesses a greater power capacity with 1500 wattage having a temperature range from 175 to 325 degrees Fahrenheit. It's easy to use, lightweight, and portable to be used anywhere you wanted. There are few complaints with drips and leaks into the device. But other than that, this device is something to look forward to.
Why you consider Smoke Hollow 26142E Electric Smoker?
Basically, it's cost-efficient. The quality and durability are astounding. Its mainly manufactured from steel with easy to use features that is perfect even for those first-timers who had never used the device ever.
Aside from that, it's quite lightweight and small for easy storage and transfer to any place you wanted. Its absolutely made for family sized smoking application into numerous types of products to any poultry.
The available temperature range isn't something you could see from any other devices. The insulation is weak. But nonetheless, you could DIY it by applying insulation foams around the device to use it flexible even at very low surrounding temperatures.
Electric smokers is an important device in your kitchen. By using this, you could enjoy a variety of dishes from different meat, fruit, and vegetable products. Through the use of this, you could recreate food as needed.
That is why purchasing a durable and cost-efficient product that fits out to the size of your family is what you should think first. If you're just looking for a small and convenient size, then the Smoke Hollow 26142E Electric Smoker is a good option.
Related: Best pellet smoker 2018 – Top 10 From Popular Brands
Related: 10 Best Charcoal Smoker 2018: Reviews and Comparison Chart
Related: Top 5 Traeger Smoker Reviews 2018 – Compare Classic & Latest Model
Related: Oklahoma Joe Smoker Reviews 2018 – Compare Classic and Latest Model