The presence of a real fireplace can now be experienced with TANGKULA Wall Mount Recessed Electric Fireplace. It is an electric wall-mounted fireplace that can warm up every room during winter. It is a modern fireplace with high energy-efficiency without any emissions, real flames, or pollution.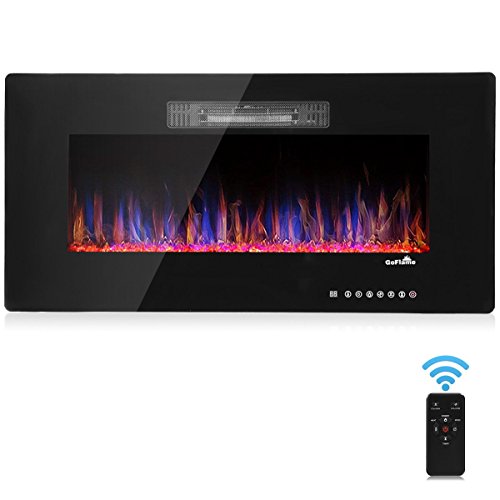 If you are planning to purchase the best electric fireplace like TANGKULA, it's important to check the best features, as well as the advantages and disadvantages, compare with other brands, and make an informed decision. Let's find out what TANGKULA electric fireplace has to offer!
Key Feature of the TANGKULA Wall Mount Recessed Electric Fireplace
Relaxing and Appealing Flame Options
With the gorgeous and realistic-looking flames of TANGULA, you'll surely want to go home from work or school. It has beautiful 12 flame colors and 12 flame bed colors you can choose from. There are 5 flame brightness and speed modes or levels that can match your needs and preferences.
Superior Design Construction
This electric fireplace unit is equipped with a crystal glass decoration and realistic flame for a better visual experience. The unit comes with two stands and wall mounted brackets. You can install it on the wall, in-wall mounted, or stand on a desk. This fireplace has been designed without real flames. No propane, gas, or gel cans involved in its operation, so it's safe to use. The automatic heat-kill safety feature prevents overheating. To maintain the natural humidity of the air, infrared heat is used which doesn't make a room too dry.
Excellent Heating Performance
With the multi-operating modes, you can choose the flame speed and brightness levels according to your preferences. The sleep mode and timer control with all lights off while heating creates a warm and comfortable environment, most especially during winter. The TANGKULA Wall Mount Recessed Electric Fireplace Heater has two heat settings at 750w and 1500w that you can adjust accordingly for warmth and energy-saving purposes. It adopts the LED technology which is an energy-efficient way of using this electric fireplace heater.
Multiple flame options

High-quality construction

Real-like flames

Durable
Assembling this electric fireplace may take about an hour or two, so it is important to read the instructions carefully. Paying attention to the manual's illustrations can help you with easy assembly so you can enjoy the benefits of TANGKULA electric fireplace as soon as possible with less hassle and stress. The units come in two separate packages, one for the wooden stand and the fireplace. These might be delivered separately as well.
Some customers expect more heat and they complain the unit emitting very little heat. This can be brought about by factory defect since the majority of customers say that the TANGULA electric fireplace heats up fast. As a subjective complaint, this can be addressed by checking the settings and specifications with regards to the extent of warmth the unit can provide per square meter. For this unit, it can provide a zone heating of 400 square feet.
What Users Say About TANGKULA Wall Mount Recessed Electric Fireplace Heater
Majority of verified buyers gave this product a 5-star rating. They love the realistic flame and the efficiency of this electric fireplace heater. They just love the design and the durable construction and built. While the assembly is somehow challenging, it pays off reading the instructions and paying close attention to the illustrations. You'll be amazed at how beautiful the assembled unit can be, allowing you to enjoy the warmth and beautiful flames every time.
Customers also love the automatic flame adjustment and safety features of this TANGKULA electric fireplace heater.
Click Here To View More Users Opinion
Compare

PuraFlame Alice Recessed Electric Fireplace vs.

TANGKULA Wall Mount Recessed Electric Fireplace
Both units have beautiful and realistic flames, with PuraFlame Alice Recessed Electric Fireplace having 4 flame settings (13 colors) and options TANGKULA Wall Mount Recessed Electric Fireplace Heater with 12 flame colors. Both use LED lights for energy-efficiency and they also both come with safety features to avoid overheating.
For the product dimension, the PuraFlame Alice Recessed Electric Fireplace measures 48 inches and weighs 72.4 pounds, while TANGKULA measures 36 inches. TANGKULA is priced almost half compared to PuraFlame Alice costs, both with free shipping.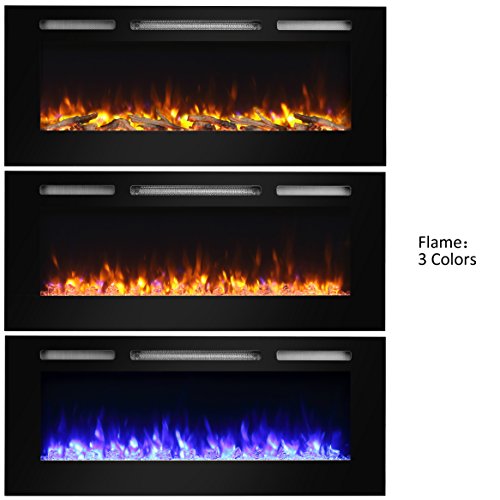 Both come with 750w and 1500w heat settings, as well as touchscreen buttons for ultimate user experience. They also both supplies heat up to 400 square feet. The countdown timer has only an hour difference with PuraFlame up to 9 hours and TANGKULA at 8 hours. The nice feature of TANGKULA is the auto color change mode.
What's the Disadvantage of

TANGKULA Wall Mount Recessed Electric Fireplace Heater
There are only some minor disadvantages of TANGKULA that customers cited in Amazon such as the challenging assembly and heating concerns. Reading the user manual instructions and following them carefully can make your life easier. Illustrations are also included so all you have to do is pay close attention to them.
Heating issues might be associated with the zone heating expectations which are subjective by nature. Generally, most reviews say that the unit heats up fast.
Why Should You Choose It or Not
Choose TANGKULA Wall Mount Recessed Electric Fireplace Heater because of its beautiful flames and fast heating. It is more affordable than other brands on the market but the features and specs are amazing. Just with the design alone, you'll be impressed with the flame colors, settings, and overall built to match your home décor.
The price is very reasonable given the advanced features like the automatic flame color change. Like other electric fireplaces, this unit offers two heating settings at 750w for the low and 1500w for the highest setting. Now, you can fully enjoy a warm and comfortable home with TANGKULA fireplace heater.
TANGKULA Wall Mount Recessed Electric Fireplace Heater is a good investment for every home. It is equipped with 12 flame colors and can effectively warm your room up to 400 square feet. It is durable, appealing, and provides comfortable warmth to any room, allowing you to enjoy and relax at a maximum level.
Related: Best electric fireplace insert 2018: Top 10 Reviews and Buyer Guide
Related: Best Electric Fireplace TV Stand 2018: Top 12 Reviews and Buyer Guide
Related: Best Electric Fireplace Stove Reviews 2018 – Top 10 on users choice