A good modern fireplace for a small home is the Touchstone ValueLine Recessed Wall Electric Fireplace. This is your choice if you are looking for an economical, hassle-free, easy to install and efficient heat source for a small home. This electric fireplace has a lot to offer when it comes to flame mode adjustments, installation, usability and style. This is a review of what the ValueLine can offer compared to other top fireplaces in the market today.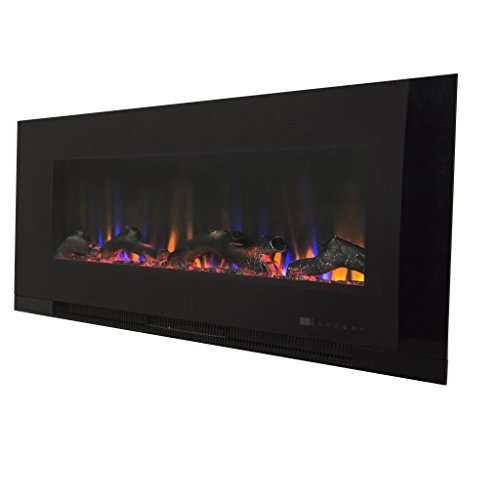 Widest range of flame customizations

With multiple hearth options

Comes with easy to follow instructions

With touch control panel

With IR remote control

With a built-in thermostat
Complaints of a complex installation process
A few users agreed that it was rather hard to install that they gave up altogether. Using a recessed wall installation is not just a matter of creating a hole in the wall to push the fireplace in. You need to consider bracing, electrical connections and so on. Most users had a contractor install this fireplace for them which again may cost more than what you paid for.
This electric fireplace is built with a fan. This helps circulate air throughout the room. And since this is a moving component, noise can emanate from this sooner or later. If the noise from the moving fan is becoming more and more of a worry then the unit needs to be checked or serviced.
Key features of the Touchstone ValueLine Recessed Wall Electric Fireplace
Customizable flames
This electric fireplace lets you customize your fireplace. This has 10 different flame colors and 10 hearth colors that you can choose from according to your mood and your liking. The colors don't affect the intensity of the fireplace but simply changes the ambiance of the room.
Realistic flames
This lovely fireplace will surely be the star of your living room. Aside from providing warmth, it will also amaze guests with lifelike flames. The realistic flames are set against a realistic log set design or crystals. These are both included when you purchase this fireplace. You can use the log set to create a log cabin like feel in your living room or you can use the crystals for a modern feel.
Versatile installation options
Although this is recommended as a recessed fireplace, this can also be a wall hanging fireplace instead. This comes with complete step-by-step instructions on how to install this on your wall. The bottom front face heating vent lets you mount this on your wall or use it as a recessed fireplace. It weighs less than 100 pounds and therefore it is light enough to be installed by two people.
Easy to use touch control panel
The ValueLine is an electric fireplace that's easy to control. It comes with a touch control panel which lets you easily adjust the temperature, make changes on the color of the fire and hearth and so on. This also comes with a remote control which makes it even easier to control even across the room. The built-in thermostat lets you automatically control the fireplace as well.
Quality for the best price
You get more value out of your money when you purchase the ValueLine. This comes with a standard 1 year warranty.
What users are saying about the Touchstone ValueLine Recessed Wall Electric Fireplace?
Users agree that the Touchstone ValueLine fireplace is a good value when it comes to its many great features. It operates on electric power therefore it does not emit hazardous ash and smoke which can affect health. This fireplace will only be able to accommodate a small to medium-sized area therefore you may need two of these to warm up a large room or area.
Most users agree that the ValueLine is easy to install but there are some who prefer to have this professionally installed instead. Those who have asked a contractor to do this for them said that the fireplace was worth the price.
Click Here To View 13+ Buyer Reviews
Compare PuraFlame Alice Recessed Electric Fireplace vs. Touchstone ValueLine Recessed Electric Fireplace
Both the Touchstone ValueLine and the PuraFlame Alice are electric fireplaces. Both are designed to be installed as recessed fireplaces. Both models have customizable features. From the color and height of the flames to the color and design of the hearth, you can decide which one will look better with your living room; bedroom or anywhere this fireplace is installed.
The only difference is that the PuraFlame Alice is narrower at 68" in width while the ValueLine is at 72". Other than these differences in width, the two fireplaces look almost alike.
Disadvantages of the Touchstone ValueLine Recessed Wall Electric Fireplace
Possibly the most obvious disadvantage of using this fireplace and this type of fireplace is that it costs a lot to run. With the rising cost of electrical power, using electricity to heat your home 24/7 during the winter time is very costly. Therefore this fireplace is ideally a secondary option for heating a large home or room.
Why should you choose the Touchstone ValueLine Recessed Wall Electric Fireplace?
Other than it costs a lot to commit to electric power to heat a home or room, this fireplace has a lot of great features to be considered as good heating equipment. It is healthier to use than firewood and coal plus it requires very little maintenance and cleaning as well. The overall construction of this fireplace is awesome. With touch controls, a thermostat and a remote control, it's so much easier to control this unit and make the necessary changes you want.
Final verdict
The Touchstone ValueLine is jam-packed with great features that make it worthy of being used for small to medium-sized room heating. It is healthier than other energy sources however it is costly to maintain. With the rising cost of electricity you may end up paying so much especially during the cold months. If you are trying to save on energy costs then this may not be the best option for you.
Related: 15 Electric Fireplace Insert Reviews of 2018