Getting ready for the winter season will be a little bit tiring especially if you're not fully equipped with the right heating device to cater to the cold environment.
A worth the quarter warming product is something that will provide the sufficient amount of heat needed to accommodate a wide area that is easy to manage and convenient to maneuver. Since the typical fireplace may be a hassle to handle and to use, it is more pliable to venture on a sturdy and worry-free electrical fireplace like the U-MAX Recessed Wall Mounted Electric Fireplace than on an open fire heat provider.
It is better to think of your family's safety first than settling with a high hazard way of introducing heat to your home. Nonetheless, U-MAX Electric Fireplace is here to treat you and your family with a safe source of warmth that will last whole day long.
It has a thermostat for ease of temperature control.

The design is well-fitted for any part of your house.

The location of the heat vents is well-placed.

It is durable to withstand the wear-and-tear process.

The operation is easy.
Vague Instructions

The provided instruction manual didn't help that much in setting this thing up and the steps were rather confusing and not user-friendly.

Other than that, there's no direct problem related to the product itself.
Key Features of the U-MAX Electric Fireplace
Installation is a Breeze
This electric fireplace can fit 2 x 6" walls by either flush mounted or in-wall recessed. You can also choose from the two possible ways it can obtain electrical power which is through a plug-in or a fixed connection between an electrical outlet to this electronic device.
Superb Flame Displays
Thanks to the Ultra High Intensity LED that this electric fireplace has, it can project realistic bright flames that are very alluring to the eyes. It also boasts three various settings for its flames which allows you to customized depending on the type of mood you want your room to be felt. There's also an ember bed setting where you can choose between crystal stones or log sets that add more to your desired ambiance.
The heat mechanisms can also be turned off without the flame effects being affected. This means you can flaunt its flames all year round even without releasing any warmth.
Appropriate Heat Vent Location
The heat blowers are duly located in a strategic area on the upper front part of this device. It also has two settings that control the amount of heat that it can produce which are high at 1500W and low at 750W wherein its power can be felt up to a maximum room area of 400 square feet.
This device has a thermostat that can control the temperature inside a room from 62" H to 82" H and what's more convenient about this one is that you can set the auto shutdown feature from an hour to a maximum of 9 hours.
High-end Design
The very elegant design that this electric fireplace has can match any part of your house with any themed room as well. It brings utmost comfort and relaxation with modern touchscreen functionality that is very much user-friendly.
What Users Saying About U-MAX Electric Fireplace
With a whopping perfect 5 star rating at Amazon, U-MAX Electric Fireplace gained the trust of a lot of customers making it one of the most favorite electronic fireplaces in the market up to date. It really lived up to the people's expectations of providing sufficient warmth during the cold days and evenings.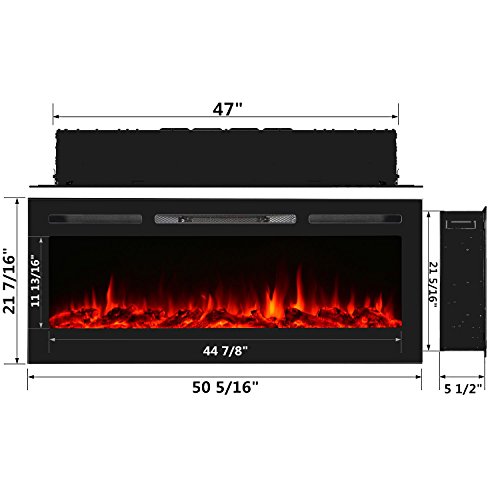 First-hand users also liked how it complemented their rooms with its design and color as well as the flame effects that it projects.
Probably one of the struggles that people encountered in setting up this unit is the unpacking itself wherein the front part is tightly stuck on the styrofoam. The instructions were also not that precise and clear which took some time before the actual installation process. Despite this setback, it didn't affect the overall rating of this product.
Click Here To View Buyer Reviews
Compare Xbeauty Recessed Wall Mounted Electric Fireplace vs. U-MAX Recessed Wall Mounted Electric Fireplace
Let's try to see its difference from another reputable electric fireplace. Xbeauty's Recessed Wall Mounted Electric Fireplace comes almost the same dimensions of 50"x5.94"x8.11" which is slightly larger than the latter. Both of these units come in a modern black design.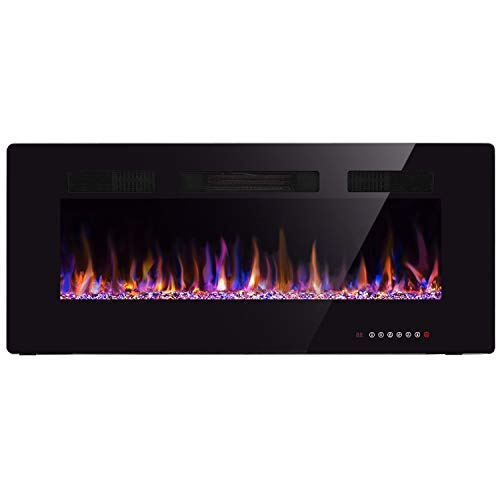 The Xbeauty Electric Fireplace doesn't come with a thermostat which makes it less of functional and you don't have the option of switching from the log setting to crystals. This means you only have one option for design with this electronic device. Unlike the one coming from U-MAX, this one can't be used whole year long without turning the heat generator off and retaining the beautiful flame effects on.
When it comes to its price, U-MAX Electric Fireplace is much cheaper than the other one and it is more convenient and reliable in terms of heat production and aesthetic capabilities.
In deciding which one is better, always remember that price, quality, and functionality must always be considered before purchasing your very own electric fireplace.
What's the Disadvantage of U-MAX Electric Fireplace
There are actually not that much to say regarding the downside of this product since there's none to talk about. Aside from the one thing that a user pointed out, which is the instruction manual being confusing to understand, everything's is finely engineered.
One thing may be lacking in this unit. It might be more fun and enjoyable to use if there are more flame colors available rather than the typical colors present in it. Overall, it is a great addition to any living room or bedroom.
Why You Should Choose It or Not?
The U-MAX Electric Fireplace is equipped with the necessary controls needed to add comfort and warmth to a whole room. It has a very accessible button and there are a lot of options to choose from that will match your current mood and ambiance.
This electric fireplace also is affordable compared to other related products with almost the same features.
Final Verdict
The U-MAX Recessed Wall Mounted Electric Fireplace is a must have for those people who are longing to get rid of cold winter nights or even for those who want some accented flame design that adds up to the room's ambiance. It is very convenient to use and doesn't need rocket science to go through the mechanism for heat emission.
Related: 15 Best Electric Fireplace TV Stand Reviews 2018
Related: 15 Electric Fireplace Insert Reviews & Comparison 2018