Night parties and events are somewhat a trend nowadays. People tend to get excited upon spending the night with friends and loved ones outdoors. Nonetheless, the main problem with occasions at night is not the light but the cold air that breezes out especially on beach parties and cold highly elevated areas. Thus, it would be magnificent to add an outdoor patio heater that serves not just the lighting and the ambiance but also the heat that most people thrive during a cold weather. Presenting to you, Xtreme power Floor Standing Propane Outdoor Patio Heater.
Unlike any other propane heater, this works durably and distributes well heat despite its height. If you're curious about this outdoor patio heater, then read this review to find out what this extreme heater is all about.
This outdoor patio heater distributes heat at maximum within 48,000 Btu at a wide heat range about 200 square feet or 15 feet radius from the patio heater itself. It has a deflector that aids in maximizing the heat dispersion. It effectively utilized a standard 20-pound propane heater for 10 hours of utilization it as needed.
It is prettily straightforward even manual is really not required. You just connect all the parts using bolts and screws, then install at the base the propane tank and everything are done! It's really quite simple that even a 60-year old woman could do the job. Assembling the device could last for not more than 30 minutes.
Because the heater is about 7 foot and 5 inches tall and controls are located few inches from the canopy of the device, people who are short will be having a hard time reaching the knob that is used to adjust out and turn on or off the device. Likewise, you'll really need to have a tall chair or a ladder with just utilizing the controls. Though doable, it is still not that friendly to all users as necessary.
Key Features of the Xtremepower Floor Standing Propane Outdoor Patio Heater
Portable and Lightweight
Weighing about 35 pounds, the device could be easily transferred from one area to another by disassembling it. Aside from that, the device includes two soft wheels located below the device for mobility and transport.
Flexible Utilization
The device does well everywhere you want to use it. Whether you are organizing a party, event, birthdays, or just relaxing down into your outdoor. This device is mainly designated not just to act as a heat source, but to give sophistication to the area or space.
Great Material Quality
Though the design was quite off, the main body looks very sturdy fabricated from high-quality stainless steel material as it should be. Nonetheless, it looks very durable and stable as to withstand even strong winds.
Auto-shut off valve
This feature is utilized when the device detects unusual activities and movements with the patio heater. Nonetheless, this is a safety feature employ to prevent fire risks as the device should be incorporated with.
Long Duration Operation
A full 20 lb propane tank that is kept inside the base of the device could run for about 10 hours depending on the intensity of the flame and the heat it gives off to the area itself.
What are users saying about Xtremepower Floor Standing Propane Outdoor Patio Heater?
There are certainly mixed reactions with the product's functionality. But nonetheless, most of the customer reviews are positive taking note how the device is easily assembled and does what it should do. It distributes heat powerfully reaching out into the spaces.
Approximately, at 40 degrees Fahrenheit, it is effective the most at 6 feet. Aside from that, the device has a magnificent design. Some noted how nice it was which is quite perfect for their spaces.
In general, complaints are more on the installation of the device itself with insufficient or loose screws includes in the package. There are those also who are unsure about the stability of the device taking fear about their safety especially that it illuminates up above. Some users just hope to put at least a door when changing the propane tank. Lifting up the base is quite a hassle for some users.
Click Here To View 80+ Buyer Reviews
Compare with Xtremepower Floor Standing Propane Outdoor Patio Heater vs. Thermo Tiki Outdoor Propane Patio Heater
At first note, you'll notice a lot of differences between the two related products. Thermo Tiki Outdoor Propane Patio Heater has a pyramidal shape with intuitive flame enclosed with a premium ceramic-glass heating to prevent the occurrence risks of fire and hazards. This is oppositely different from Xtremepower's design for which is quite unstable employing fire and accident risks if a single screw is kept loose.
As for the heating output, let's give this point to Xtremepower. It empowers a 48,000 Btu distributing heat effectively to space as it needs to. This is just 3000 smaller than the latter with 45,000 Btu.
Since both the devices have single point. Let's give the final decision based on the price of both devices. Nevertheless, it's surprising to know that Xtremepower is 2 times cheaper than the latter. Operating at a great amount of heating output while getting it at a cheap price is something that you should look on for Xtremepower Propane Outdoor Patio Heater.
Does Xtremepower Outdoor Patio Heater worth the money you spend on it?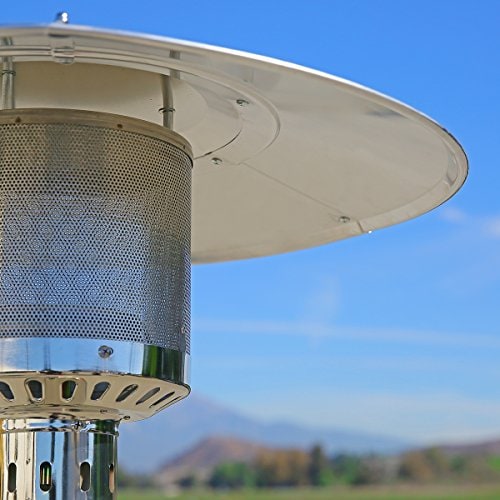 Though there are few weaknesses, the device is still something worth to be purchased on.
With its great heating output at such a cheap price makes it more special among other brands.
The design issues could be managed easily by precautions and innovations but the heating output is something innate with the device that cannot be altered upon.
How better than Amazon Basics outdoor patio heater?
Basically, Amazon Basics patio heater has design somewhat similar to this device. Though, XtremePower produces more heating output about 2000 more than the latter.
Aside from that, its cheaper than the latter with only a few dollars. In fact, both devices are in the same line of price and quality with almost similar features as indicated.
If you are finding a brilliant heater that matches with style and a high heating output, then consider buying this product.
Though there are doubts about this product, it is heavily tested by a lot of institutions such as CE, CSA, and ETL certifying that this is considered safe and made from premium materials.
Related: Best Fire Pit 2018 – Top 10 Fire Pit Reviews and Guide
Related: Best Electric Fireplace 2018: Top 12 Reviews and Buyer Guide
Related: Best electric fireplace insert 2018: Top 10 Reviews and Buyer Guide
Related: Best Electric Smoker (Under $200): Reviews & Guide 2018