Grilling is one of the cooking methods that excites everyone, acquainted with backyard picnic, summer, beach, and camping. Finding the best grill is crucial for a delicious grilled food and fun eating experience. In this Z GRILLS ZPG-450A 7 in 1 Bbq grill and smoker review, you'll learn the best features, benefits, specifications, and pros and cons of this product.
The Z GRILLS ZPG-450A 7 in 1 Bbq Grill can be your best buddy when it comes to cooking wood fired smoked food recipes. Experience the fun experience and delicious food every time. Let's find out more about this product!
Great Flavor

Consistent Temperature

Quickstart

No grease build up

No flare-ups

Mess-free
Lacking helpful accessories
While other grills are equipped with accessories, the Z Grill does not have a thermometer for convenient temperature monitoring or a smoker box for long slow low-temperature smoking. However, the price for the grill itself is reasonable with its cool features. You can buy separate accessories online and they are cheap anyway.
Hot Spots
Moving steak and chicken around can be a hassle because of hot spots. However, this usually happens when the grill is too crowded, so ensure there is enough space for every meat you are grilling.
What Users Saying About Z GRILLS ZPG-450A 7 in 1 Bbq Grill
Customers are generally happy with Z GRILLS ZPG-450A. They are impressed with the digital temperature control and how different types of food are cooked using varying methods perfectly. They love the customer service of the company because their concerns and questions are addressed, honoring their warranty and return policy.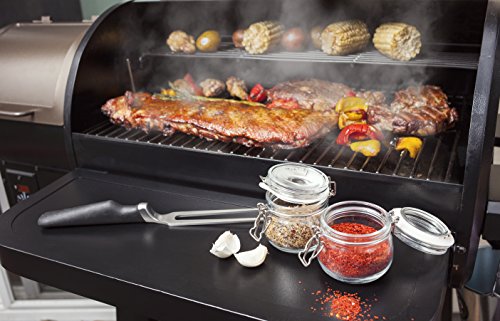 While some wish this grill has attachments included, like a smoker box or a thermometer included with the box, they are satisfied with the features and find this product with great value. Grill accessories are sold online cheaply.
Click Here to View 22+ Buyer Reviews
Key Features of the Z GRILLS ZPG-450A 7 in 1 Bbq Grill
Versatile
With the advanced wood fire technology, Z Grills provides your food with a wood fire flavor for the entire group or family at the convenience of gas or propane. It has a wide temperature range (180 to 475 degrees Fahrenheit) for grilling, smoking, roasting, baking, braising, sear or barbecue with a cooking capacity of 20 pounds of meat in 20 hours.
Easy to Use
First-timers wouldn't worry about cooking using Z Grill because it has an electronic automatic-start ignition for easy operation and monitor settings real-time through the temperature control and LED display. This grill is easy to use for any type of meat like chicken wings, tenderloin, steak, and pork chops. It is a great family bonding experience grilling every time!
Durable
The Z GRILLS ZPG-450A is made of high-grade stainless steel. It has high corrosion resistance for a long-lasting use. The overall design is modern and sleek with a polished finish. Expect to use this grill for many years to come, enjoying cooking your favorite wood fired smoke every time.
Precise and Consistent
Because of the digital temperature control, you can automatically add wood pellets as needed for regulating temperature. It stays within ten degrees of the temperature set. You're more confident that every food is cooked evenly and will be appreciated by everyone.
Cook More Food With a Wide Grilling Area
The dimensions of this grill are impressive, measuring 324 square inches and the warming or smoking rack dimensions is 128 square inches. The total rack surface area is 454 square inches with a 15-pound hopper capacity.
Compare Z Grills ZPG-700D vs. Z GRILLS ZPG-450A 7 in 1 Bbq Grill
Comparing Z Grills ZPG-450A 7 in 1 Bbq Grill with Z Grills ZPG-700D Upgrade Wood Pellet Grill & Smoker 8 in 1, there is a big difference when it comes to the price. The price of the former is around $499 and the latter at this time $549. Z Grills ZPG-700D measures 6.9 by 27.5 inches (warming and smoking rack dimensions) with a total rack surface of 700 square inches and a hopper capacity of 20 pounds.
Both grills have electronic automatic start ignition, LED temperature display, and digital auto temperature control. Cooking is super easy even for beginners. They are both easy to clean and portable. Apart from the price, the main difference lies on the recent upgrade.
Just this year, the Z Grills ZPG-700D has an upgraded pellet feed control and temperature system with the newest digital control board that automatically ignites the grill for 180 to 450 degrees Fahrenheit cooking temperature.
What's the Disadvantage of Z GRILLS ZPG-450A 7 in 1 Bbq Grill?
There are only a few disadvantages of this product. Some may find it expensive but most customers are satisfied when it comes to the price because of its high-quality built an impressive design. While some customers mentioned "hot spots" and lacking attachments of Z Grills, they are generally happy on the features of this product.
Why Should You Choose Z GRILLS ZPG-450A or Not?
Choose Z GRILLS ZPG-450A 7 in 1 Bbq Grill because it is durable, easy to use, convenient to use, and has excellent quality materials and construction. The price is reasonable and you're more confident that every cooking can meet your standards.
Now, you can cook perfectly with Z Grills. The meat tastes a lot better as compared to propane grill. You can cook pork chops, chicken wings, and steaks anytime you want along with your smoking recipes without a hassle. It is durable with a stainless steel built and you can assemble within 30 minutes or less. This grill comes with a great value at an affordable price point.
Indeed, the Z GRILLS ZPG-450A 7 in 1 Bbq Grill is a good choice, with smoky food aroma and minimal ash after cooking. Surely, you can take your food recipes to a higher level with the help of this amazing grill.
Now, you can enjoy smoking, grilling, braising, baking, and barbecue anytime with family and friends using Z Grills. It is easy to assemble, easy to use, convenient, durable, and reasonably priced.
Related: Best Electric Smoker (Under $200 to $1000): Reviews & Guide 2018
Related: 10 Best Charcoal Smoker 2018: Reviews and Comparison Chart
Related: Oklahoma Joe Smoker Reviews 2018 – Compare Classic and New Model
Related: Best offset smoker 2018: Top 5 Reviews and Comparison chart