When cold days come, it feels difficult to go outside wearing a coat or jacket. Nevertheless, it's much more uncomfortable wearing it continuously indoors. That is why a lot of people tend to install not just heaters but electric fireplaces into their homes and spaces. In this product review, we will evaluate on 3GPlus Wall Recessed Electric Fireplace concerning its efficiency and relative features.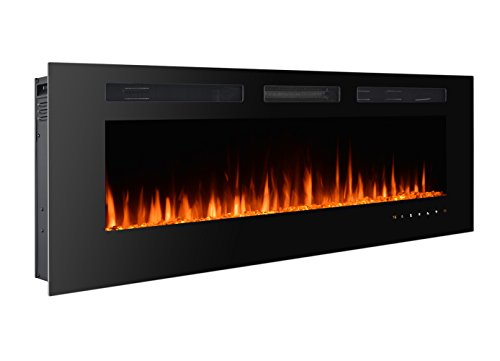 Cons
Convenient Use and Setup

Distributes Heat Efficiently

Good Feedback Reviews

Contemporary Design
Cons
Limited Flame Effects

A Bit Expensive
Key Features of the 3GPlus Wall Recessed Electric Fireplace
Intuitive Heating Capability
The fireplace provides heat to the place approximately at 5,100 BTU/1500 W. It has two heat settings at low or high conditions with temperatures from 68°F to 88°F. The device covers only a limited space area up to 400 square feet. Thus, beyond that noted area, you'll expect that its efficiency will decrease.
Realistic Flame Effects
Empowered with the 3D flame technology, this device features LED innovated crystal glass bed flames for an authentic vibe surrounding across space. The flames that the device produces could be varied into three different colors. Respectively, these colors include Amber, Blue, and Amber & Blue. Aside from that, the device also incorporates a "color cycling" option to randomized the flame effects for an array of vibrancy into your place.
Modern and Durable Design
Having a television-like appearance, this device measures about 60" L X 4.50" W X 19.20" H rectangular in shaped. Its highly bordered in black with its center resides the main flame attraction of the device. It weighs about 60 pounds covered with a flat tempered glass for sophistication and robustness upon use.
Simple Use and Operation
The device features a touchscreen interface. Its controls are situated on the lower right side of the device. This menu will be illuminated upon pressing the power button to start controlling the device. Aside from the power button, it has five additional buttons used to adjust the time, temperature, flame effects, and color.
For convenient use, the device also includes a temperature indicator within its main interface. Other than its menu, the device also includes a remote control. Likewise, the remote control incorporates an on/off, heater, timer, temperature, and flame effect color for any distance control of the device.
Easy Installation
You could set up the device within only minutes by attaching some screws and bolts into it. Nonetheless, you have the option to mount the device into the wall or recessed it.
Safe for Use
Unlike fire pits, you don't have to deal with any fuel or gas into this. It's electrically powered and does not release any smokes or ashes for which a lot of people find disturbing. It also includes a safety cut-off feature for overheat protection. This device is CSA certified and great for use to your living rooms or to any place in your house.
What users saying about 3GPlus Wall Recessed Electric Fireplace
Overall, the device has excellent reviews from its users. It seems well built, easy to mount, and very flexible for use in your places. It has easy features and heats out efficiently your room as what it advertises. However, if you have a bigger space, then this device isn't for you.
It only caters as much as 400 square feet. It has a simple installation and could be mounted as needed. Nonetheless, one user stated that he had a difficulty installing it in recessed. Other than that, there are no further complaints about this product's performance.
Click Here To View 17+ Buyer Reviews
Compare 3GPlus Wall Recessed Electric Fireplace with GMHome Wall Mounted Electric Fireplace
Looking at both devices, you'll be confused one with the other. Both devices have a similar interface and design. Its rectangle shaped and has a black housing with the centrepiece included a crystal flame bed. As to its size, the 3GPlus has the perks. It's slightly bigger than a few inches with the latter. With regard to its heating efficiency, both have similar capability.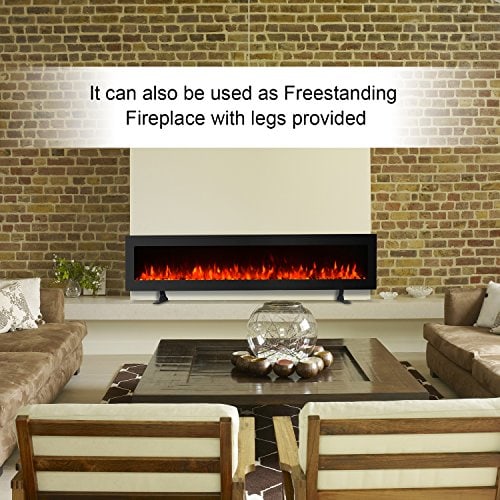 Both also include user-friendly side controls with its remote as needed. There's a difference on both device's flame variation and ability. The 3GPlus incorporates only three flame effects. Whereas, the GMHome Wall Mounted Electric Fireplace incorporates nine of these effects. These effects include various colors such as yellow, green, and blue. As to its price, there's also a big difference.
The GMHome Wall Mounted Electric Fireplace is cheaper than around 100 dollars as compared to the latter. But nonetheless, the 3GPlus has cleaner and has almost non-existing negative review as compared to the other one with some concerns on safety, operation, and installation.
What's the disadvantage of 3GPlus Wall Recessed Electric Fireplace?
Perhaps, the main disadvantage that this 3GPlus could have is its heating capacity. It isn't quite versatile most especially with very large spaces. Aside from that, it has only limited three color effects. It would be intuitive if the device includes more than three effects as needed.
Nonetheless, an extension of these features could mean an increase in price for an improvement. Other than that, quality and build seem fine. The design is the perfect addition to your houses with the typical electric fireplace layout. But nevertheless, the manufacturer is readily responsive to any complaints its customers have. However, so far, it does not have any other serious concerns as indicated by its users.
Why should you choose 3GPlus Fireplace or not?
This device has positive ratings in the Amazon. In fact, it does not have any serious negative review for which makes this product more desirable. The manufacturer also seems to be confident and responsive to any inquiry or concerns that any customer will have.
However, as said, if you have a bigger space, then this device isn't for you. It only limits up to 400 square feet heating efficiency. The design is quite good, though commonly seen through various electric fireplaces. This is sort of an advantage or disadvantage to a particular user depending on how he views it.
With autumn slowly approaching, warm days fade turning into cold and windy. That is why a lot of people are heading out to different stores to check out for an electric heater to conveniently install it into your homes and spaces. If you want something that is durable and efficient, then 3GPlus Wall Recessed Electric Fireplace could be just one of a lot of electric fireplaces that you could consider.
Related: 12+ Best Electric Fireplace TV Stand Reviews 2018
Related: Top 10 Electric Fireplace Insert Reviews 2018
Related: 15+ Top Rated Electric Fireplace Reviews 2018