There is only one thing better than a roaring fire on a cold night; a roaring fire that requires minimal cleanup, and needs no tending; this is what you get with modern gas fireplaces.
They are the perfect solution if you're looking to make your house a bit cozier or need an extra source of warmth. Gone are the days when you used to spend a lot of time cutting firewood or regularly buying wood for your furnace.
Because these fireplaces burn gas, they will produce real flames, be low maintenance, heat a room quickly with their efficient heat output, be more environmentally friendly, and increase the resale value of your home.
When selecting the best gas fireplace, it is essential to consider factors such as its ventilation, location, BTU rating, safety features, and variable flame control.
knowing the model best suited for you is also an important consideration as there are three main types:
In addition, these fireplaces come in different types:
The first type is a fireplace insert, which is usually looked for by people who are renovating or constructing their homes.
The second type is gas log inserts, which can be easily installed in an old wooden fireplace.
The third type is a freestanding gas stove that can be assembled and placed virtually anywhere you want without the need for a hole in the wall. These freestanding units can also serve as a nice corner gas fireplace.
Below we have compiled a list of the 12 best gas fireplaces for you.
Best Modern Gas Fireplace
Reviews

:
---
What we love:
In stock. Ships immediately
Risk free. Free shipping and free returns
Sleek modern design
Programmable LED accent light
One touch on/off button or thermostat controlled
Choose from different colors of crushed glass or logs
Natural gas or propane fuel options
Price: $4579
The 6o" linear gas fireplace by Empire Boulevard is a modern ventless fireplace that can be recessed into the wall for a unique and cozy addition to any room. This fireplace comes with a variety of customizable options, from the color of glass inside to the programmable LED backlights and optional log inserts. You can also choose between a natural gas or propane fuel type. Empire Boulevard is a trusted name in the gas fireplace industry and is a product you can feel confident in purchasing. Modern Blaze also offers free shipping and free returns for a risk free purchase experience. If you are looking for a modern gas fireplace to add to the ambiance of your home, this is sure to make a statement.
---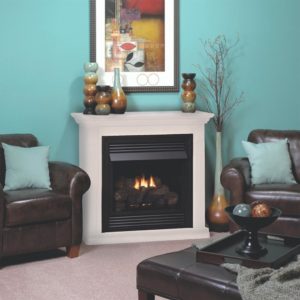 What we love:
All in one freestanding convenience
Optional remote or wall switch
Multiple finishes available
Price: $1,949
This Gas Fireplace and Mantel Package includes a traditional-looking modern gas fireplace and furniture-grade cabinetry mantel in Cherry or White. Available in Liquid Propane or Natural Gas, either way you can enjoy real flames indoors with this gas fireplace.
The fireplace uses a vent-free gas burner that can be fueled by propane or natural gas. It comes with a Millivolt system that is very easy to use. Light the pilot using the control knob. Once the pilot is lit, you can just flick the switch to turn the fireplace on or off. This gas fireplace can provide 14,000 to 20,000 BTUs of heat to keep you warm and toasty. Just turn the knob to adjust the heat.
The gas firebox comes with a mantel made of Oak with two finish options – Cherry and White. Each mantel component is finished at the same time, by the same craftsman, and uses the same batch of finish.
Optional accessories are available and sold separately. You can choose from optional controllers, wall switches, brick borders and more.
---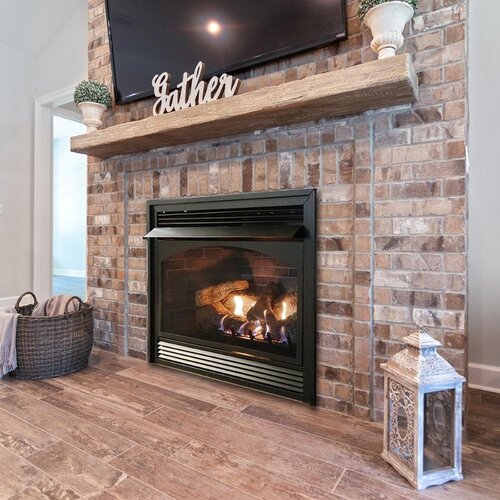 What we love:
Variety of sizes
Includes thermostat remote control
Trusted brand
Propane or natural gas
Customizable features and look
Price : Varies by size. Check link below
This modern gas fireplace insert is one of the most universally loved insert options on the market. The variety of sizes are perfect for almost any room. The simple design coupled with the extensive features and customizable options make this fireplace one that anyone can make their own. Modern blaze has this fireplace in stock, which means it ships quickly and comes with free shipping and free returns for a risk free trial.
---
What we love:
Warms 1,000 sq. ft.
Simple minimalist yet effective design
Ventless, does not require chimney
The Pleasant Hearth, VFS2-PH30DT gas stove might appear small, but it has a BTU output of up to 30,000, making it able to warm up to 1,000 square feet of space.
This freestanding gas stove has a minimal design, which makes it possible to install it virtually anywhere and with great ease, including as a corner gas fireplace.
The Pleasant Hearth gas stove features state-of-the-art technology which makes it able to function without a chimney or flue.
This gas stove is thermostatically controlled so you can always change the temperature to whichever suits you best at the time.
The oxygen depletion sensors on this fireplace shut down the pilot before the oxygen inside reaches unwanted levels.
---
What we love:
Variety of sizes
Built to withstand the elements
Gas or propane option
Mood lighting technology
Easy control operated ignition
Price: From $3867
This modern gas fireplace is built for outdoor use. Its glass deflector shield protects the fireplace from the wind. No need to worry that it will get cold or that it will stop providing heat when the wind blows. It also comes equipped with a weatherproof stainless steel frame. An optional stainless steel weather cover is available for additional protection.
Shipped single-side, it can be converted to see-through using the see-through kit that comes with the fireplace. Install it as see-through and enjoy the scenic view beyond your outdoor wall. Available in four sizes – 36″, 48″, 60″, and 72″ wide.
---
What we love:
Simple modern design
Includes thermostat remote control
Trusted brand
Propane or natural gas
Customizable features and look
Price : $2,629
This modern gas fireplace wall insert is one of the most universally loved options on the market. The 36″ or 48″ sizes are perfect for almost any room. The simple design coupled with the extensive features and customizable options make this fireplace one that anyone can make their own. Modern blaze has this fireplace in stock, which means it ships quickly and comes with free shipping and free returns for a risk free trial.
---
What we love:
Durable.
Vented burner and gas connection kit included.
Easy to install.
The Peterson Real Fyre Log Set only burns with natural gas and is designed for indoor use only. This natural gas log set has cosmetic logs meticulously designed to look and feel like real logs with crusted bark, simulated knots, and exposed sapwood.
The cosmetic log set is reinforced with steel rods for greater integrity and can be lit with the use of a match or lighter, and it runs on gas emitted from the main valve.
This natural gas fireplace log set has a BTU output of up to 75,000. The Peterson Real Fyre gas log set includes a burner, Embers, six gas logs, and sand.
---
What we love:
Fireplace turns on/off at the flick of a switch for simple operation

Offers 50% flame and heat adjustment for maximum comfort and efficiency

The oxygen depletion sensor shuts the pilot off before oxygen drops below a safe level

Includes safety screen

Phazer logs create a natural wood burning look with beautiful, dancing flames
The Napoleon Granville, VF series fireplace, is an easy to use and attractive modern gas fireplace designed with Phazer logs which create a natural wood burning look with dancing flames.
This natural gas fireplace offers 50% heat and flame adjustment for maximum comfort and efficiency.
The Napoleon Granville, VF series fireplace, comes complete with an oxygen depletion sensor that shuts the pilot off before oxygen drops below a safe level and a switch to turn the furnace on and off for the simple operation.
This fireplace features a millivolt ignition and has a BTU output of up to 30,000, making it suitable for large rooms and spaces.
It includes a hood, millivolt, fireplace screen, dual receptacle junction box, double flame burner, and an oxygen depletion sensor.
---
What we love:
Ventless, does not require chimney
Optional see-through version available
Gas or propane option
Mood lighting technology
Easy control operated ignition
Price: $2776
The Millivolt Linear modern gas fireplace is designed with mood enhancing fireplace interior lighting, and three-piece black reflective porcelain liners.
It has a 99% heating efficiency and also allows you to transform your fireplace into a see-through model using a conversion kit that is sold separately.
The gas controls on this fireplace are conveniently hidden in the fireplace floor. It also has an electronic ignition with battery back-up to operate when the power is out.
A fully functional remote control is included which can be used to manipulate the lighting, flame, and thermostat. This gas fireplace uses liquid propane and has a BTU output of 29,000- 37,000 and comes complete with transparent glass media.
---
What we love:
Ventless, does not require chimney
Clean burning
Natural gas or propane
36,000 BTU
Price: $3249
A unique clean-burning ventless gas fireplace that can be installed in a dividing wall and provide functionality and style to both rooms. It is completely vent-free, elegant, efficient, and customizable.
Installation. The Empire Boulevard 48″ see-through fireplace can be installed with or without decorative fronts on any interior wall. Install it on dividing walls or between rooms to get the most out of this 36,000 BTU see-through gas fireplace.
Gas Type. Empire Boulevard's linear vent-free fireplace is available in natural gas or propane. Though this fireplace is gas operated, it comes with a thermostat variable remote control to make it a lot easier to manage its beautiful flame display and heat.
Ignition. Save energy and money with this gas fireplace's Intermittent Pilot system, it eliminates the standing pilot. During a power outage, your Boulevard fireplace can still be used on battery backup mode.
---
What we love:
3-sided open fireplace
Ventless, does not require chimney
Clean burning
Natural gas or propane
Various customizable options
Price: $2399
The Empire Vail 36 Peninsula 3-Sided Vent-Free Gas Fireplace is a clean-burning fireplace that features an oxygen depletion sensor to optimize safe oxygen levels. This traditional-looking fireplace with Banded Brick liners is enclosed by a 3-sided junction box with fixed screens for safe viewing. Its slope glaze vista burner can utilize Natural Gas or Liquid Propane.
While sporting a traditional look, this vent-free fireplace is packed with modern features. It employs oxygen depletion sensor technology to continuously monitor the air in a room and will automatically shut off the gas whenever the oxygen drops to an unsafe level. The burner is integrated with Millivolt system, a remote-ready ignition system that can be easily ignited using a control knob and a switch. Choose your fuel source – natural gas or liquid propane.
---
What we love:
Modern appearance
Multiple glass color options
Ventless clean burn
Handheld remote included
Price: $1313
It is easy to use. Just connect to a gas line, light the pilot, and turn on using the handheld remote control. Enjoy the dancing flames on a bed of fire glass as you sit back and relax.
This contemporary gas burner is an excellent addition to any modern home or commercial space. Enjoy the warmth and ambiance of real fire with a Gas Fire Glass Set.
---
---
How to Choose the
Best Gas Fireplace

for Your Home?
If you are wondering and thinking regarding how to choose and select the best gas fireplace for your home, then we can help you in this area.
This is an easy and simple job to do and you just have to keep in mind these important points:
Patented Dual-fuel Technology and Remote Control Thermostat:
You should look for a gas fireplace that is packed with patented dual-fuel technology. If you have got a fireplace that is injected with this technology, then that is great.
Furthermore, you can either have a gas fireplace that runs on natural gas or it can even run on liquid propane. It should be able to heat around and about 1500 square feet of area.
There is a high-end kind of gas fireplace heaters that shows the traits of dependability. It needs to have variable and premium remote control thermostat features present in it.
With the use of this thermostat, you can customize this gas fireplace heat setting and your room will be able to experience a greater amount of heat flow time.
Stylish and Economical:
The user needs to pick and select the gas fireplace that is infused with the most stylish looking properties. At the same time, your chosen model has to be economical and budget-friendly.
As we all know that stylish and sleek looking gas fireplace units bring more style and functionality to your home premises. In addition, such models are great and ideal for small apartments and even for small sitting areas.
Try to look for a gas fireplace that is economical and way far budget-friendly. It needs to work on a 99.9% efficiency mechanism and should protect your environment as well.
Safe to Use:
You need to prefer grabbing those gas fireplace units that are safe and secure to use. If they are battery-assisted, it means your chosen gas fireplace is secure to use.
Most of the gas fireplace models are installed and embedded with a built-in oxygen depletion sensor so that the respective model gets to be immediately and instantly shut down the minute any lack of oxygen or any carbon monoxide presence is detected.
Premium Construction:
It is advised to give your praise to those gas fireplace models that show premium construction. It needs to be properly assembled and should make high-quality materials.
We know that these fireplace inserts manage to bring a great and best addition into your living space, so try buying those versions and models that are of high-quality, energy-efficient, and also simple to use.
Hand-painted Logs:
Before buying a gas fireplace, you should check and verify whether it has hand-painted logs or not. In other words, look for the model that is featured and embedded with realistic-looking hand painted ceramic logs.
If these logs are made of real wood, then your chosen gas fireplace will be able to get the most and highly realistic look at its end.
Fully Engineered and Tested:
Try making efforts to look and hunt for the gas fireplace models that are fully engineered, tested, and proved.
The unique selling point of such fireplace inserts is that they are generally and commonly featured with these oxygen depletion sensors.
It should have an automatic shut-off button in it for the sake of assuring safety and security.
Extended Warranty Time:
Most importantly, you should praise those gas fireplace insert models that offer extended and maximum guarantee time.
This way, you can have the quality assurance that this model can be used by you for years and years.
Furthermore, hunt for the needed model that is easy to operate and offer the user a long life span.
A Modern Combination of Sleek Appearance and Good Heating:
Whenever you are given the job to choose and buy a gas fireplace, then you should purchase the model that shows the best combination of sleek appearance and generate a good amount of heat.
It needs to show the essence of modern arts as well as classic arts. Avoid buying those fireplaces that are packed with a traditional design.
If it has an elegant design, then your fireplace shall enhance your home décor. Besides, if your fireplace generates sufficient heating, then your surroundings can remain warm for hours and hours.
Compact and Inspirational Design:
Lastly, you should buy and try ordering those kinds of gas fireplace inserts that have a compact and inspirational design. If its design inspiration comes right from the classic style elements, then that is amazing.
Moreover, your European palaces used to have artistic and stunning looking fireplaces in their surroundings; you can get style and design ideas from them as well.
Your selected gas fireplace should have a modern aesthetic element in it and it needs to be packed with smooth arc lines.
This is how you can choose and shop for the best gas fireplace model at your end. If you have any questions on this buying guide, then ask from us.
And if you have already bought and shopped for the fireplace inserts and heaters, then pen down to us your experience.
Sooner, more details on this buying guide will be shared with you, so stay tuned with us.
Types of Gas
Fireplace Heaters

:
There are three main types of gas fireplace heaters and below we have collected the most accurate and desired explanation about them.
We can give you this general idea that these fireplace heaters are available in inserts, log sets as well as built-in versions.
If you are currently looking for a convenient heating source element, then you can try choosing among any of these three types.
Insert Gas Fireplace Heaters:
This gas fireplace heater comes in the form of a log and burner set. It arrives in a metal box and this heater is usually and generally surrounded by a large in size metal box.
It warms your room air on the most efficient notes. Furthermore, it radiates heat evenly and available in the vented form or ventless form.
If you are getting this fireplace heater in the vented form, then note down that such a model is accompanied by some fixed glass panel.
Besides, if you are planning to buy this heater all in ventless form, then such a version is injected with a fixed metal screen or with some glass panel.
Log Sets Gas Fireplace Heaters:
The second type we have for you is this log set fireplace heater. This is the least expensive and highly budget-friendly heating source model.
It comes in the stack and jam-packed form of ceramic logs and this fireplace does come with a gas burner.
In addition, it can easily get fit in any of your existing fireplaces. Its whole installation process is a simple and easy thing to do.
You only have to drill holes in the gas line or electric line and simply run this fireplace.
There are a few of the ventless models of this category. And there are some models of this zone that manage to vent up all through the chimney. Those who want to buy vented sets, then keep in mind that this version can easily prevent and stop carbon dioxide poisoning.
Built-in Gas Fireplace Heaters:
The last important type of this category is this built-in gas fireplace heater. They are composed of metal boxes and this metal box is usually embedded right within a box construction.
Their vented units come with these fixed glass panels. The purpose of using these heaters is to cycle air and then to bring warm air into your room.
Beyond, whatever gas fireplace heater you are going for, make sure that you choose and shop for the right model for yourself.
If you have used and tried out these fireplace heater options in your home, then provide us with your honest experience.
We will be happy to hear your comments and feedback.
Frequently Ask Questions:
Conclusion!
Selecting the best gas fireplace can be a daunting task. We have made this task easier for you by researching and selecting the 12 best gas fireplaces for you.
We chose the above fireplaces because of their features, type, accessories, fuel type, and rating.
Once you have selected the right fireplace suited for you, you will have no problems using it as all the above models are easy to assemble, install, and use.
A modern gas fireplace is a perfect addition to your living space because it not only warms up the area but also adds beauty and elegance to your house.