There's nothing to fear upon going outside when winter arrives. In fact, you should enjoy the coldness of the weather and take on your favorite heater to warm you over the course of cold days. Turn your cold night magical using the Blue Rhino Outdoor Propane Gas Fire Pit.
It will not just totally light up your day but also warm over your cold nights.  Add this fire pit to your outdoor patio or businesses and take summer experienced throughout the whole year!
Some of the key features of Blue Rhino Outdoor Propane Gas Fire Pit makes it considerable than other classical fire pit, take a shot at reading with this review.
Innovative Fireplace Design
A 24-inch tall fire pit fabricated with touches of steel metal base which covers around the propane tank inside the cabinet styled design. At the top of it where fire resides, lies a resin-like slate rectangular shaped with an intuitive space filled with lava rocks and glass fragments to intuitively produce a crystal blue fire. The fire pit comes with an intense brown color intricately streamlined with engraved patterns surrounding it.
Utilization of this tank is well-secured. The fire pit includes a decorative and durable twin peak size panel to hide around the heat source. Aside from that, it comes with a heavy plastic ore likely vinyl to cover the surrounding fire pit. Nonetheless, for some, it could be quite unreliable but it is entirely reasonable for its price. For best utilization, buy a separate metal cover if you want to take assurance of things.
Since the base of this fire pit is made from steel, it is expected that it will corrode upon exposing much of water. Thus, it is important to never expose this fire pit to moisture or water. Stay out of the rain if necessary. It is not made waterproof.
Installation of this fire pit will take you some time. Some users had taken them about three hours of putting together the fire pit. Though, this difficulty comes naturally since we are handling a heater. Safety is a must and should be taken with more time. Aside from that, instructions are prettily straight and easy to understand. Likewise, if you are uncomfortable with installing the fire pit, you could always get a help around with an expert.
Key Features of the Blue Rhino Outdoor Propane Gas Fire Pit
Easy to Use
Just turn on the ignition switch hidden behind the panel and then light it out! No complications, only simple turn on and off function that suits the tastes of any beginner. Also, the control of this fire pit is well-adjusted. The amount of heat and the intensity of the fire could be controlled through adjustments on the ignition switch as necessary.
Lightweight
Though quite bulky incorporating no wheels, many users consider this fire pit quite portable. Weighing about 61.7 pounds, you could easily transfer this fire pit to whether an indoor or outdoor setting.
Heats over Intuitively
Incorporating a 20-pound propane tank, it distributes a 30,000 Btu heat through the entire room. The tank could last for a month depending on the frequency of utilization and heat intensity. But nonetheless, this fire pit only heats over a limited space. It is ought to be used near to maximize the effect.
Flexible Fire Pit
With its sophisticated design, you could easily put the fire pit wherever you are. Whether just into your outdoor patio or to any business establishment you have, this would be a great add-on to your area. Aside from that, you could also convert this fire pit as a dine-in table. Just attach some components on it and then it's good to go!
What Are Users saying about Blue Rhino Outdoor Propane Gas Fire Pit?
Many users had truly enjoyed the brilliance of this fire pit. Its design is nice with a fireplace-like vibe empowering some modern touch to warm you out on cold days. Nonetheless, users really find the design great than its heat function. It's quite weak yet still useful especially that the fire pit caters to near-range warming capability.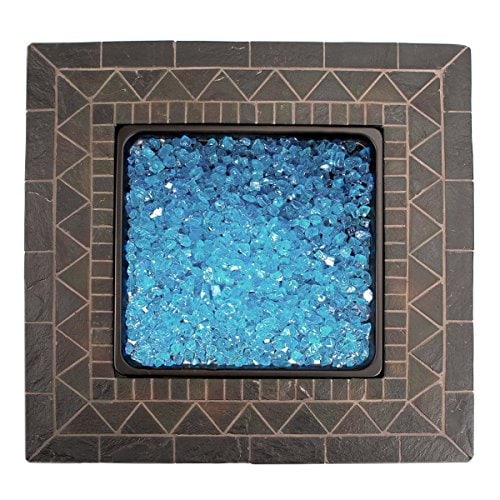 Additionally, users have a difficulty in assembling it. There are those even who obtain insufficient setup tools from the package. Aside from that, there are those who have gotten small or loose screws upon opening the fire pit's package. But nonetheless, installation is quite direct, simple, and easily done. It may require you much time but not really a hassle of thinking what should you do next.
Also, users denoted on how flimsy the fire pit is. The base and the tempered glass surrounding the tank gets easily rust upon exposure to moisture and water. There are also issues of material quality. There are users who have purchased out a defective fire pit. Nonetheless, it's best to check well ahead as needed.
Click Here To View 182+ Buyer Reviews
Compare with Blue Rhino Outdoor Propane Gas Fire Pit vs. Bond Rockwell 68156 Gas Fire Table
About twice the heat output from the latter, Bond Rockwell warms around your place efficiently as to its purpose. Upon looking both at the designs, you'll notice some similarities especially with the heating mechanism that it induces. It has a similar setup with a steel made cabinet surrounding the propane tank and a square top where fire resides on its center.
Though, it could be noticed that Bond Rockwell is more stable with sturdy material composition. Truly, Bond Rockwell has an edge as compared to the latter in terms of heat output and material quality.
Looking at its price, it is expected that Bone Rockwell will be much expensive. Likewise, it is unexpected that it will be twice as much as expensive with the latter. Though Blue Rhino is quite weak in terms of quality, deviations are only minimal as compared to the latter.
If you are looking for a practical guide on just heating your small space, then it's best to spend down on Blue Rhino's. It's inexpensive yet still reliable. In fact, a lot of its users totally recommend on using it.
Related: Top 10 patio heater reviews 2018
Does Blue Rhino Outdoor Propane Gas Fire Pit worth the money you spend?
Absolutely. Though there are some offs as to the material quality with the fire pit, there are still a lot of users who purchase this fire pit. It's cheap, magnificent, and gives heat as it should be. Aside from that, it does not excrete ash, unlike any typical fire pit that you've known. This is considerably a perfect match to warm you over into the cold weather.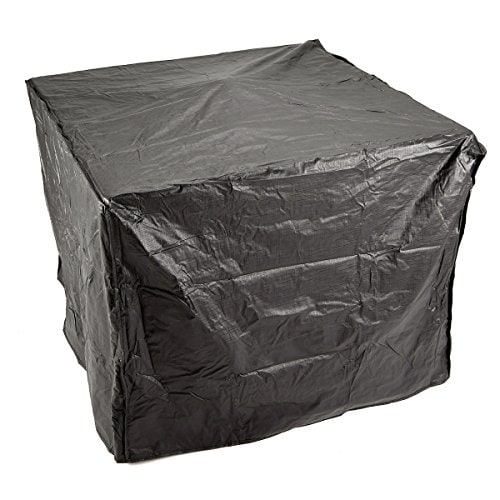 How better than any top rated Best Choice Products?
Though Best Choice Fire Pit products incorporate high-quality materials and wide range heat coverage, Blue Rhino considerably could not compete in terms of those features. It's smaller with basic design and material used.
However, if we are talking about practicality and price, then Blue Rhino does the thing. It's cheap yet reliable on outdoor heating. It has a great design though not as sturdy as compared to the latter. But overall, still reliable and could match over any existing Best Choice Products in the market.
If you are looking for a practical way to spend every cold day outside your spaces, then this Blue Rhino Outdoor gas fire pit will do well for you. It gives off enough heat just to keep you warm and incorporates a sophisticated design that matches for relaxation and unwinding up with your loved ones out in a cold and breezy night.
Related: Top 10 electric fireplace reviews 2018
Related: 10 Best electric fireplace TV stand 2018
Related: 10 Top rated electric fireplace insert reviews 2018
Related: Gas Fire Pit: Top 10 Outdoor Gas Fire Pit Reviews and Buyers Guide