An outdoor fire pit is a must-have for every backyard or patio.
Nothing paints a more beautiful picture than relaxing with friends and family around a beautiful fire.
A fire pit provides a centerpiece to hang out with friends or to gather with loved ones on a chilly evening.
An outdoor gas fire pit table provides the perfect solution for most backyards.
They are an excellent choice because they have a dual purpose and can also provide a table in the daytime hours.
When choosing the ideal fire pit for your backyard/patio/garden, you will have to decide whether to invest in a gas or wood-burning fire pit.
They are faster to light than wood-burning options, and you can be warm in an instant with the push-button ignition feature.
Gas fire pit tables also alleviate that constant worry of having to feed wood into the fire.
The smell of a wood-burning campfire and the crackling sounds of the logs burning is admittedly beautiful, but this adds smoke which is unpredictable and aggravates allergies.
An outdoor gas fire pit is the perfect smokeless option for most outdoor situations.
When choosing one for your home, look for one that is made from material that will last for a long time.
Cast aluminum is unlikely to rust, while copper can stain.
Cast iron is a solid but heavy choice, so it is difficult to move around.
When it comes to types of gas, there are natural gas fire pit solutions as well as propane gas, although natural gas fire pit solutions are harder to find.
Top 10 Gas Fire Pits
Here are the 10 best gas fire pits!
Gas Fire Pit Model
BTU
Dimensions
Weight
Price
Outland Living Series 401 Gas Fire Pit
Editor's Choice
35,000 BTU
44 x 32 x 23
96 lbs

Check Price

Bali Outdoors Square Gas Fire Pit
50,000 BTU
28 x 28 x 25
49.5 lbs

Check Price

Best Choice Products Gas Fire Pit
30,000 BTU
28 x 28 x 9.1
40 lbs

Check Price

Outland 863 Portable Gas Fire Pit
58,000 BTU
21 x 21 x 9.2
25.5 lbs

Check Price

Legacy Heating vc-CDFP-S-CB Gas Fire Pit
50,000 BTU
56.7 x 21.3 x 24
64.9 lbs

Check Price

Christopher Knight Home Crawford Gas Fire Pit
40,000 BTU
32 x 32 x 24
155 lbs

Check Price

Blue Rhino Gas Fire Pit
30,000 BTU
33 x 31.9 x 9.7
61.7 lbs

Check Price

TACKLIFE Gas Fire Pit
50,000 BTU
28 x 28 x 25
55 lbs

Check Price

Endless Summer GAD15258SP Gas Fire Pit
50,000 BTU
30 x 30 x 25.4
94 lbs

Check Price

Legacy Heating CDF-WMGB28 Gas Fire Pit
48,000 BTU
28 x 28 x 24
58.5 lbs

Check Price
This is the top outdoor gas fire pit table I reviewed and is at the top of many best fire pit lists.
Measuring 44 x 32 x 23 it serves as a gas fire pit table to hold drinks, food, and other items.
In addition, there is an optional glass wind guard fence that is available for purchase and really adds to the sophisticated look of this propane gas fire pit table.
My only complaint is that I wish it was 50,000 BTU so there would be more heat output.
PROS
Beautiful award-winning design
Includes arctic ice glass rocks
Weather resistant wicker material
CONS
Not as powerful as other fire pits at 35,000 BTU
Self ignitor can be unreliable at times
The Bali Outdoors 28" gas fire pit is another top-rated outdoor fire pit that we reviewed.
It is a square fire pit table with dimensions of 28 x 28 x 25, weighing 70 pounds.
There is a hidden control panel with electronic ignition and requires a propane gas tank to operate.
One of its best features is its high heat output.
At 50,000 BTUs, it surpasses other fire pits on this list.
PROS
High heat output at 50,000 BTU.
Includes lava rock.
Includes a tabletop cover.
CONS
Assembly can be tricky
Ignition can be unreliable
This propane fire pit is unique in that it features a circular stone design that is close to the ground.
As a result, it creates a campfire feel that other outdoor gas fire pits may lack.
It includes lava rocks and a stainless steel burner with a spark-ignition button.
It weighs lighter than you would expect for a stone gas fire pit, coming in at 40 pounds.
The propane hose is long enough at about 120" so the propane tank can be hidden away safely.
No assembly is required for this beautiful stone fire pit.
PROS
Hard to find a stone gas fire pit
Unique circular shaped design
No assembly required
CONS
Does not have a compartment for the propane tank
Heat output only at 30,000 BTU
Not big enough for large spaces
The Outland Living Firebowl is a 21″ diameter and 58,000 BTU propane fire bowl which is fabulous in my opinion because it produces a clean smokeless flame rivaling that of a typical campfire.
I loved the lower profile of this fire pit because it increases the functional heat radius.
The stainless steel burner gives it a very natural flame, which my guests enjoyed.
I found this lightweight, portable fire pit very easy to set up, even without tools.
PROS
Clean, smokeless flame rivaling the flame of a camp fire
Lightweight and portable outdoor gas fire pit
CSA approved bowl means it is safe to use during most campfire bans
CONS
Not enough rocks supplied and they are not as durable as they should be
Burns propane quickly and is, therefore, expensive to run
This rectangular fire pit table with table lid comes in a lovely modern hammered black finish.
It has a dimension of 56.7" x 21.3″ x 24″ and heat output of 50,000 BTUs.
Constructed out of strong aluminum, it also has a full stainless steel burner.
I loved that the lava glass, table lid, and protection cover are all included. So when you open this fire pit table up, you really are ready to relax and enjoy it.
You do need to purchase a 20 lb propane tank though, as this is not included.
PROS
50,000 BTUs
Easy assembly
Includes lava glass
CONS
Table lid does not sit flush
Rude customer support
This Christopher Knight Home propane fire pit, featuring 40,000 BTU, would be an amazing addition to any patio.
I loved the vast range of seating possibilities that come with this fire pit.
It is sure to provide you and all of your guests with a warm, cozy glow on those chilly summer evenings.
This fire pit is not quite as hard-wearing as some of the other ones on the market, so you might not get as much use out of it as you would like.
But it does come with lava rocks, which is a nice touch.
PROS
Comes complete with Lava Rocks
Vast range of seating options
CONS
40, 000 BTU – so not as powerful as most others on the market.
Not very hard wearing
Related: Fire Pit Table: Top 10 Outdoor Fire Pit Table Reviews
The Blue Rhino Outdoor Propane Gas Fire Pit provides warmth and comfort outside all year long.
I thought the Blue Rhino was perfect for my porch and would be a beautiful addition to any patio.
I loved the easy-to-start electronic ignition and the decorative side panels conceal the propane tank perfectly.
When looking to entertain, this fire pit provides the attraction of a cozy and soothing fire without the hassle of having to tend to a fire.
It has dimensions of 33″ x 31.9″ x 9.7″ and heat output of 30,000 BTUs.
PROS
A beautiful propane gas fire pit
Easy to start ignition
Gorgeous decorative side panels
CONS
On the small side
Not as powerful as some of the others tested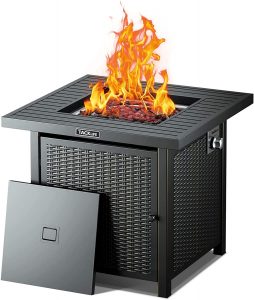 This gas fire pit table by TACKLIFE has an attractive design combined with high heat output.
It comes with lava stones and a fire table cover which are must-have accessories for any outdoor fire pit.
Weighing in at 55 pounds, it is a bit lighter than its Bali Outdoor fire pit counterpart, but its dimensions are identical at 28 x 28 x 25.
It is a propane gas fire pit so it requires a propane gas tank for use.
PROS
50,000 BTU heat ouput
CSA Certified
Easy to assemble
Auto ignition works well
CONS
Sharp corners
Included lava rocks aren't very attractive
The Endless Summer GAD15258SP is another square outdoor gas fire pit table that is slightly larger than its counterparts.
Measuring at 30″ x 30″ x 25.4″ and weighing in at a hefty 94 pounds, this is a fire pit table you don't want to move around too often.
The most distinguishing feature of this propane gas fire pit table is its slate tile tabletop and leaf panel design.
Its tabletop cover sits flush with the rest of the table, allowing it to serve as an effective outdoor patio table.
Assembly can be tricky, however, as instructions can be hard to understand.
PROS
50,000 BTU heat output
Includes table cover
Attractive tile mantel and leaf design
CONS
Lighter can be unreliable
Assembly instructions are confusing
This is a rectangular fire pit table that comes complete with a table lid.
The fire pit table is in a mocha finish and the heat output is 50,000 BTUs.
This fire pit table is made from aluminum and has a full stainless steel burner.
Like many other gas fire pit tables on the market, it comes with lava glass and a protection cover included.
You will need to purchase a 20 lb propane tank to use with this fire pit table.
PROS
48,000 BTUs
Table cover sits flush
Easy to assemble
CONS
Ignition can be tricky
Insufficient lava rocks
How to Choose the Best Gas Fire Pit? – A Buyers Guide:
Propane fire pits are very convenient.
They produce a beautiful flame without requiring the user to add wood.
Most propane fire pits are fairly big and, are, therefore, a focal point in the patio.
Propane fire pits are often beautifully designed with fancy pebbles, faux wood, or glass.
Many propane gas fire pits are available as fire pit tables which provide excellent functionality in the daytime too.
Portable Propane Fire Pit:
A portable propane fire pit is a fabulous investment that you will never regret.
Portable propane fire pits provide
warmth and ambiance as well as cooking facilities – nothing beats a baked potato from an evening outdoor fire.
Portable propane fire pits can easily be moved anywhere in your yard.
Some designs come with wheels, while others are simply lightweight and easy to carry.
Copper Bowl Fire Pit:
Some of the most striking outdoor fire pits are propane copper designs.
Copper has a high melting point, and as such is durable and will last for an extremely long time.
Copper bowl fire pits are very expensive.
Fire Pit Table:
Many propane fire pits are designed with a table-like appearance. They have a rim that surrounds the flames.
This ledge provides a safe area for children ensuring that they cannot get dangerously close to hot flames.
The ledge in the outdoor fire pit is also useful for placing your glass or plate whilst sitting around the fire pit with friends.
There are a number of benefits to having a propane fire pit, as well as some disadvantages.
Propane is expensive and there is always the possibility that you will run out whilst entertaining.
Some cooks complain that food cooked over propane lacks the depth of flavor of a wood-cooked meal.
But ultimately a fire pit table is a wonderful addition to a backyard or garden, as they provide a fabulous focal point to gather around.
Natural Gas Fire Pits:
If you have the capacity to install a natural gas line in your backyard, you may consider purchasing a natural gas fire pit.
These are available in a similar range to the propane designs but are a permanent fixture to your backyard.
One advantage of natural gas fire pits is that they won't run out of fuel.
Sunken Design:
A sunken natural gas fire pit is built into the patio or ground.
However, safety can be a concern with these designs since the flames are so close.
Square, Round, or Tabletop Design:
Much natural gas fire pit is raised above the patio with stone, brick, or copper designs.
These are a stunning addition to any outdoor space.
Whilst natural gas is not expensive, installing the line in your backyard can be very costly.
The lines are also permanent, so you won't be able to move your fire pit.
With so many options to choose from, there is a perfect outdoor gas fire pit for every patio.
Everyone enjoys a toasting hot fire on a cool evening.
If you decide to invest in a new fire pit this season, you can start looking forward to many nights spent entertaining your guests around an open flame.
Related: Best Fire Pit – Top 12 Fire Pit Reviews and Guide
Frequently Asked Questions:
Final Verdict!
After reviewing the above 10 gas fire pits, the Outland Living Series 401 Outdoor propane fire pit table remains the Editor's Choice.
The Outland creates the perfect warm ambiance in any summer country garden.
The extra glass wind guard fence is a beautiful and perfect addition for relaxing and watching the burning fire whilst keeping the fire safely enclosed.
The Outland propane gas fire pit is fantastic and this is backed up by the brilliant customer reviews and high ratings.
As far as gas fire tables go, the Outland really is one of the finest.
This is a gas fire pit table that combines functionality with beauty.
In conclusion, all of these propane gas fire pits are a good choice.
I like those with higher power outputs and prettier designs.
A propane fire pit really will give you the perfect evening garden for entertaining guests.
Many allow cooking and, in my opinion, there really is nothing nicer than a baked potato cooked on the open fire whilst enjoying a glass of red wine.
Many of the outdoor fire pits have a wide ledge where you can rest your glass and a plate of nibbles a gas fire pit table is, just perfect in my opinion!