You always want outdoor cooking to be extra special for your family bonding, picnics, poolside party, or camping.
Well the Camp Chef PG24DLX Deluxe Pellet Grill promises to provide an extraordinary outdoor cooking experience stress-free and hassle-free.
It has been designed to simplify the grilling and smoking process. Before shopping for your home grill, it is important to know if this product is worth your money.
Let's get to know the best features, advantages, and drawbacks of Camp Chef Pellet Grill today with our pellet smoker review and overview!
PROS
Large cooking surface

Excellent bbq grill hardwood flavor

Versatile

Easy to clean up

Easy to assemble
CONS
Pellet Storage Issue

It is hard to get the hardwood pellets out of the hopper for storage, so you would need to remove the grate. Ensure to read pellet storage instructions to avoid any confusion.

Ash Issues

Ashes are usually blown away over the grill's bottom section that needs vacuuming every now and then. Ensure that the dump tray is properly placed and avoid putting too much hardwood pellets, just use enough to cook each time.
What Users Are Saying About the

Camp Chef PG24DLX Deluxe Pellet Grill

:
This Camp Chef pellet grill is the best choice for anyone who wants smokey flavored foods every time, and many customers are very happy with the product.
The temperature control is super flawless, allowing you to dial down your cooking process according to your personal preference.
You can smoke chicken and get a red smoke ring at 1/2-inch deep.
There are no hot or cool zones because this grill works like a reliable convection oven, keeping the heat consistent and even all over.
Customers love the unique design and cooking system designed for a slow cook.
While it does not get hot enough for searing thin cuts of meat such as steaks, it gives off a flavorful smokey flavor.
It is perfect for slow cooking. It has an exceptional controller with low and high smoke settings. It is extremely pellet efficient.
Click Here To View 361+ Buyer Reviews
Compare

Camp Chef SmokePro LUX

vs.

Camp Chef PG24 DLX Deluxe Pellet Grill

:
Both grills have their own excellent qualities and benefits. The Camp Chef SmokePro LUX Pellet Grill has electronic auto-start ignition digital controls and DUAL LED display for monitoring temperature.
It boasts its internal cooking temperature and food temperature stainless probe. It measures 19.5″ x 34″ for the grilling area and 6″ x 34″ for the smoking or warming rack dimensions.
The total rack surface area is 875 square inches with 18 pounds of hopper capacity and overall item weight of 180 pounds.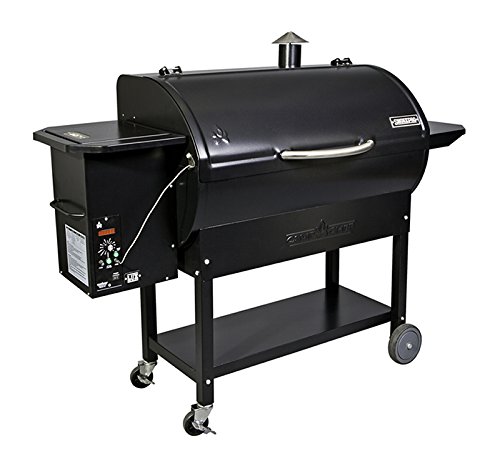 On the other hand, the Camp Chef PG24DLX Deluxe Pellet Grill has a cooking area of 429 square inches, a second cooking rack of 144 square inches, and has a heating power of 25,000 BTUs.
The cooking temperature is between 160 to 500° F temperature range with a hopper capacity of 18 pounds with easy hopper clean out, internal temperature sensor, internal meat temperature probe, pellet purge system, grease management system, electronic auto ignition, side shelf, and shutdown mode.
Key Features

of the Camp Chef PG24DLX Deluxe Pellet Grill

:
Excellent Grill and Smoking Performance
The Camp Chef PG24DLX Deluxe Pellet Grill is equipped with a smart and advanced digital control and automatic auger for feeding hardwood pellets into the grill so the heat is maintained and an optimal amount of smoke is produced every time.
No need to do babysitting because you can just set it and allow to do its job.
This grill measures 141 square inches (upper rack area), 19.5 x 22 sq in. for the grill area, and the smoking and warming rack dimensions are 6 x 24 inches, with a total rack surface area of 570 square inches.
Camp Chef Grill burns hotter, so it means that they last longer with purer hardwood for a rich, smoky flavor.
Versatile and Convenient to Use
Grilling, smoking, baking, roasting, braising, and barbecuing are made easier with premium wood-fired flavor just on a single grill.
The temperature of this grill ranges from 160 to 500 degrees Fahrenheit. You can use the included meat probe for checking the internal temperature or for toggling the grill temperature with just one push of a button.
With the patented ash cleanout, it is now easier to clean between cooks by just pulling a lever through the ash cleanout system that cannot be found on other grills.
It means less time vacuuming and there's more time to enjoy your best-grilled food recipes.
You can watch the Camp Chef website to easily assemble this grill for easy and fast cooking.
Assemble only within a few minutes you are able to start up and you can load it with whole chickens, turkey, ribs, brisket, burgers, and more.
What's the Disadvantage of Camp Chef PG24DLX Deluxe Pellet Grill?
You can take your family outdoor cooking experience to the next level with the trusted and reliable Camp Chef Pellet Grill.
It has a pellet storage issue and ash management issue. However, these are minor issues that can be addressed by removing the grate and using the ash cleanout system properly.
It may not do well with a strong wind on a brisk day so you need to increase the temperature if that happens.
You can also bypass the issue by throwing an affordable moving blanket over this grill.
Why Should You Choose Buy Camp Chef PG24DLX or Not:
The Camp Chef PG24DLX Deluxe Pellet Grill is simple and reliable when it comes to grilling, braising, barbecuing, roasting, and more.
No more guesswork because it has a precise and adjustable heat or temperature settings for versatile outdoor cooking.
Temperature swings are eliminated for a more consistent and even temperature for any type of cooking.
The patented Ash Can Cleanout System is impressive for easy cleaning. It is really worth your money with its innovative features and practical applications. Now, you can discover the real secret of great smoky flavored food recipes.
Verdict!
The Camp Chef PG24DLX Deluxe Pellet Grill may not be the best cooker in the market today but it is very competitive and worth your investment.
No need to do any guesswork like traditional grills because this is a smart pellet grill with advanced temperature control settings you can count on.
Enjoy your outdoor cooking every time with this Camp Chef pellet grill today!