A fire pit is one of the most essential things that you should have during any outdoor or camping activity with your friends or loved ones. Without these fire pits, making a fire to keep you warm or grill out meat is not intuitive as it should be. If you're looking for a high-grade fire pit that could be used easily, then the Breeo Double Flame Patio Fire Pit is recommendable. To know more this fire pit, you could read more by scrolling down the details.
Pros
Durable Material, High-Quality

Versatile Purpose

Easy Use and Setup

Highly Mobile
Cons
Design Issues

Very Expensive
Key Features of the Double Flame Patio Fire Pit
Sturdily Made and Design
Equipped with a heavy duty stainless steel body, this bowl-shaped classic fire pit is thick metal finished with an interior diameter of 19 inches having a depth of 22 inches. Its The floor of the device has an X-like interface to easily use to dispose over the ash inside it. Its made with four short legs, also steel finished for stability and reliability for long-term utilization.
Portable fire pit
Weighing 42 pounds, you could easily transfer with a carrying case the device into different places. Whether you want to grill some meat at your campsite for your next camping trip or just outside your home, this device could be conveniently carried around as needed. Also, it requires less assembly and disassembly method so you'll not require much effort with it.
Safe and Secure
This fire pit includes a lot of safety features to ensure that you'll not get hurt when using this. Its built durably with industrial grade and thick stainless steel to prevent melting and corrosion as needed. An additional option could be installed into the system would be an adjustable post and a heat-resistant handle for easy use of the fire pit.
Patented Heating Mechanism
Well engineered with a conventional heating capability, this fire pit operates through the double combustion system for efficient air circulation and ventilation. It manifests maximum air exposure from its top, sides, to the bottom of the device incorporating holes into it. This intuitive mechanism encourages and delivers efficient fire yet less smoke for an eco-friendly operation.
Flexible Use
Setup campfire wherever you are. Whether you are outdoors, backyard, patio, or on a beach, you could use this fire pit conveniently. Its simple to use sufficient to warm a group people into it. Aside from that, the fire pit could be used to cook with adding a cooking grate over top and grill food in particularly like burgers, hot dogs, and steaks to create an enhanced flavor and reduce smoke as needed.
What users saying about Double Flame Patio Fire Pit?
This is an expensive fire pit yet worth it with the durability and ease of operation. The design and mechanism are astounding, makes fires effectively producing minimal smoke into it. It induces great heat as oppositely to the size it has.
Though, few users felt that the heat isn't that sufficient to maintain for a long-term operation. Its safe to use, not easily corroded and definitely, will last for very long years.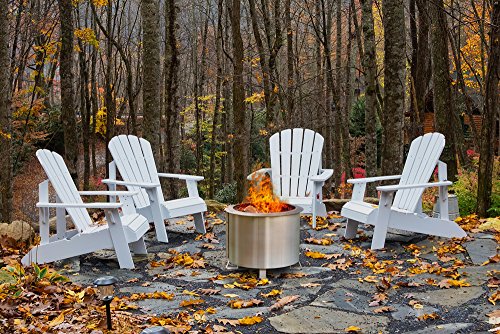 Its flexible, conducive for use into multiple applications from grilling to just simple warming you out during cold days. Perhaps, the only bad thing about the device is its edges.
Nonetheless, it's quite sharp. It could cause wounds if you're not extra careful about using it. Overall, it's entirely recommended for purchase with the very high rating and good reviews on Amazon.
Click Here To View 70+ Buyer Reviews
Compare with Solo Stove Bonfire vs. Double Flame Patio Fire Pit
Having a similar bowl-shaped design, both devices are made durable with doubled wall stainless steel design constructed for airflow efficiency and ventilation. Nonetheless, both are heavily patented with the secondary combustion mechanism allowing more heat and less smoke while operation.
However, placement of holes is quite different with both devices. As noticed, the Double Flame does not have any holes around the top and bottom edge while the latter has holes surrounded to it.
Both are easy to use with a very similar method for installation and utilization. You don't have to spend a lot of effort upon making fires or into its setup. Nevertheless, both devices are very portable.
Though the Double Flame, is much taller with 22 inches depth than the latter with only 14.5 inches. Also, another difference is that the solo stove doesn't have any base as compared to the Double Flame with four short legs attached below it.
As for the price, the Double Flame is more expensive than the Solo Stove. Its entirely reasonable for its durability, size, and the mechanism it incorporates. Additionally, it accommodates a lot of wood or peat into it with few safety features that the Solo Stove does not have.
Also, its built for longevity certified by the Hearth and Home Magazine as the best outdoor product on its 14th annual Vesta Awards.
Overall, the Solo Stove Bonfire is a great fire pit but the Double Flame is more intuitive with extendable features that the Solo Stove has. Though a bit expensive, the Double Flame is worth it especially for long-term use and cooking applications.
What's the disadvantage of the Double Flame Patio Fire Pit?
In all honesty, it's quite hard to think of a disadvantage for this device. It's almost perfect for the price you'll be paying. Its small, lightweight, durable, and provides excellent heat producing a lot of fire with less smoke into it for various applications. It has a convenient mechanism that will give you a maximum fire with minimal smoke produced to it.
But nonetheless, it would be intuitive if the manufacturer will be able to fully remove the smoke that it will excrete. Aside from that, the edges of the fire pit are quite sharp.
Thus, it would be better if the manufacturer would deviate out its design as to avoid getting hurt with its edges. Also, it would be convenient if the accessories will not be optional and not separately bought for ease of use.
Finding the best fire pit that will thrive for long period of time ain't easy. That is why it's important to buy a very durable and reliable fire pit that is verified by a lot of people through its ratings and reviews.
Despite its expensive price, the Double Flame Patio Fire Pit is a must-have for its patented quality and easy to use features. Its very lightweight and portable as needed.
Related: Solo Stove Yukon: A Review of the Solo Stove Yukon Fire Pit
Related: Best Patio Heater 2018 – Top 10 Reviews and Buyer Guide
Related: Best Electric Fireplace 2018: Top 15 Reviews and Buyer Guide
Related: 12 Best Electric Fireplace TV Stand Reviews & Comparison Chart 2018