The cold winter mornings and evenings are upon us, and it's now becoming increasingly difficult to keep the house (and our hands) warm. Ensuring a warm and comfy home should take place all-year-round, but that can become challenging if all we can rely on is the home's temperature controls. Instead, you can use the Duraflame DFI-550-36 Infrared Quartz Electric Stove Heater.
Increasing the temperature on the thermostat is only a temporary fix, especially if you're trying to save money on your next utility bill. Instead of relying on increasing the temperature of your home through the HVAC system (which might cause), you can take advantage of this electric fireplace stove heater we're highlighting in this page.
Continue reading as we take you on a journey to check out what's in store for you with Duraflame's product. We're going to tell you its pros and cons, along with additional information that you might find useful should you decide to purchase this item.
Pros
Blower presents quiet operations

Easy-to-use remote control

Suitable heating prowess of about 5,000 BTU

It can heat up a large room of up to 1,000 square meters
Cons
It doesn't have a thermostat

Hard plastic casing only gives decent levels of durability
Key Features of the Duraflame DFI-550-36 Infrared Quartz Electric Stove Heater
Powerful Heating
Unlike the conventional household fireplace, Duraflame's heating unit can bring a comfortable warmth across large rooms or areas of up to 1,000 square feet. It has about 5,000 BTU of heating power to help its owners save up on unwanted costs. Instead of buying multiple heating units, you can just buy this one product to save a ton of cash on your next utility bills.
Flames Without Using Real Fire
Using real fire brought by igniting gasoline and firewood can become dangerous. This electric fireplace stove heater, on the other hand, makes use of a 3D flame effect technology that dances around like real flames but without using gases, flints, or firewood. Users can even control the fire by changing its brightness settings.
Retaining Natural Humidity
One of the problems of using real fire is it removes the natural humidity in the surrounding areas. Since this heater doesn't use real flames, it maintains the natural humidity of the air. It takes advantage of infrared quartz heat that results in a comfy warmth without overheating the room.
Realistic Log Set
If there's one thing many homeowners hate about the winter season, it's cutting up firewood for chimneys. The entire process takes a lot of time and effort to complete, and some people may not even be up to the challenge. Thankfully, this heater doesn't require you to go into the woods in search of firewood. It already has a realistic log set accompanying the electricity-powered flames for a true-to-life heating experience.
What Users Saying About Duraflame DFI-550-36 Infrared Quartz Electric Stove Heater


Reviews regarding Duraflame's product are mostly positive. Perhaps the most sellable feature of this product based on its online reviews is its flames. The crackling effects are very close to being realistic. Owners are raving about its glowing embers as if they're real.
Aside from the realistic flame effects, this product also gains some great comments regarding its heat. Its 5,200 BTU heating prowess can properly heat up a very large room. Classrooms, meeting rooms, living rooms, and even auditoriums can all bask in the comfy warmth given by this one electric heating unit.
Click Here To View 39+ Buyer Reviews
Compare Duraflame DFI-550-36 vs. Duraflame DFI-5010-01 Infrared Quartz Fireplace Stove
Aside from the obvious difference in price tags, the DFI-550-36 unit comes with features that are bang for the buck. It already has a lightweight and portable design so moving it around the house or area won't be too much of a challenge. Furthermore, the adjustable flame brightness settings let you marvel at its close-to-realistic fire without getting burned.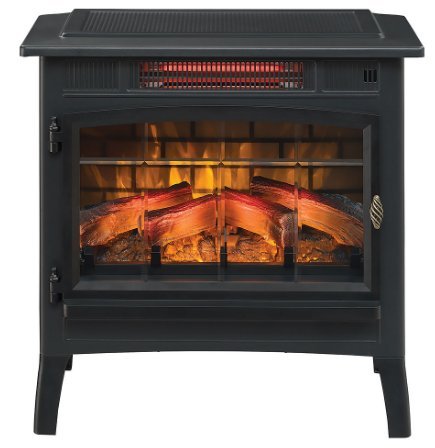 As for the DFI-5010-01 unit, potential owners can gain additional features by spending a bit more cash than the DFI-550-36. With Duraflame's DFI-5010-01 Infrared Quartz Fireplace Stove, users can adjust the brightness of the flames. Furthermore, the flame color and speed settings are also adjustable. Finally, this product also has an overheat protection which will automatically shut itself off when it gets too hot to prevent damages or possible accidents.
What's the Disadvantage of Duraflame Infrared Quartz Electric Stove Heater (DFI-550-36)
If there's a main disadvantage to using the Duraflame Electric Stove Heater (DFI-550-36), it has to be its lack of a thermostat. There are other similarly-priced stove heaters on the market that offers flexible heating controls as opposed to just turning the unit on or off. Albeit this product from Duraflame does have a low or high heat feature, users can't fine-tune the warmth coming from the unit.
Why Should You Choose Duraflame DFI-550-36 or Not?
Homeowners can choose to buy and use the Duraflame (DFI-550-36) for its lightweight and portable design. Moving the product around the house doesn't require too much muscle to pull. It has a hard plastic casing that's both durable and lightweight, and the black finish can go well with just about any interior décor. For reference's sake, this item weighs about 19 pounds which is roughly the weight of a year-old baby.
Final Verdict
The Duraflame Infrared Quartz (DFI-550-36) is a great electric stove heater with a price that matches its list of features. Although it doesn't have functions that may be found in other higher-priced models, potential buyers looking to save cash while bringing additional heat to their homes should definitely look into buying this model.
It gets all the basic necessities down to a tee. The heating power is sufficient and its durability levels are ideal for its price. It even has a quiet operating system so you don't have to worry about the sounds of its blower messing up your relaxation time. This product is even safe for use on different types of flooring like carpets, hardwood, and vinyl.
Related: Top 15 Electric Fireplace Insert Reviews And Guide 2018
Related: 15 Best Wall Mount Electric Fireplace 2018