The wood stove adds a classic and rustic ambiance to any place in your home. Not only does it warm the room, it also brightens the space with dancing and flickering flames. The problem that comes with a stove is its potential to be a safety hazard if there is not proper ventilation to air out the fumes.
This is where the HomCom Stove Fireplace by bringing the ambiance of an actual wood stove without the risks that come with it. How can this electrical stove bring value to your living room or any place in your home? Find out by reading our review for the HomCom Free Standing Electric Wood Stove Fireplace Heater review.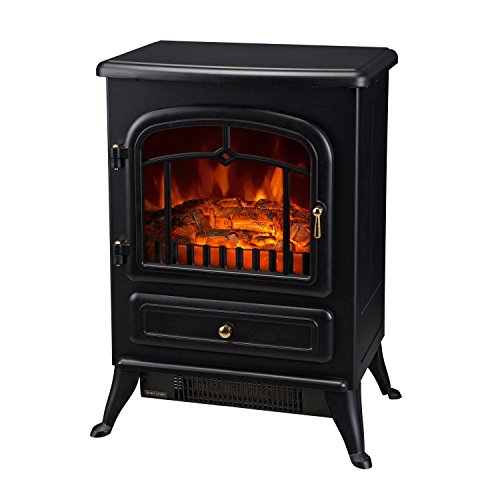 3D burning log effect with realistic LED flame effect

Overheating safety features

An economic and safe alternative to wood stoves

Classic furniture metal and copper design
Thermostat knob does not show the temperature level

Only compatible with 100-127V outlets
What Users Saying About HomCom Free Standing Electric Wood Stove Fireplace Heater
Most of the reviews for the HomCom Electric Wood Stove are generally positive. Many are praising the stove's small size and lightweight design that they are using it in their bedroom. Some are using it in their office as a functioning decoration.
Another reason why many are giving good reviews to the electric fireplace stove is its economic heating solution. Owners get just enough heat from the HomCom Fireplace without turning on their central heating system. This saves them money during those cold winter nights.
On the other hand, some people report that the lights stop working in just a few months. Others say that the electric stove is not enough to heat a large room even on the highest setting.
Click Here To View 128+ Buyer Reviews
Key Features of the HomCom Free Standing Electric Wood Stove Fireplace heater
Realistic Flame Display
Upon turning on the HomCom Electric Wood Stove, the randomly stacked logs will glow bright red-orange with flames dancing behind it. This is thanks to the use of the LED lighting that creates a realistic looking live flame. You can also adjust the brightness of the flames. The burning log display adds realism to this free standing electric fireplace by making you think there is actual wood in the stove.
Rustic Metal Design
To recreate the ambiance feel of an old wood stove, the HomCom Electric Fireplace has an antique design with a metal finish. The knobs and handle also have a copper finish to increase the rustic look of the Electric Wood Stove.
Heat Output
This electric wood stove gives you two heat options: 750W and 1500W. In addition, a thermostat setting that lets you control the amount of heat coming from the stove. This lets you adjust the heat to a comfortable level, which is easier and possible to do than with burning wood.
Overheating Prevention
The HomCom Electric Wood Stove has a safety feature that turns the unit off if it starts to overheat. This makes the stove less likely to be a fire hazard than an actual wood stove.
Portable Design
The electric wood stove is only 11 x 22 x 16 inches in dimension. This portable size lets you move the warming unit to nearly any living space. Whether you need the warm glove of the stove in your bedroom or dining area, the size and weight of the unit make it easy for you to carry it around your home.
Compare DuraFlame Electric Stove Heater vs.
HomCom Free Standing Electric Wood Stove Fireplace Heater
One of the closest competitors to the HomCom Electric Wood Stove is the DuraFlame Electric Stove Heater. In terms of heating, the DuraFlame heater is the winner with an effective range of up to 400 sq ft while the HomCom heater can only heat up to 323 sq ft.
While the two heating units share the same features, the HomCom has a brightness option for its virtual flames. On the other hand, the DuraFlame lacks this option. Pricing wise, HomCom's Electric Fireplace is affordable than the DuraFlame heater.
What's the Disadvantage of
HomCom Free Standing Electric Wood Stove Fireplace Heater
As a portable electrical heater, the HomCom unit's problem is its 100V-130V input voltage. This means that the unit will only work in certain electrical outlets in your house. If you plan on moving the unit to a place in your house that only have 220V outlets, you will need to use a transformer to power the Electric Stove without damaging it. This can be troublesome for some people who want to move the heating unit around their home or office regularly.
Another issue is the stove's limited heating capabilities. The HomCom Electric Wood Stove can only heat around 323 square feet. If you need to increase the temperature of a large room, you will need to use an additional heater or a central heating system.
Why Should you Choose it or Not?
The HomCom Electric Wood Stove is great as a decorative heater in your living or workspace. It can add a touch of the classic living room style or mountain cabin kitchen to any part of your home.
If you intend to use it as a heater, this will depend on the room you want to heat. The HomCom unit is great for small areas such as bedrooms or offices. This gives you an economical solution to heating the room without using a central heating system. On the other hand, you may want to skip this unit if you want to warm a spacious area in your home.
Final Verdict
The HomCom Free Standing Electric Wood Stove Fireplace Heater works best as a functioning decoration to your home. Its rustic and antique design adds a classical charm to any home. In addition, the portable lightweight design lets you place this unit nearly anywhere in your home. However, you may need to use a transformer that can make the electric wood stove compatible with 220V outlets that are in some parts of your house.