The Masterbuilt 20050716 Thermotemp Propane Smoker makes propane smoking safe and simple. Now, you can create your delicious smoke food recipes without the hassle and stress of monitoring or regularly adjusting the temperature.
Apart from the TermoTemp innovation that allows you to set the temperature and just walk away, let's find out what users have to say about this product, the pros and cons, and the best features. With Masterbuilt 20050716 smoker, you can share the tasty slow-smoked food anytime.
Easy assembly

Safe to use

Great smoked food flavor

Outstanding temperature control
Space Issue
Some customers say that this smoker is smaller than expected. The thermometer comes out from the middle, sitting under one of the smoker's racks, so you cannot place larger items inside like turkey, thus reducing the versatility of the product. However, the specifications on the listing is accurate and cooking is still enjoyable, preparing food for good for the entire family.
Design Concerns
Some customers say the design of this Masterbuilt smoker is not what they expect it to be.
However many customers love the overall performance, most especially the temperature control. It compensates the design concerns of meticulous customers that may complain about.
What Users Say About Masterbuilt 20050716 Thermotemp Propane Smoker
Users love the clear instructions when it comes to the assembly of this propane smoker. Although some find it challenging, most especially those who don't have a mechanical talent. No support is needed and it can be completed within an hour or two. Even first-time owners would understand how to assemble it as long as the instructions are followed.
Many customers love the temperature controls or thermostat controls which are also insulated. The smoker holds the heat very well, allowing easy cooking without too much temperature adjustment needed. The safe operation makes it stands out from the rest.
Click Here to View 57+ Buyer Reviews
Key Features of the Masterbuilt 20050716 Thermotemp Propane Smoker
Safe to Use
This Masterbuilt smoker has an automatic shut-off valve for a safe and enjoyable smoking experience. The 4 smoking racks offer plenty of room for smoking your favorite foods. Before start cooking, there is a fuel gauge to avoid guessing how much fuel is left in the tank. The auto shut-off is a safety feature for the propane if the flame blows out.
Convenient to Use
Because of the thermostat controlled temperature, there's no need to do a manual adjustment like what you normally do with a traditional propane smoker, and it does not require the use of electricity.
The temperature sensor automatically controls the burner, thus maintaining your desired cooking temperature. With the handle, wheels, and push-button ignition, you generally have everything so you can master the art and science of propane smoking. Now, you can enjoy the tasty slow-smoked food throughout the year.
Excellent Performance
This smoker has a dual-door design wherein you can add wood chips without failing or losing heat. The built-in thermostat is amazing, allowing you to simply just turning the dial and the smoker does everything.
With the technology behind it, flame adjustment is automatically sensed, thus maintaining a consistent temperature, for you to be able to cook delicious foods every time. You have more time with your family and friends than frequently checking or monitoring the food you're cooking.
Great Loading Capacity
When it comes to food loading capacity, you can cook whole chickens (12), whole turkeys (2), ribs (4 racks), sausages (48), burgers (32), and pork butts (4). Now, you can cook a wide array of smoked food recipes anytime. You can literally cook for a family gathering or get together party with friends.
Compare Pit Boss 77700 7.0 vs. Masterbuilt 20050716 Propane Smoker
When comparing Masterbuilt 20050716 with Pit Boss pellet smoker and grills, there is a huge difference when it comes to the cooking space. Pit Boss boasts its 2196 square inches cooking area with a product dimension of 28 x 29 x 58.5 inches, whereas Masterbuilt 20050716 has 22.9 x 26.6 x 41.8 inches.
Pit Boss Grills 77700 7.0 has a temperature range of 150 to 450 degrees Fahrenheit and 40 plus pound hopper capacity for longer slow and low-temperature cooking (24 hours).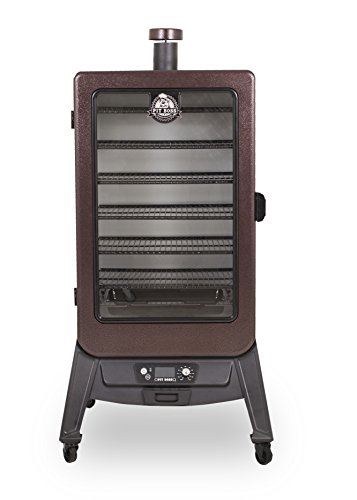 Pit Boss Grills 77700 7.0 has great features like its 6 porcelain coated cooking grids with a porcelain coated water pan, meat probe, and heat deflector included. It also has an auto-tart with automatic shut-off feature. This is an easy to use smoker with quality built.
Pit Boss Grills 77700 7.0 is perfect for very large groups and family events, while Masterbuilt 20050716 is for regular family-size use. The price is the biggest advantage of Masterbuilt along with its excellent thermostat. On the other hand, Pit Boss has a huge advantage when it comes to the wider cooking area and loading capacity.
What's the Disadvantage of Masterbuilt 20050716 Thermotemp Propane Smoker?
This Masterbuilt smoker has a few disadvantages including the perceived limited space for some customers. However, the loading capacity according to the manufacturer is quite impressive. Of course, there are numerous factors when it comes to space like the size and spacing of food inside the racks.
Some have concerns about the design, but these are only minor ones because the excellent temperature or thermostat control compensates them. Generally, a majority of customers in Amazon rated the Masterbuilt 20050716 Thermotemp Propane Smoker 5-stars.
Why Should You Choose It or Not?
This product is a must-have item because of its outstanding thermostat. It means that unlike propane smokers, you don't need to do a manual adjustment every time. It is easy to assemble and operate.
The food loading capacity is impressive, allowing you to cook delicious slow-smoked food. It is very affordable given its price point, unlike electric grills and smokers.
The Masterbuilt 20050716 Thermotemp Propane Smoker is a great investment if you want a propane smoker. Unlike traditional propane smokers, it has a patent-pending thermostat technology for automatic sensing of temperature.
This smoker is your best propane smoker buddy if you don't want to use electricity or wood for achieving smoked food flavor.
Related: 10 Best Charcoal Smoker 2018: Reviews and Comparison Chart
Related: 6 Best Electric Smoker Under $200: Reviews & Guide 2018
Related: Oklahoma Joe Smoker Reviews 2018 – Compare Classic and Latest Model
Related: Top 5 Traeger Smoker Reviews 2018 – Compare Classic & Latest Model