If you really wanted to cook out a variety of dishes and food, then it's essential for you to buy a smoker. Through this device, you could recreate meat and even fruits and vegetables into a different taste, unusual to what you had typically had. That is why a lot of restaurant owners and cooking enthusiasts tend to buy smokers to complete out the food experience. One of the best smokers that you could purchase out today is the Pit Boss Grills 77700 7.0 Pellet Smoker. In this product review, we will look upon this device more.
Pros
Ease of Use and Installation

Sturdily Built

Large Scale Capacity

Portable Wheels
Key Features of the (Pit Boss Grills 77700 7.0 Pellet Smoker)
Durably Made
Vertically positioned at rectangular built with 28 x 29 x 58.5 inches dimensions, this device is rustic finished steel made having a glass centered piece to easily view out into what's happening inside the smoker. Weighing 142 pounds, this device has four stable angled bases with portable and easy to glide wheels for convenient transport and transfer from one place to another. Atop of the device lies an opening vent to release out the smoke that's incorporated into the device.
Wide Area Smoking Capacity
Upon opening the easily viewed glass cabinet, the device features six porcelain coated cooking grids that could be readily adjusted into the device into multiple positions. Nonetheless, the device has a 2196 square inch area with a 40+ pound capacity for which you could put different types of food into it. Below the device, it includes a porcelain coated water pan and a heat deflector to complete out the operation.
User-Friendly Interface
Situated on the device's main interface, controls with a white easy press power button and a rotating dial that is used to adjust out temperature levels into the device. Aside from that, it has a digital LED readout interface that displays over the temperature to start the operation.
Intuitive Heat Capability
Adjustable with programmable internal temperatures from 150 to 450 degrees Fahrenheit, you could easily cookout a variety of food and meat products as needed. Other than that, it features an auto-start 300-watt igniter with auto-shut off function for a safe use of this device.
Versatile Use
With a large capacity design, the manufacturer ensures that you could smoke or cook low and slow within the 24-hour duration. Other than that, the device works flexibly even at low-temperature nights with its protected double walled insulation.
What users saying about Pit Boss Grills 77700 7.0 Pellet Smoker?
Basically, this device works efficiently with an easy setup and use. It has a great smoking capacity with an intuitive function to be used as much as 40+ pounds of meat and foods for smoking. The temperature range is quite intuitive. With its double-walled insulation, you'll expect that there will be a very minimal error as to the temperature reading.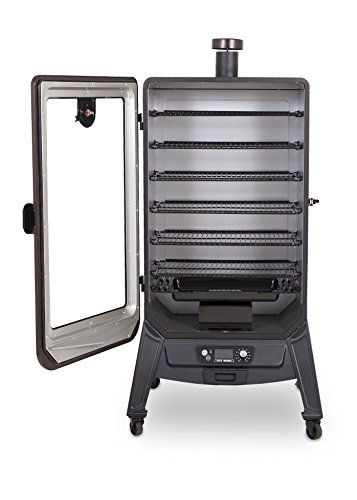 Cleaning is easy. There lies an intended pan to be used out to catch any drippings or greases that goes into the smoker. Thus, you'll just have to clean it around with warm water or cloth to come everything off easier as needed.
The price seems to be really expensive. Thus, there are limited and few reviews with this device. Aside from that, the door seems to be unreliable. You'll really have to exert a greater force for it to fully close. You could adjust out the latch to use it efficiently.
Other than that, customer service is really great for this device. The manufacturer answers your queries and complaints immediately as you've needed it.
Click Here To View Buyer Reviews
Compare Pit Boss 71820FB vs Pit Boss Grills 77700 7.0 Pellet Smoker
Both manufactured from Pit Boss, these two pellet smokers came from a different model and brand. The Pit Boss Grills 77700 7.0 Pellet Smoker is the most recent with a different build and design as the latter. Nonetheless, you could see that Pit Boss 71820FB is cylindrically designed, heavily black finished with a stable four bases into it.
It has an easy use temperature dial yet doesn't have an intuitive LED readout interface for simple detection on the device's temperature. Aside from that, it doesn't have an easy lookout glass interface for which the latter incorporates into its device.
Compared with the Pit Boss 71820FB, the other device has a larger capacity almost two to three times with the latter. Thus, you'll be able to smoke and cookout a variety of products through Pit Boss Grills 77700 7.0 than Pit Boss 71820FB.
As to its price, the Pit Boss 71820FB is about a hundred dollar cheaper than the other device. Nevertheless, this is quite reasonable for the coverage and area that the Pit Boss 77700 7.0 possesses.
Other than that, the Pit Boss 71820FB is exclusively made for grilling, fueled through hardwood pellets as needed. It could be used also into smoking but not as intuitive as Pit Boss Grills 77700 7.0. But nonetheless, both devices are effective for which could be able to use into different types of food and products.
What's the disadvantage of the Pit Boss Grills 77700 7.0 Pellet Smoker?
As for proportional to its expensive price, this device is sturdily built with large capacity and coverage. Nonetheless, it's easy to use with simple setup and cleaning. It has an LCD interface that could be used for controlling the device. It's very heavy yet still intuitive with portable wheels attached to the bases of the device.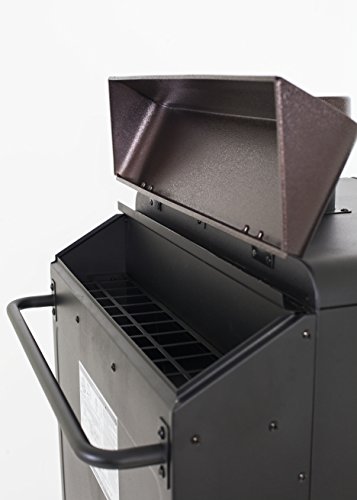 Perhaps, the only disadvantage for now of the device is in its price. It's quite expensive as to its other competitors. But nonetheless, the large capacity of the device is still something that you could not find to its competitors.
Aside from that, there are few users who complained about the door's capability to close or open. You'll require a lot of force and energy just to open it. However, there are users who understand this as to it will ensure that there'll be no leak that could happen into the device.
Related: Best Pellet Smoker 2018 – Top 10 From Popular Brands
Truly Pit Boss Grills 77700 7.0 Smoker worth your invest according to specs?
An expensive smoker with great and large capacity is efficient for use into large-scale applications. If you are preparing for a party, a feast, or if you have a small business, then this device is something worthy to purchase over. It isn't recommended for use to families for it seems impractical to spend out into something for use into the large-scale smoking application.
But nonetheless, as to its quality, function, and durability, the device is excellently recommendable for purchase. Longevity and reliability is also not a question for this device.
Pit Boss is one of the most reputable brands that delivering high-quality smoking devices. Thus, its guaranteed that purchasing one of its products is truly worth having. If you wanted to use a smoker on a large scale, then consider buying this Pit Boss' product.
Related: 10 Best Charcoal Smoker Grills 2018 – Reviews & Comparison Chart
Related: Best Electric Smoker (Under $200 to $1000): Reviews & Guide 2018
Related: Best offset smoker 2018: Top 5 Reviews and Comparison chart
Related: Oklahoma Joe Smoker Reviews 2018 – Compare Classic & Latest Model