A fireplace is an amazing way to improve the ambiance of your place. It is both comforting and picturesque, perfect for the cooler nights of the year. If your house does not have a chimney and a fireplace that can provide you such warmth, why not opt for an alternative solution without having to install a chimney? Such an alternative can come in the form of an electric fireplace.
In this review, we will take a look at the features and capabilities of one fireplace that has caught the attention of different users, the Northwest Wall Mounted Electric Fireplace.
Pros
Easy to adjust heat and flame settings

Efficient and easy to use

Stylish décor at home

Convenient to use

Satisfaction guaranteed
Cons
Not enough to heat up bigger rooms
What Users Saying About Northwest Wall Mounted Electric Fireplace
Most of the reviews coming from users about this product are positive ones. One customer mentioned that this product is really nice, in terms of appearance and design. It is also easy to install with the use of a power drill. Also, the fact that it comes with three color settings make it unique because there are not a lot of fireplaces that come with more LED colors.
According to one owner, if you are searching for a fireplace that produces a realistic fire, then this is a good option to take into consideration. In terms of design, it looks both sleek and modern, fitting the motif of any room perfectly. The heat that it produces does not make noise. As such, it is worth every penny spent, given the different features that it offers.
Click Here To View 36+ Buyer Reviews
Compare BCP 50″ Electric Wall Mounted Fireplace Heater vs. Northwest Wall Mounted Electric Fireplace
Despite the fact that both models of electric fireplace offer similar capabilities, there are certain differences. For example, the electric wall mounted fireplace heater from Best Choice Products come with a timer which can be set between 40 minutes and 7.5 hours. Also, it offers three different modes: low heat, fire effect displace and high heat.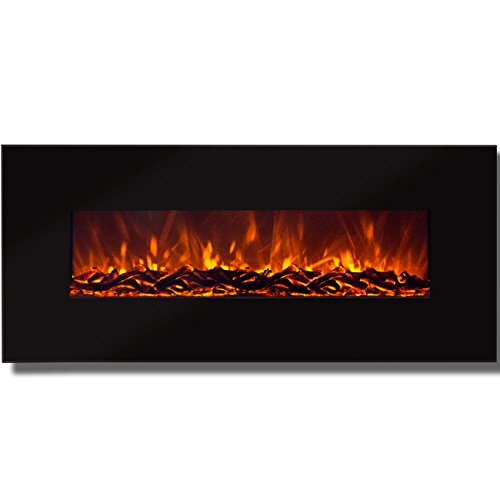 This adds one more mode than the two modes of the Northwest model. Both models operate using electricity, which means that you can skip the messy fireplace setup which uses gas, ethanol or batteries.
Key Features of the Northwest Wall Mounted Electric Fireplace
Product Specifications
This electric fireplace comes with dimensions of 19.5" x 43" x 5.5". It comes with a cord length of 71 inches. This fireplace is made out of painted steel. Among the other accessories that come with the package includes a fixing hanger, remote control, decorative crystals, fixing bracket, plastic expansion, and mounting hardware.
Adjustable Flame and Heat Settings
This electric fireplace can be adjusted to reach a temperature range of 750W (low) to 1500W (high). It can also be operated without heat, which makes it an amazing option to use for your home, serving as a decoration for the entire year. The effects produced by the flame may easily be switched from a LED amber to blue flame (ice and fire).
With this option, you can easily set the mood and ambiance that is perfect for you and your guests, especially if you are planning to host a gathering at home. The best part? You can do so all of these without having to worry about the mess that often comes as a result of an actual fireplace.
Efficiency and Ease of Use
The traditional methods for heating, such as using an actual fireplace can turn out to be very expensive. This is particularly true during the colder months of the winter season. The Northwest Wall Mounted Electric Fireplace, on the other hand, uses LED technology, which is obviously more energy efficient. It is also a less costly way to heat up your space. For extra convenience, it can be operated using a remote control, allowing you to take control of the temperature from around the room.
Stylish Décor for the Home
Aside from providing warmth to an area, this electric fireplace also features decorative crystals for the flame bed display. It also comes with a contemporary glass design, adding some stylish spark to your room, regardless of where you mount it on. As it is hung on the wall, it will not consume extra space, making it the perfect heating option for anyone who has limited space in their room.
What is the Disadvantage of the Northwest Wall Mounted Electric Fireplace
Unlike a real fireplace, the Northwest Wall Mounted Electric Fireplace is limited in several ways. For one, it cannot heat up bigger spaces. If the space is enough, then you can expect to feel the warmth that you would like to feel out of an electric fireplace. This model also faces being prone to overheating, especially if there is not enough getting and air flow in your unit.
Why Should You Choose it?
There are a number of good reasons why you should choose the Northwest Wall Mounted Electric Fireplace. For one, it is very easy and convenient to use. In fact, you can easily use a remote control to control the temperature of the unit from around the room. At the same time, if you only have a limited space in your room, you will not have to worry about consuming too much space as this model only needs to be mounted on the wall.
Final Verdict
If you are looking for a better option compared to a fireplace which can turn out to be messy and difficult to setup and maintain, the Northwest Wall Mounted Electric Fireplace is a good option to take into consideration.
For one, it can give you enough warmth for your place, without the need to setup a messy fireplace that requires the need to feed it with fuel and gas. This is also a good choice if you are looking for a fireplace for your small area at home. Overall, it is a reliable electric fireplace option.
Related: Top 15 Electric Fireplace Insert Reviews and Comparison
Related: Best Electric Fireplace TV Stand 2018: Top 15 Reviews and Buyer Guide