Imagine the warmth that a bonfire provides. If you have that one wish, would you not seek to carry bonfires comfortably in your own outdoor space? Now, here is a piece of patio furniture that is said to be a breakthrough, with respect to that, of an outdoor fire pit. The Outland Living Series 401 comes with a quite pricy, but not tacky ribbon that will boost any outdoor living space ambiance. We have found a great propane fire pit table option that will suit any needs and is the perfect addition of functionality meets sophistication as you watch the reflection of the dancing flames while sipping on some wine.
Users across countries are on their knees researching and reviewing the Outland Living 401 because they simply cannot resist it. Outdoor marshmallow-roasting could not go much prettier, especially with the assurance of high-quality fire pit table. The Outland Living 401 Fire Table promises such. It is high time to find out if it walks the talk.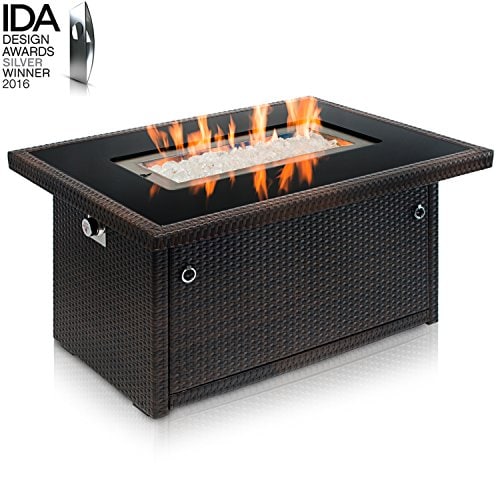 Cons
Light aluminum frame construction, resin wicker base and convenient design

UV, weather resistant, water resistant and heat-resistant firebowl

Black Tempered tabletop w arctic ice glass rocks (15.5 lb arctic ice set) and espresso brown resin wicker panels

Automatic Fire Control and manual control valve allow for smoke free flame height

Highest safety standards and is safe to use around kids

Pre-attached 3-ft hose and standard 20-lb propane tank storage
Ultraviolet light high density polyethylene wicker (uv hdpe)
Stainless steel burner

Comes with Protective Sheet (free)
Cons
Possible Problems with the Starter like Delayed or Interrupted auto-Ignition
Key Feature of the Outland Living Series 401- Slate Grey Fire Table
Safe and CSA-Approved Tag
Outland Living Series 401 Fire Pit Table has an automatic push button ignition, an extravagant 35K BTU fire power and a CSA-approved tag. Simply said, nothing can beat the product when it comes to safety. Users/buyers who consider buying this safe and high end fire table should get their hands on these reviews.
More Features ...
More Convenience Features
If it does not rule above all else when it comes to safety, this Outland fire table most certainly brags about a built-in hub of convenience features. From its 44" x W 32" x H 23" table dimensions, to its tempered-glass tabletop, to its light and decorative glass rock set, it proves to be a great addition to any homes.
It adds coziness to the place and perfectly suits to the current modern décor. Those who have their eyes set for a home with a modern feel should consider purchasing the product.
Impressive Durability
Well, there is not much to say about the product's durability, expect that it is down-right durable! A low-maintenance product with high resistance to heat and breakage, it suits well to any home lifestyles.
What users are saying about

Outland Living Series 401?
Astoundingly, users rate the product with utmost stars. It is a perfect rating by any means. The only compelling issue by far is Outland Living Series 401's highly expensive price. Users usually praise it for its classy and chic design, trusted cooking standards, durable quality and most especially its overall modern look.
Other users also plug its easy-to-assemble set, an unmistakable wind screen/cover sheet and many more. Investment seems to be the fundamental concept in the invention of the Outland Living Series 401. In and of itself, the product proves to be worthy of any single penny spent. It re-introduces to us consumers the only one rule, "If you seek for comfort, invest on it."
Click Here To View 368+ Buyer Reviews
Compare with Blue Rhino Outdoor Propane Gas Fire Pit 

vs.

Outland Living Series 401- Slate Grey Fire Table
Manufacturers apart, it is easier to draw the line between the two competitive products. But despite their differences, both products have had the lion's share of fame through the years. The Blue Rhino Outdoor Propane Gas Fire Pit enjoys a delicious pick for a large user population, while the Outland Living Series 401 smiles with an international design award plaque.
The Blue Rhino Outdoor Propane Gas Fire Pit tops the list for being the most practical gas fire device to date. With a highly reasonable price, the product finds itself in almost all the buyers' lists. Very light with a neat appearance, the product may stand a chance against the Outland Living Series 401 in terms of its rate.
The Outland Living 401 wrestles with the former in terms of sophistication and brand rate. But, as everyone agrees, it easily topples the former with its dashing durability and breathtaking design.
What's the disadvantage of the

Outland Living Series 401- Slate Grey Fire Table?
Others find the Outland Living Series 401 to be highly expensive. They are actually right for an instant there. But the product's price, compared to its high-quality and substantial package, hardly lifts a finger. Another disadvantage of the Outland Living 401, as some users point out is its problematic automated buttons, starters and igniters.
 As this problem proves to be present among automated products, it leaves a small room for other users to consider the practicality of manual products. The Outland Living 401 is highly fancy. Is it great? Yes. Do you really need it? Well, it is both a Yes and a No. It always depends on the user's needs. Practicality in the end, still wins over design.
How reasonable price according to the

Outland Living Series 401- Slate Grey Fire Table

specs?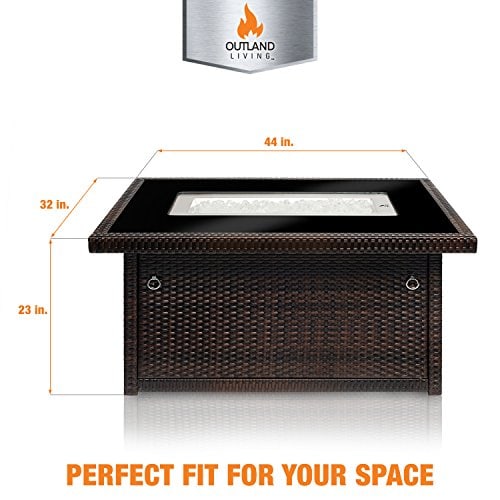 If you base the product rate to the comfort it offers, it surely pays. If this does not assure you, you may just have to give it a brand-review. The Outland brand does not and has not ever produced a product with the clumsiest specs. The point is that you are the ultimate arbiter. The product's cost can only be as good as how you expect it to function.
Still, if you look at it per se- it is quite expensive, but it surely pays with its trusted branding and design. There are minor chips in the fine surface though. Both literally and figuratively, the chips will annoy you, especially if it appears to be a very small crack on a very wide surface. Obsessive compulsives will not like it for sure!
Summing up the reviews, the Outland Living Series 401 brown or Slate Grey Fire Table turns out to be an instant classic, international design awards winner, knowledgeable customer support and near-perfect fire table technology in regards to the Outland Living products available. It is all the modern additions every auteur would die to put on their works. But buying the product would require careful consideration in terms of costing.
While it may stand as a long term and sturdy product, outdoor products such as backyard patio fire pits, falls into the cracks of over-fancifulness and excessive materialism. In the end, if it empowers the consumer to decide well on their own, it will always come out as the super champ! This fire feature would be a great addition to enjoy while being poolside as well.
Related: Best Patio Heater 2018 – Top 10 Reviews and Buyer Guide
Related: Best Electric Fireplace 2018: Top 15 Reviews and Buyer Guide
Related: Best Electric Smoker (Under $200 to $1000): Reviews & Guide 2018
Related: Best Pellet Smoker and Grills 2018: Top 10 From Popular Brands