Hosting barbecue parties is a bit of a hassle if you don't have the right equipment set on your backyard. Be the star of every barbecue party with a handy and reliable pellet smoker and grill.
Introducing the Pit Boss 72700SS Pellet Grill! This wonderful pellet grill will definitely uplift every dish you put on it and add up more excitement to your family and peers. It is also easy to use and will not require some waiting period to be able to start your cooking.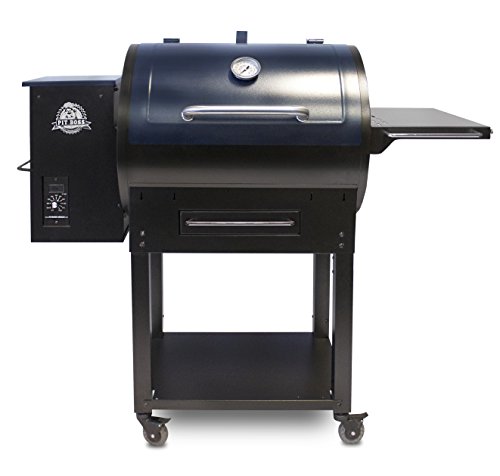 Forget about the typical barbecue grill where you need to burn some firewood or coal just to ignite and begin your cook festival. It's time to get into the modern era and to the future of house barbecue parties with this pellet grill.
Pros
The materials used for the grids are of strong iron and porcelain.

It has a digital controller for quality cooking.

There are wheels for ease of transport and a lock for it to stick on its position and prevent unwanted movements.

It is rust proof.
Cons
Actually, this is not a big problem but some were really annoyed with how heavy this equipment is.
What Users Saying About Pit Boss 72700S Pellet Grill
The Pit Boss Pellet Grill gained high ratings through the satisfied customers that already owned such grill. People were really fascinated by how durable and tough this pellet grill is even after years of constantly using it, with proper care and maintenance, it still looks like brand new. It is heavy duty and is most recommended for those who are searching for pellet grills that can last almost a lifetime.
The large area that it has can accommodate a big number of barbecues or anything you want to grill. It is convenient for large families and most especially during parties and get-togethers. You can cook a wide array of dishes including chicken, burgers, steaks, and even pizza without worrying that it will be overcooked or burnt.
A lot of people were really proud of what this pellet grill does to their grilled dishes. It definitely provided them with evenly cooked and mouthwatering food that they enjoyed eating.
Most of the negative comments pertaining to this pellet grill are due to the factory defects that came with their grills. Aside from those, there is nothing more to worry about with regards to its function and capabilities as a pellet grill.
Click Here To View 166+ Buyer Reviews
Pit Boss 72700S Pellet Grill vs. Camp Chef PG24DLX Deluxe Pellet Grill
Let's try to compare the Pit Boss 72700S Pellet Grill with another barbecue grill in the market so that you can have a bit of comparison based on the things it can offer.
The Camp Chef PG24DLX Deluxe Pellet Grill is a bit lighter compared to Pit Boss 72700S Pellet Gril and it is also slightly smaller with regards to its dimensions.
In terms of its cooking and grilling capabilities, both can provide above satisfactory results but the Camp Chef Deluxe Pellet Grill lacks the consistency with temperature. There were times when you've set it on a specific temperature and when you leave it and return to check on it the temperature rose degrees higher. There were also issues with a rattling sound that it creates when used which annoys some people even their neighbors.
There were also instances were the pellets are hard to remove from the hopper after using and the ashes from the pellets go to the food that is on the grill.
With regards to its price, the Camp Chef PG24DLX Deluxe Pellet Grill is cheaper by almost a $100 but we suggest to go to something that can probably be a little more expensive but has fewer issues involved.
Key Features of the Pit Boss 72700S Pellet Gril
Well-crafted exterior design
The Pit Boss 72700S Pellet Grill is made from exquisite materials that assure you it will last for a very long period of time, even years! The cast iron of the grids is meticulously coated with porcelain to achieve utmost durability. While the body of the grill is constructed using stainless steel materials that will surely get rid of those rusty thoughts towards it.
This pellet grill is also installed with tough wheels for ease of movement whenever you need to change locations. There are also trusted brakes that will stop it from unforeseen accidents that might happen if it moved by itself.
Quality controlled cooking
This pellet grill is equipped with a digital controller that allows you to manipulate the heat through its 8 temperature settings. You can freely pick from the preset temperatures of 180°F to 500°F. With this functionality, you can assure a well-cooked and gourmet-like feast to serve during parties.
Pit Boss 72700S Pellet Gril is easy to use and doesn't take that much longer for you to begin cooking. With a reliable digital controller on the side, you can achieve any grilled dish with perfection.
It also uses wood pellets that are much more convenient than the typical cooking medium What's more fascinating is the additional crisp taste that these wood pellets add to your barbecue. You can now say goodbye to propane or natural gas methods of grilling and say hello to the future of barbecue grilling.
What's the Disadvantage of Pit Boss 72700S Pellet Gril
The only seen disadvantage of this pellet grill is its weight which is quite heavy to move around even if it has wheels to assist you. There were also reported issue with the temperature gauge wherein it projects a different amount of heat compared to the set-up temperature. For example, one user dialed 225°F but the actual temperature went up to 250°F but it can easily be fixed through manual calibration using P settings and everything will go on smoothly again.
Aside from these, there's nothing more serious problem associated with the Pit Boss Pellet Grill.
Why You Should Choose It or Not?
The Pit Boss 72700S Pellet Gril will help you achieve scrumptious meals for your family and friends. It can accommodate large orders of barbecues, chickens, burgers, and other grilled food. It makes value for your money and promises to last for more years of parties and fun-filled experiences.
Final Verdict
This Pit Boss 72700S Pellet Gril holds the key for successful grilled barbecues and dishes that will surely entice anyone who gets a hand on its products. If you're looking for quality and durability then this is the best thing that you can add up to your backyard cooking. It contains a lot of features that will surely make barbecuing hassle free.
Related: 5 Best electric smoker under 200 – reviews and guide