Improving the look and feel of your home is one of the most interesting changes that you can consider.
Instead of buying a new home, many people nowadays were opting to renovate their current houses to give it a new refreshing ambiance.
But because this home improvement may require us to spend lots of money, several of us were being hindered to do such a thing.
And since many people were really aiming to achieve this simple house goal or investment, there are tons of companies now who are offering simple and reasonable solutions such as the use of Real Flame G1200E-W Fresno Entertainment Unit with Electric Fireplace.
So consider ditching the traditional wood burning fireplaces and browse some of these sleek options that still puts out enough heat.
Yes, this piece of appliance/furniture can truly change the look and ambiance of your family room.
As a matter of fact, there are various individuals now who are considering this item for they believe that this is more cost-efficient when compared to house renovation or other massive projects.
That being said, if you want to improve your family room while providing comfort and entertainment value to your whole family, here are the important details about this electric fireplace with entertainment unit to help you in finalizing your decision.
What is the Advantages of Real Flame G1200E-W Fresno?
This electric fireplace will not just bring comfort during cold days in your place but it will also give you an automatic entertainment center for your appliances. Such as a television with a weight of 100 pounds.
Additionally, you can also get the opportunity to place your other electronic devices to this unit because it also has adjustable shelving. So to save more spaces in your home while warming your family room or whatnot, better consider this multipurpose unit.
What is Maybe the Disadvantage We Notice?
This electric fireplace may not consider as the primary heat source in your place because it can only heat a specific area of your home (e.g. living room, bedroom, family room).
But this is not a bad thing at all because this will help you from saving more money due to the fact that you will not be required to heat all parts of your home.
Another thing to know about this item is that you can't use this electric fireplace when there is a power outage because this is being run by an electricity.
But if you have a power generator, then no need to worry about this drawback. This electric firebox plugs into almost any outlet.
Key Features of the
Real Flame G1200E-W Fresno

Entertainment Unit:
Multipurpose:
Even if this is just one big unit, it can give you several wonderful benefits such as great comfort when the weather is too cold.
Additionally, there's an added entertainment value with this item because you can put your television on this unit including your other entertainment gadgets or devices since it has adjustable shelving on both sides of the cabinet.
In other words, you and the rest of your family can get the chance to bond together while getting some comfort and a valuable entertainment center. This is a great option if you are looking for a supplemental heat source.
Space-saving:
No need to worry about the location of your electric fireplace or even your TV because this unit will allow you to combine all of these things into one place.
That means you can save more space in your house which is a good advantage most especially for those who have a big family.
And just in case that you want to add other furniture to your home, you can be sure that the newly added item can still fit in your area. In short, your house will look more organized and neat.
Easy to use:
No need to deal with complicated installation because this electric fireplace with entertainment center is very easy to use.
Simply look for a perfect location where you want to place this unit, assemble the parts which are extremely easy, put your TV and other devices, then plug your electric fireplace!
Additionally, this unit has a remote control for you to adjust and set the thermostat, timer, and brightness.
That means you are free to control and adjust the settings of your electric fireplace to suit your desires.
Easy to maintain
Simply wipe the dust on the front glass using damp clothes every week to keep the quality and beauty of your electric fireplace unit.
In other words, no need to hire someone to clean your fireplace, no need to suffer from the ashes of the burnt woods, because with the electric fireplace, you can save more money, time, and effort!
Real Flame G1200E-W Fresno VS. Valmont Entertainment Electric Fireplace:
Real Flame and Valmont Entertainment Electric Fireplace has all the same features.
They are both convenient to use, space-saving, and easy to clean. They also possess almost the same functions and inclusions.
Both of them has a remote control, they can both cover 100 lb. weight limit for the television and they are both has a 1400 watt heater which is rated over 4700 BTUs per hour.
But if you have to choose between the two, it is much better to get the Real Flame G1200E-W Fresno electric fireplace with an entertainment unit because the design and colors of Real Flame Fresno are simpler and minimalist.
Meaning to say, its color will not give you any difficulty when pairing it with the color of your house. You can choose from three colors which are the dark walnut, white, and black.
With Real Flame G1200E-W Fresno Entertainment Unit, you can be sure that you will be able to lift up and change the ambiance of your house.
But we are not saying that Valmont Entertainment Electric Fireplace has a bad design and color.
As a matter of fact, their packaging is also good, however, their colors are a bit boring and old which is the mahogany and dark mahogany.
But if these colors are okay with you, then no need to worry; if these colors will not suit your taste, then go for Real Flame.
User's Feedback Regarding the Real Flame G1200E-W Fresno Entertainment Unit:
Real Flame has earned a lot of good feedback and positives from their past and new customers.
They were all satisfied with the performance of this electric fireplace.
They also love the concept of the entertainment unit because it really helped them from organizing things on their place.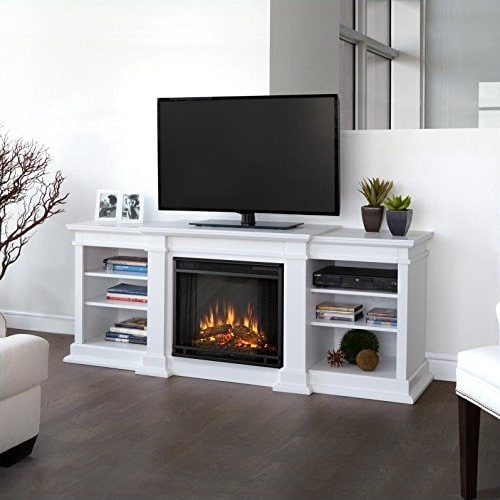 Additionally, they were all recommending this item to others since this unit will not just serve as your heat source and entertainment place, but it can also beautify your home.
Although there are some little flaws on the item such as the gaps behind the moldings which is not too evident, you will still find this item very impressive and reasonable to buy because of its overall great performance and quality.
How Durable and Affordable is the Real Flame G1200E-W Fresno:
When it comes to durability, you can be sure that you are going to use this for longer periods of time since this item will not require you to use real fire, smoke, ashes, and fumes.
That means this item is far from encountering issues such as corrosion and rust which is very evident when you use other fireplaces or heaters.
And for as long as you will be careful in using this electric fireplace, you can be sure that you can still use this for long years and time.
With regards to affordability, this is truly the answer to all your problems when it comes to energy-efficiency and practicality because this will only heat a certain area in your home.
So meaning to say, your heater will not suffer too much from warming your whole house.
And you, as the owner of the house, will get the chance to save more money on your electricity bill since it will be lessened big time.
Why you should consider Real Flame G1200E-W
Fresno Entertainment Unit

?

You should highly consider this electric fireplace with entertainment unit because of its capability to do several things such as by warming your cold days and nights while you are watching your favorite TV shows.

You can also get the chance to organize your things in your house because this unit has two cabinets on both sides with adjustable shelving, and this item will also serve as a good accent in your home which will help in improving the overall design and ambiance of your home.

So if you want to get all of these things while saving more money since this is energy-efficient and low maintenance, then you should get your very own Real Flame now to personally explore the perks of having this multipurpose item.
Final Verdict!
Durable, affordable, comfortable, and versatile – these four powerful words are the exact reason why you should get your own Real Flame electric fireplace with an entertainment unit.
These advantages were not just created to please you and get your attention, but these words were all based on the feedback of the real users of the Real Flame.
So if you want to know how legit are the judgments about this product, you should get your very own electric fireplace for you to experience and see how worthy it is of your money and how it can change the overall look and design of your house.
Are you an entertainment enthusiast? If, you are the Real Flame 7720E Calie Entertainment Unit with Electric Fireplace is an excellent piece of furniture that will perfectly accommodate your needs.
It's now possible to store your media accessories in its large capacity compartments and enjoy warmth in a cozy and ambient environment while watching your favorite program.
The most surprising aspect about the Real Flame 7720E is that it's a 2 in 1 unit, an electric fireplace, and TV stand.
It is capable of holding a television-screen weighing up to 100 lbs. And aside from it being so functional, it is a great solution for anyone who would like to add some sense of style to their home.
The dark finish this fireplace comes with blends with modern decor.
This electric TV stand offers the most realistic flame powered by LED technology. You can switch on the heat to enjoy the warmth coupled with a visual fire delight.
Or you can simply turn off the heat and enjoy the view of pulsating, rolling flame effects all year round.
This fireplace has so much to offer which you can get to read the electric fireplace TV stand review below.
PROS
Flames work with heat on or without
Great Supplemental heat source
There are 4 adjustable shelves
An easy to use remote for added convenience
The LED bulbs are long-lasting and energy efficient
Instantly adds to your home decor
CONS
For its price, it has a tiny footprint, a feature which many users didn't like.
Users Opinion about
Real Flame 7720E Calie

Entertainment:

Users with kids in their homes, usually shy away from installing an electric fireplace in their homes for the fear that it might blow up and burn their loved ones.

On the contrary, users don't feel the same about the Real Flame 7720E. This unit is cool to the touch parts are pretty much assuring.

They also like the fact that they don't need to buy an extra book and accessory shelf because there's an inbuilt shelving component. Assembly is quite easy and straightforward.

Users said that they took less than an hour to set it up but if they got stuck, there was an included manual to guide them through.
Key Features of the Real Flame 7720E

Calie Entertainment Electric Fireplace

:
Media Console:
With the media compartment, you will not worry about where to place your media accessories.
There are enclosed doors with 4 inside shelves measuring 13.5″ W x 12″ D.
The shelves allow you to store your books, A/V equipment, etc. Also, the fireplace mantel is capable of holding a flat screen TV that is not more than 100 lbs.
Thus you can enjoy watching your favorite TV show while curling up around a fire.
Great Heater:
The Real Flame 7720E Calie comes with a 1400 watt fan-forced heater rated at 4,780 BTUs per her. The heat it produces is enough to provide warmth for a room space of up to 144 square feet.
Remote control:
It's super-easy to control this unit, thanks to the included slim, multi-functional remote control.
With this feature, you can control the thermostat, brightness and flame settings and timer function.
You do not even have to go to your electric fireplace to power it on physically. The remote gives you the comfort of controlling virtually all the heater's settings right from your couch.
Thermostat:
The adjustable thermostat makes it possible for you to control the temperature on your fireplace. Hence, ensuring that the Real Flame 7720E only heats your room to a specified temperature.
LED Flame Technology:
The Real Flame 7720E produces realistic flickering flame effects with the use of LED lights. These flames give your home a warmly and comfortable feeling. Besides, the LED bulbs are energy saving and durable.
So, you will never have to worry about replacing them.The flames can be operated with or without heat.In the summer, just turn the heat off to enjoy the visual delight.
Brightness Settings:
You are able to adjust the brightness options by either reducing or increasing the intensity.
Eco-friendly:
Since the Real Flame 7720E is powered by electricity, it doesn't emit harmful gasses, smoke or soot. No need for fuel, gas, chimney or ventilation thus making it environmentally conscious.
My Experience with the
Real Flame 7720E Calie

Entertainment Electric Fireplace:

I'm without a doubt pleased with the Real Flame 7720E Calie. I love it for the simple reason that I can use it as a heater, TV stand and still get to store my media equipment.This fireplace is also easy to install.

When I first got it, I plugged it into a standard wall outlet and got started immediately.

I live in a thinned apartment and space is a luxury that I don't get to enjoy. So, the tiny footprint of the Real Flame 7720E is an incredible advantage for me.

The best part is that in the cold nights and winter, I never have to complain about the cold.

This fireplace produces enough heat for a warm and ambient environment all through the season.
How Affordable And Attractive is the
Real Flame 7720E Calie

For Your Home?

The price of the Real Flame 7720E may put you off at first. But what you should know is that this heater falls under the category of high-end models.

Meaning that, it comes with bells and whistles that you would like in an electric fireplace. The performance and functionality will not also disappoint you.

The Real Flame 7720E is a great investment for anyone who doesn't mind digging a little deeper into their pockets. Furthermore, it provides a good balance between the design and functionality. It's truly a good machine that you will sure appreciate.
With the realistic view of the fire burning and with the room being all warm and cozy, no one would think it is not actual flames on the fireplace.
Electric fireplace has been the preferred choice by many users because of several reasons, one of which is its reliability and efficiency to provide high level of heat output to combat the cold and chill during winter.
Real Flame 8070E-W Kennedy Grand Electric Fireplace is one of the many electric fireplaces available in the market today that boast for optimal features that can give you the warm and relaxing ambiance at home.
This white electric fireplace comes with the convenience as well and the look of an actual fireplace but less the hassles of actually having and maintaining one.
It is designed with variable heat settings that can be adjusted and programmed to suit your needs.
It is built to be larger than normal-size fireplace, hence it could be towering in your house with its stylistic design.
Real Flame 8070E-W Kennedy Grand Electric Fireplace is tailor-made for your comfort as it features a mantel and firebox with remote control, adjustable timer functions and LED light technology for a superior performance.
And it is easy to install, you can even do it yourself.
PROS
Provides the look and appearance as real flame fireplaces
Comes with several option on the lighting, heat and timer
Works with remote control for convenience
Adjustable and programmable heat settings
Durable and huge
Freestanding
CONS
Blower in the heater creates some noise
The unit is heavy
Key Features of the Real Flame 8070E-W
Kennedy Grand

:
Programmable Thermostat:
Real Flame 8070E-W programmed thermostat allows you to adjust the temperature to the exact level that will suit your comfort.
And it maintains consistent output all throughout as it follows your programmed temperature schedule.
Thus, aside from the increased efficiency and lesser time on heat level adjustment it provides, it lets you save energy, time and money as well.
Convenient to Use:
Built to provide you with a warm refuge during the winter conveniently, it comes with a remote control to make the necessary adjustments easier to do without even standing and touching the fireplace.
It is designed with a timer function as well so you can set it on the pace that will suit your needs best.
Large Built:
Aiming for a superior and realistic look of the burning flame, this 40" diagonal Real Flame 8070E Kennedy Grand Electric Fireplace is 30% larger than the standard firebox, making it a standout structure in your home.
With the massive scale, it is designed with a black firebox in distinct white columns surrounding it for a sleek and sophisticated look.
Increased Heating Power:
Brave the cold and chill with this lay-flat, grounded electric fireplace that provides up to 5100 BTU of heating power every hour.
The firebox also include 1500 watt of infrared heating to keep your house warm and cozy.
Adjustable Settings:
To meet the user's individual needs, 8070E-W Kennedy Electric Fireplace is equipped with various settings to adjust the temperature, timer and even the brightness of its ultra-bright LED technology.
So regardless how warm you want and how much the coldness of the outside temperature drops, it is equally possible to achieve the heat level you desire to keep the house warm.
Solid Construction:
As it stands tall and mighty in your living room, you can be sure that it will be there for a long time as it is made with solid wood and veneered MDF construction, thus durable, sturdy and build to last.
Advantages of Using
Real Flame 8070E -W

Electric Fireplace:

Real Flame 8070E Fireplace is built to provide us warm and cozy home during the chilly weather.

While many of us grew using the traditional standard wood or gas fireplace, a lot have however made a switch to the electric kind because of these advantages:
Easy and Minimal Installationl:
It requires less process as opposed to the normal fireplace that needs planning for the venting and other parts such as chimney, wood or gas.
Convenience of Use:
They operate automatically, hence you can easily adjust Real Flame 8070E settings to the level that will suit you best. Most of these models are designed with programmed thermostat for constant and efficient heating process and comes with a remote control feature that allows you to use and control its functions even while sitting on the couch or away from it.
Hassle-free Cleaning and Maintenance:
The thing about automatic is, cleaning it is a breeze as you will not be worrying of creosote, passages and chimney being blocked and ashes to take care. And so does the upkeep as with the standard fireplace, it should be made sure it is clean and free from burn residue to maintain an efficient operation.
Safe to Use:
Electric fireplace ensures your safety since it does not have actual flames burning, its surface does not get hot. It is safe for kids and pets especially.
And you would still be able to enjoy a warm and cozy room regardless. Aside from that, it does no emit smoke or carbon monoxide.
Also Read: Best Electric Fireplace TV Stand 2017: Top 12 Reviews and Buyer Guide
Why It's Considerable Than Cheaper One?
The quality of the Real Flame 8070E-W is superb!! I am easily able to put my 40 inches flat TV it and some other electronics on it without any issues, even it stands pretty much high.
The Real Flame 8070E fit my room and blended with the white casting so nicely that my guests figure out it was in the original creations of the room.
But the mere problem I face with was in the instructions. Step four was misleading, but I solved it myself.
The parts fit exceptionally well, except for one part, which I was able to fix by seller help and instruction, supports are very responsive and polite.
There are cheaper ones available on the market, but this Real Flame 8070E-W is considerably larger and really changes the ambiance of the room, and the parts are real wood, not like IKEA furniture, I think you know what I meant,
The remote is also great and works better enough about 15 ft away.
Final Verdict!
Perhaps the main reason why many opt to use the Real Flame 8070E-W electric fireplace is the convenience.
Unlike the regular, standard kind, it saves us the time and effort from the tedious process of preparing wood or gas to cleaning and maintenance.
After all, both types function efficiently in providing warmth during the cold weather.
Additional features like the appearance and size is a huge advantage, considering a fireplace has become part of the overall interior design of the house.
Hence, many high-end models have been very thoughtful and meticulous with the style and design to meet consumer's taste and expectations.
Real Flame 8070E-W Kennedy Grand Electric Fireplace hit all marks as it is not only efficient and reliable to use, but convenient, large and stylish in its minimal black and white design.
It fits well to most of the home design patterns and your needs for a cozy house to go home to after a long day.
Real Flame 5950E Chateau Corner Electric Fireplace Review – Scroll down to explore its key features, users opinion, durability, pros, cons and more.
Having your own fireplace at home gives that cozy and warm feel that you deserve to experience on a cold night.
On top of this given function, a good fireplace is also one that brightens the appeal of any given space.
While there are a lot of fireplace models that are currently available on the market these days, only a handful can actually meet your needs and preferences.
Are you in the lookout for a good option for your home? Let's take a close look at the Real Flame 5950E Chateau Corner Electric Fireplace model and see whether or not it has the features that you need.
PROS
Different colors available
Durable veneered construction
Assembly instructions included
Classic styling
Key Features of the Real Flame 5950E
Chateau Corner Electric Fireplace

:

Here are some of the features that you can expect from the Real Flame 5950E model:
Veneered MDF Construction:
This model is constructed using veneered MDF. The nature of this material reduces the chances of cracking or splitting of the wood.
Veneer is usually acknowledged as stable, producing a surfacing that is not prone to warp or other seasonal movements. This translates to durability of this corner electric fireplace.
Classic Style:
One look at this fireplace and you will automatically notice its elegance. This will be the same reaction that you can expect from your guests the moment they lay their eyes on this fireplace.
This model especially features the use of clean lines, as well as a classic style that is familiar with that of stone mantels, but realized using wood.
It also comes in three beautiful finishes, complimenting a wide variety of décor from contemporary to classic.
Vivid Electric Firebox:
The Real Flame 5950E model Real Flame 5950E model is designed in a way that allows it to be plugged into any standard outlet.
This ensures a very convenient setup of your fireplace at any location that you would like to place it.
Complete Features:
Among the features that you can see in this model includes a programmable thermostat, remote control, brightness settings, timer function, as well as the use of an ultra-bright vivid flame LED technology.
All of these features work together in creating an experience which will allow you to feel the warmth that only this fireplace can provide.
Different Pattern Option:
This model also comes in different pattern options. They are available in dark espresso, dark walnut, as well as white.
The availability of these options allow you to choose the best color that suits your needs and personal preferences.
Regardless of your choice, you can have the assurance that this model is designed to be eye catching, giving an extra beauty source to your space.
Compare
Real Flame 5950E VS. SEI Cartwright

Convertible Electric Fireplace:

As mentioned earlier, there are a lot of other models on fireplace currently being made available.

Aside from Real Flame 5950E model, you can also take into consideration SEI Cartwright Convertible as a comparable model under the electric fireplace category.

There are some similarities and differences between the two models.
With regard to similarities, both of these models are electric fireplaces, which are operated using remote control.
While Real Flame 5950E is a corner electric fireplace designed, the SEI Cartwright Convertible comes in a convertible design.
As such, when it comes to size and design, Real Flame can consume more space, while the SEI Cartwright model saves more space at home.
In terms of style and design, each of these models offer a different touch. Therefore, it all boils down to your personal preference when choosing the design.
However, with the features involved, most are similar, though there are some slight differences which may meet your actual needs.
What are Users saying about Real Flame 5950E Chateau Corner Electric Fireplace?
With an overall rating of 4.3 stars out of 5 in Amazon, most of the feedback provided by actual customers is positive.
For example, one customer commented that it serves as a nice addition to their living room.
While it may not provide that feel of realism, it offers an incomparable presence, including a character that will add a special beauty to any room where it is installed.
Another customer mentioned that this model is relatively easy to put together. The instructions come together with the package, and they are easy to follow.
Therefore, whether you do not have any previous experience in setting things up, installing this electric fireplace can turn out to be quite easy and fast at the same time.
How Durable and affordable Real Flame
5950E

:

In terms of durability, much can be said about the construction of the Real Flame 5950E model. For one, it is made using Veneered MDF construction.

Using this type of material provides a lot of advantages. It is known to offer durability and structure to this model, not to mention its gorgeous overall look that gives it a classy and elegant appeal.

When talking about the price, this model can turn out to be a somewhat expensive compared to other models, such as the SEI Cartwright convertible electric fireplace option, it offers some unique features that make it a good option to take into consideration.
Why you consider Real Flame 5950E
Chateau Corner Electric Fireplace

:

If you are looking for price reasonableness, high standard performance and gorgeous design, there is no doubt that you will be able to take into consideration purchasing this model.

It comes with features that make it relatively easy to use, and highly effective at the same time.

What this electric fireplace can give you is not just warmth. As a matter of fact, this is something that is given, as it is designed as an electric fireplace after all.

However, what you get are extra features, including the fact that it comes in a head-turning design, durable structure, and efficient features.

While you may still have to assemble this fireplace on your own, installation is relatively easy and fast.
Frequently Asked Questions:
Final Thought!
The Real Flame 7720E is definitely worth your money especially for its quality and ease of use. It will provide you with tons of benefits, owing this to its fancy features.
It even gives you more control by letting you adjust the heat and flame settings, thermostat, timer, etc., with its remote control.
The Real Flame 7720E is not only a great source of heat but also a storage unit and a TV stand.
Its versatility gives it an upper hand in the market thus making it an incredibly amazing deal.