Improving the look and feel of your home is one of the most interesting changes that you can consider. Instead of buying a new home, many people nowadays were opting to renovate their current houses to give it a new refreshing ambiance. But because this home improvement may require us to spend lots of money, several of us were being hindered to do such thing. And since many people were really aiming to achieve this simple house goal or investment, there are tons of companies now who are offering simple and reasonable solution such as the use of Real Flame G1200E-W Fresno Entertainment Unit with Electric Fireplace.
Yes, this piece of appliance/furniture can truly change the look and ambiance of your family room. As a matter of fact, there are various individuals now who are considering this item for they believe that this is more cost-efficient when compared to house renovation or other massive projects.
That being said, if you want to improve your family room while providing comfort and entertainment value to your whole family, here are the important details about this electric fireplace with entertainment unit to help you in finalizing your decision.
What is the advantages of Real Flame G1200E-W Fresno
This electric fireplace will not just bring comfort during cold days in your place but it will also give you a place for your entertainment appliances. You can put your television with a weight of 100 pounds.
Additionally, you can also get the opportunity to place your other electronic devices to this unit because it also has adjustable shelving. So to save more spaces in your home while warming your family room or whatnot, better consider this multipurpose unit.
What is maybe the disadvantage we notice
This electric fireplace may not consider as the primary heat source in your place because it can only heat a specific area of your home (e.g. living room, bedroom, family room). But this is not a bad thing at all because this will help you from saving more money due to the fact that you will not be required to heat all parts of your home.
Another thing to know about this item is that you can't use this electric fireplace when there is a power outage because this is being run by an electricity. But if you have a power generator, then no need to worry about this drawback.
Key Features of the Real Flame G1200E-W Fresno Entertainment Unit
Multipurpose
Even if this is just one big unit, it can give you several wonderful benefits such as a great comfort when the weather is too cold. Additionally, there's an added entertainment value with this item because you can put your television on this unit including your other entertainment gadgets or devices since it has an adjustable shelving on both sides of the cabinet. In other words, you and the rest of your family can get the chance to bond together while getting some comfort and a valuable entertainment.
Space-saving
No need to worry about the location of your electric fireplace or even your TV because this unit will allow you to combine all of these things into one place. That means you can save more space in your house which is a good advantage most especially for those who have a big family. And just in case that you want to add other furniture to your home, you can be sure that the newly added item can still fit in your area. In short, your house will look more organized and neat.
Easy to use
No need to deal with complicated installation because this electric fireplace with entertainment unit is very easy to use. Simply look for a perfect location where you want to place this unit, assemble the parts which are extremely easy, put your TV and other devices, then plug your electric fireplace! Additionally, this unit has a remote control for you to adjust and set the thermostat, timer, and brightness. That means you are free to control and adjust the settings of your electric fireplace to suit your desires.
Easy to maintain
Simply wipe the dust on the front glass using damp clothes every week to keep the quality and beauty of your electric fireplace unit. In other words, no need to hire someone to clean your fireplace, no need to suffer from the ashes of the burnt woods, because with the electric fireplace, you can save more money, time, and effort!
Real Flame G1200E-W Fresno VS. Valmont Entertainment Electric Fireplace
Real Flame and Valmont Entertainment Electric Fireplace has all the same features. They are both convenient to use, space-saving, and easy to clean. They also possess almost the same functions and inclusions. Both of them has a remote control, they can both cover 100 lb. weight limit for the television and they are both has a 1400 watt heater which is rated over 4700 BTUs per hour.
But if you have to choose between the two, it is much better to get the Real Flame G1200E-W Fresno electric fireplace with entertainment unit because the design and colors of Real Flame Fresno are simpler and minimalist. Meaning to say, its color will not give you any difficulty when pairing it with the color of your house. You can choose from three colors which are the dark walnut, white, and black.
With Real Flame G1200E-W Fresno Entertainment Unit, you can be sure that you will be able to lift up and change the ambiance of your house. But we are not saying that Valmont Entertainment Electric Fireplace has a bad design and color.
As a matter of fact, their packaging is also good, however, their colors are a bit boring and old which is the mahogany and dark mahogany. But if these colors are okay with you, then no need to worry; if these colors will not suit your taste, then go for Real Flame.
User's Feedback Regarding the Real Flame G1200E-W Fresno Entertainment Unit
Real Flame has earned a lot of good feedback and positives from their past and new customers. They were all satisfied with the performance of this electric fireplace. They also love the concept of the entertainment unit because it really helped them from organizing things on their place.
Additionally, they were all recommending this item to others since this unit will not just serve as your heat source and entertainment place, but it can also beautify your home.
Although there are some little flaws on the item such as the gaps behind the moldings which is not too evident, you will still find this item very impressive and reasonable to buy because of its overall great performance and quality.
Click Here to View 30+ Buyer Reviews
How Durable and Affordable is the Real Flame G1200E-W Fresno
When it comes to durability, you can be sure that you are going to use this for longer periods of time since this item will not require you to use real fire, smoke, ashes, and fumes. That means this item is far from encountering issues such as corrosion and rust which is very evident when you use other fireplaces or heaters.
And for as long as you will be careful in using this electric fireplace, you can be sure that you can still use this for long years and time.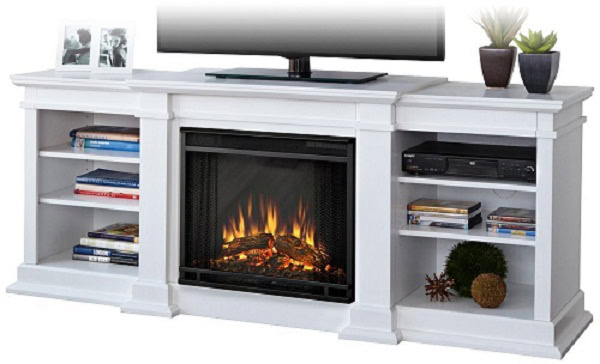 With regards to affordability, this is truly the answer to all your problems when it comes to energy-efficiency and practicality because this will only heat a certain area in your home. So meaning to say, your heater will not suffer too much from warming your whole house. And you, as the owner of the house, will get the chance to save more money on your electricity bill since it will be lessened big time.
Why you should consider Real Flame G1200E-W Fresno Entertainment Unit
You should highly consider this electric fireplace with entertainment unit because of its capability to do several things such as by warming your cold days and nights while you are watching your favorite TV shows; you can also get the chance to organize your things in your house because this unit has two cabinets on both sides with an adjustable shelving; and this item will also serve as a good accent in your home which will help in improving the overall design and ambiance of your home.
So if you want to get all of these things while saving more money since this is energy-efficient and low maintenance, then you should get your very own Real Flame now to personally explore the perks of having this multipurpose item.
Durable, affordable, comfortable, and versatile – these four powerful words are the exact reason why you should get your own Real Flame electric fireplace with an entertainment unit. These advantages were not just created to please you and get your attention, but these words were all based on the feedback of the real users of the Real Flame.
So if you want to know how legit are the judgments about this product, you should get your very own electric fireplace for you to experience and see how worthy it is of your money and how it can change the overall look and design of your house.
Related: Classic electric fireplace insert 2018: Top 10 Reviews and Buyer Guide
Related: Best Fire Pit 2018: Top 10 Fire Pit Reviews and Guide
Related: Best Patio Heater 2018: Top 10 Reviews and Buyer Guide
Related: Best Electric Smoker (Under $200): Reviews & Guide 2018
Related: Best Pellet Smoker 2018: Top 10 Pellet Smoker Reviews and Guide