Electric fireplaces are bought for convenience and comfort upon cold days. That is why a lot of people rely on these devices to provide warmth and heat. Not just that, there are fireplaces that could be used as a TV stand or a cabinet to organize more things in your house.
If you are interested in buying classic one, then you should have this Southern Enterprises Redden Corner Electric Fireplace TV Stand. For more information, then scroll down below to find out more.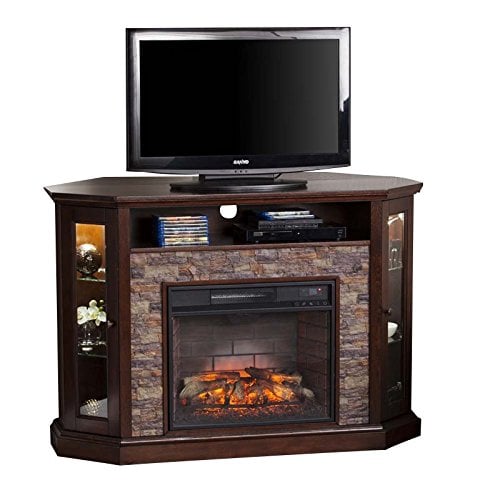 Pros
Multi-purpose Use

Easy Operation

Great Design
What users saying about Southern Enterprises Corner Electric Fireplace TV Stand?
Overall, the device has high ratings on Amazon with an average of 4.7/5. Thus, its evident that a lot of users are certainly happy about using this device. Nonetheless, the device is high quality with a convenient method for assembly.
Though, it would take you a long time to install it by yourself. Thus, you'll have to hire someone to accompany you upon the installation.
Aside from that, this device is perfect for use into every living rooms and multi-purpose for used as a TV stand with shelves situated on its sides. It seems durable constructed from premiere wood, glass, and metal materials. However, its hardware including the screws that are used for installation seems to be substandard as noted by a customer.
Click Here To View 11+ Buyer Reviews
Key Features of the Southern Enterprises Redden Corner Electric Fireplace TV Stand
Classic Design and Build
Measuring 36.5″ H x 52.25″ W x 16″ D, this box-shaped device is heavily surrounded by wood incorporated with two side compartments to put some things on it. Nevertheless, it includes a knob for each compartment and a transparent mirror to see through what's inside the cabinet.
Its top and bottom are bordered with layered horizontal wood. Above the fireplace, a wood layered stack is situated to put all the DVDs and CDs as needed. Around the fireplace, it's protected and designed with textured faux stones.
Distributes Heat Efficiently
This device evenly provides warmth and heat all around the system. It features a 3D LED technology that imitates fire for a realistic fireplace vibe for an efficient use. Additionally, it distributes heat faster through quartz infrared exclusively used for larger rooms.
The LED could be adjusted to five different temperature levels with a turn off function incase you just want to enjoy the mood and not the heat. Nonetheless, the device is effective for use in spaces not greater than 1000 square feet.
Simple Use and Operation
Below its mesh front speaker, a menu interface with five easy touch buttons is situated. Nonetheless, these buttons are used for power, flame, heat, lighting, log, and keypad sound. Except for the power button, the four of these buttons have five-way adjustability feature for easy use. Aside from that, it includes a remote control with the similar buttons located on its interface.
Intuitive Flame Effects
Within its centerpiece, the device situates the fireplace for which a red to orange colored fire is placed. A set of logs are positioned burned for an authentic fireplace mood into it. Its ember is guarded with a glass door having dimensions of 26″ H x 4.5″ W. The surrounding interior for the fireplace includes a brick surface to magnify the fireplace vibe.
Flexible Use
You could put a 50-inch flat screen television above the table top of the device to maximize its purpose. The top mantel has dimensions of 32.75″ – 37.5″ W x 15″ D. Nonetheless, it also includes two media shelves with lighting above of it to put anything within it. Aside from that, there is an additional compartment above the speaker to be used on DVDs, CDs, or books.
Compare Real Flame 8070E-W vs. Southern Enterprises Corner Electric Fireplace TV Stand
Comparing both devices, you'll notice a lot of differences with its design and features. The Real Flame seems very simple with no other shelves or components located within the device. The Real Flame 8070E-W is engraved within its sides Roman columns to create a medieval and ancient vibe into it.
This device is heavily white finished with the fireplace on its center. The Real Flame isn't meant for used as a TV stand so it isn't safe to lay over TV into it.
Since the Real Flame is simply made, it should have an easy assembly and use. The Real Flame 8070E-W has also a remote control with the similar buttons as the latter including programmable thermostat, timer function, and brightness settings.
Conversely, as the latter, the Real Flame 8070E-W features a 1500 watt infrared heating capability sufficient to warm a greater area or space.
With the pricing, it's surprising to find that the Real Flame is a hundred dollar expensive than the other one. With the heating mechanism and the two setting LED technology its edge, it seems to be not that quite reasonable. If you're a practical user looking for a multi-purpose and great looking fireplace, then the Southern Enterprise is an efficient choice.
What's the disadvantage of Southern Enterprises Redden Corner Electric Fireplace TV Stand?
With a high rating on Amazon, this device seems to have it all. Its durably built from premium made materials with multi-purpose capability. Nonetheless, you could use it as a TV stand or compartments and a fireplace to give you warm during cold days. It's modernly built with a wood-based design that fits every style of your living room.
Perhaps, the only disadvantage of this device is its ease of assembly. There are a lot of users have experienced difficulty upon setup of the device. Consequently, you'll have to spend more time and effort with assembly. Thus, you'll need to have accompanied upon the installation of the device.
Aside from that, there are users who pointed out hardware substandard. The screws are a bit faulty and unreliable. It's best to buy a separate set of screws during the installation to prevent any harm upon use.
Why should you choose it or not?
There are a number of reasons why one should purchase this device. First, it's beautifully made. The device is modernly built used for the flexible operation. Second thing, the device heats efficiently. It provides heat up to 1000 square feet for which is prettily intuitive for a fireplace.
And lastly, the device could be used as a TV stand with a lot of compartments and shelves. Thus, you'll be able to insert anything into it including CDs, DVDs, music players, and frames.
It's definitely hard to survive with cold. That is why a lot of users tend to install fireplaces in their places to provide warmth during winter. Nevertheless, not all fireplaces could be used for other purposes. If you are interested in buying a fireplace that presents a minimalistic design, then this Southern Enterprises Redden Corner Electric Fireplace TV Stand is an excellent choice.
Related: Best electric fireplace insert 2018: Top 10 Reviews and Buyer Guide
Related: Best Wall Mount Electric Fireplace Reviews – Top 12 of users choice
Related: Corner Electric Fireplace: Top 8 Corner Electric Fireplace Reviews
Related: Best Fire Pit 2018 – Top 10 Fire Pit Reviews and Guide