Though a lot of people are excited about winters, not at all times it's something you'll look forward to. The extremely freezing cold that at times could go indoors will get you to hassle out especially at nights. That is why it's helpful if you'll install heaters or fireplaces to provide you warmth during those times.
One of the basic products that you could look into is this Valuxhome Houselux Electric Fireplace Insert. To know more about it's key feature and users opinion , then just scroll down below to find out.
Cons
Easy to Setup and Use

Sophisticatedly Made

Flexible Operation

Eco-Friendly
Key Features of the Valuxhome Houselux Electric Fireplace Insert
Modernly Built and Design
Measuring 35.6″L X 9.05″W X 27.5″H, this rectangular shaped electric fireplace is streamlined with white and black finished metal. Its interiors are decorated through a beautiful LED flame featuring realistic brick flames to provide heat within your homes. The device is entirely covered with a durable tempered glass for safe use.
Adjustable Flame and Temperature Settings
This electric fireplace heats you out varyingly. Nevertheless, its suitable to run at a temperature range from 71 °F to 99 °F. It has exclusive two heat settings with an additional front hot vent that supplements heat into the room as needed. Aside from that, its flames are flexible with 3 night light color options that provides full and half heat operation.
Wide Heat Distribution
This 51.6-pound electric fireplace has an adjustable 750 to 1500 W power having an input voltage from 110 to 120 volts with a frequency of 60 Hz. It has a coverage area of 400 square feet driven through 5100 BTU energy providing you sufficient heat into the place as needed.
Safe and Energy Saving
Since this device is electric powered, it does not require any gas, ethanol, or propane to lit it out. Nevertheless, you don't have to deal with any ash, smokes, fumes, or any combustible side product just to run the operation. Aside from that, it includes an auto-off function whenever its overheating. It includes a 6 feet long power cord for portability and convenience.
Easy to Use Interface
The device features a simple use menu and controls situated at the front interface of the device. Besides the controls, a log speaker is residing for you to easily hear the fire cracking sound that comes with it. Aside from that, you could use the remote control that is included in the package. Nonetheless, the device includes a turn on/off function and a timer that could be set from 1 to 9 hours as needed.
What users saying about Valuxhome Houselux Electric Fireplace Insert?
This electric fireplace insert could be bought at a decent price matching to the quality that you'll experience. Consequently, there's nothing special with this brand having similar features as other electric fireplaces you've seen in the market. Though the speaker option is a good addition, few users are not fond of it.
But nonetheless, it has a brilliant design with amazing flame effect and colors. Installation is quite easy. You could do it in less than 30 minutes. It's simple to use, though turning on/off the speaker is a bit tricky. But nonetheless, it's entirely manageable as you wanted it. Material quality is not the best, yet still acceptable. It heats out as advertised but limited only to small rooms.
Overall, as said, this device isn't the best quality you've seen in the market. However, it's still something worthy for the price you'll be paying it over.
Click Here To View 23+ Buyer Reviews
Compare With ClassicFlame 33II310GRA vs Valuxhome Houselux Electric Fireplace Insert
Both made from a different manufacturer, at first glance you'll immediately notice the similarities of the design with these two devices. Though the Valuxhome is slightly bigger and heavier than the latter, both include a realistic LED flame with electric fireplace logs in it.
Its sidelines are decorated with brick panels, rectangular shaped having a speaker into its interface. Nevertheless, the ClassicFlame has a richer interface with a built-in temperature monitor that is illuminated on its left side.
As to its heating mechanism and coverage, the ClassicFlame 33II310GRA has its advantage. The device powers with a 5200 BTU heater that provides heat up to 1000 square feet. Aside from that, it includes an innovating infrared heat to additionally provide heat into the environment.
Consequently, this device has a 125 multiple effect option that is adjustable according to your mood. It also has an adjustable thermostat for ease of control on the temperature.
With a comparison on both of the device's prices, its expected that the ClassicFlame will be more expensive with an approximate 200 dollar gap as compared to the other device. Nevertheless, this is entirely reasonable with the added features that the ClassicFlame 33II310GRA has to its device.
But nonetheless, if you're looking for a practical option on your small rooms to heat you over the entire year, then the ValuxHome is recommendable. It's easy to use with selectable temperature and heat options as needed.
What's the disadvantage of the Valuxhome Houselux Electric Fireplace Insert?
As to its affordable price, there is definitely some mishaps and weakness this device has. First of all, it heats out limitedly. As compared to other premiere fireplaces, this device does not distribute much heat as needed. Otherwise, it's inefficient for use into large rooms beyond 400 square feet.
Another thing, the sound of the speaker is a bit annoying sometimes. Turning off the speaker is quite not easy. Thus, reading the manual is important to do it. As to its durability, it's definitely weak. You can't expect for it to be very sturdy as compared to other devices. Despite still those weaknesses, it's a good entry level fireplace suited for your homes or places.
Does it worth your invest according to Valuxhome Houselux Fireplace Insert specs?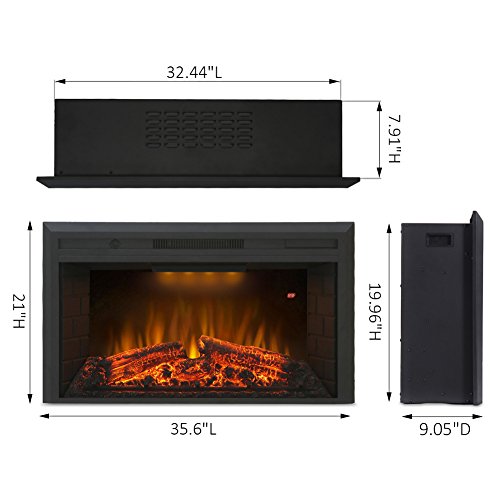 It depends. If you're looking for something to just warm your small room, then this device is recommendable. It has a great design modernly built perfectly to install on your living rooms and bedrooms.
However, if you want to use it for large rooms, then this device is something not for you. It won't provide you with a lot of heat as it should be. But nonetheless, this device is cost-efficient and definitely would do great for those practical and first-time electric fireplace users.
Choosing an entry-level electric fireplace isn't easy. There are a lot of related products existing in the market, to begin with. But nonetheless, if you're still looking, then the Valuxhome Houselux Fireplace Insert is one of the best options. It provides you not just warmth but elegance, comfort, and versatility.
Related: Best Electric Fireplace 2018: Top 15 Reviews and Buyer Guide
Related: Best Electric Fireplace TV Stand 2018: Top 12 Reviews and Buyer Guide
Related: Best Wall Mount Electric Fireplace Reviews – Top 12 of users choice
Related: Best Fire Pit 2018 – Top 10 Fire Pit Reviews and Guide