As suggested by its name, an outdoor patio heater hangs right above the deck or patio, giving off enough radiant heat flowing in a downward direction. This design is effective in allowing adequate heating of a space of approximately 9 feet in radius. For this reason, this selection is perfect when used in spaces with enclosures, such as covered porches or gazebos.
One such model is the Wood Pellet outdoor patio heater. It is a model that does not need electricity, as the flame is only powered by gravity, as well as the draft that is created coming from the stove pipe, which makes it also great out near a campfire, outdoor living or even brought to a family bbq. It offers a 60K BTU output, which is a good amount of heat offered coming from its radiant wood fire. Let's take a further look at the features of this model and see if this is the efficient alternative that you are looking for.
No gas, no propane, no electricity

Eco-friendly wood pellet products

Affordability in operating cost

Gravity fed natural draft heater

No moving parts
Wood pellets can be messy

Need to be operated on a non-combustible surface
Key Features of the Wood Pellet Outdoor Patio Heater
Heating Capacity
This model offers 60,000 BTU of free standing outdoor heater. It provides half the usual operating cost, yet twice the BTUs when compared to propane patio heaters. Propane heaters typically only put out 40,000 btus max. This means that you can expect a good amount of heat capacity without spending a lot, while covering an area of up to 10 square feet heating radius.
Non Electric Operated
This unit is gravity fed as a wood pellet system. It offers a chimney like drafting action which makes for an efficient and clean fire system. This means that it is a virtually no smoke unit, which means that you can still enjoy all of the benefits offered by a wood fire pit without actually experiencing smoke on your face.
Quality Product
This product is made in the USA, designed by Tyson Traeger. As such, you can expect high quality performance coming from this unit. It is perfect for patios, backyards, gardens, decks, as well as other commercial venues.
What Users Saying About the Wood Pellet Outdoor Patio Heater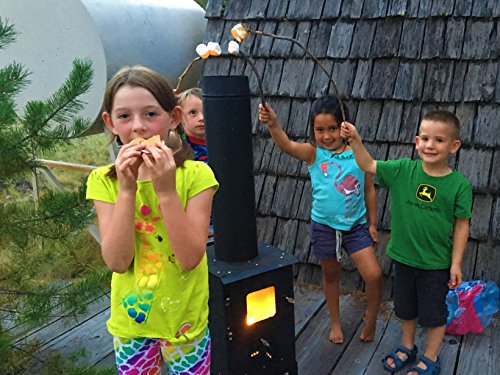 Most of the feedbacks and reviews coming from actual users of this model are positive. One customer mentions that this unit really puts heat, and it is surprisingly satisfying. It is not just an amazing option for a patio heater that is great for staying warm, but it is also visually stimulating to watch the amazing source of heat that is produced by this pellet heater. Another customer also praised the fact that this patio heater is very easy to assemble, with materials that are made of high quality components.
Click Here To View 14+ Buyer Reviews
Compare Wood Pellet Outdoor Patio Heater with Double Flame Patio Fire Pit
Both the Wood Pellet Outdoor Patio Heater and the Double Flame Patio Fire Pit are amazing sources of heat. The latter however, focuses on the components used in its construction, being engineered with heavy duty and thick stainless steel which is known to withstand corrosion while preventing rust even when placed in an outdoor environment.
The Double Flame Patio Fire Pit model also comes with an optional feature – the savor sizzling hot grilling, with its 15 inches swing-away grill. This patio fire pit utilizes a patented double combustion system which allows you to grill chops, burgers and steaks more evenly with enhanced flavor and reduced smoke. Basically, the difference between the two models is that the Wood Pellet outdoor patio heater serves as a heater for your patio, while the Double flame patio fire pit is one that you can use, not just as a heat source, but also for grilling your favorite food in an outdoor environment.
Also, the Double Flame patio fire pit also comes with a good reputation, being manufactured by Breeo Industries, which is the very company which developed the first ever wood-burning, smoke-reducing fire pit. This reputation is a proof of the company's commitment to provide you quality products which are certainly built to last.
Your decision as to the type of unit that you will get will ultimately depend on your purpose of use. If you are interested in a basic model of a heat source, then you can simply go with the Wood Pellet outdoor patio heater. On the other hand, if you want the grilling capabilities offered by a fire pit, then the Double flame patio fire pit is the best model to take into consideration.
What is the Disadvantage of the Wood Pellet Outdoor Patio Heater
In comparison to other models, such as the Double Flame Patio Fire Pit, the Wood Pellet outdoor heater is basically just a heater. This means that you cannot do other things with it, such as grilling meat. It is also just enough to warm a small amount of space, but not a wider one outdoors. This might limit you from expecting heat when this unit is placed outside with a lot of people.
Why Should You Choose it?
The Wood Pellet Patio Heater is the smaller model of outdoor patio heater under the brand, in contrast to the Big Timber unit. As far as a Timber heater, the lil' Timber heater is more comparable in size. Despite its size, it is sturdy enough to be safely used without fearing about it tipping, and also mobile and can be table top too. This model not just allow you and your visitors to enjoy the natural advantages of a wood operated heater. The heat output is enough to warm your patio, deck, or any outdoor space.
Final Verdict
There is just something about wood pellet fires that make it so fantastic – the feel, the smell, and the overall atmosphere that it offers that you just don't get from electric heaters. They are just not like anything that you get out of LPG, propane or electric units. This is the main reason why fire pits and fireplaces have never gone out of style. Nothing can be compared to wood, that's a fact. Knowing that you can finally have it in a free standing, portable outdoor patio heater makes the story even better. This is something that Wood Pellet Outdoor Patio Heater can offer you.