Surviving through cold nights and winter days is hard. You have to deal tremendously the cold and freeze with the surrounding environment. That is why people purchase over electric fireplaces to warm them out during these periods. However, almost all of the electric fireplaces that were sold in the market are quite expensive. In this product review, an affordable electric fireplace will be presented as an option for practical users. Introducing to you, the Giantex HW51075 28.5″ Electric Fireplace Insert.
Pros
Ease of Use and Setup

Convenient Design

Cost-Efficient

Heat Capability
What users saying about Giantex HW51075 Electric Fireplace Insert?
This wonderful electric fireplace is built sturdily for use into your living rooms or bedrooms. It has a typical fireplace design, quite efficient only from small to medium-sized rooms. Nonetheless, it induces great flame effect with adjustable features into it. Temperature could not be controlled with no indicator into it. Consequently, it has only two heat settings for use.
Few users said that it produces unnecessary noises during the operation. Thus, it's important to check it over upon few uses. Overall, there's really nothing special for this device. You could basically find any other device in the market with the similar features. But nonetheless, for the price you'll be paying, this device is a practical option.
Click Here To View 44+ Buyer Reviews
Key Features of the Giantex HW51075 Electric Fireplace Insert
Elegantly Finished and Design
Weighing 29.5 lbs, this 28.5″ X 21″X 5.7″ rectangular shaped electric fireplace is sophisticatedly made from durable materials. Nonetheless, its bordered by black metal made material decorated at its center the realistic LED powered flame and log effect into it. For security and protection, the device is covered around with a 5 mm thick tempered glass having dimensions of 23"× 11" to ensure that the LED flame will not be touched.
Multiple Flame Options
Modernly designed, the realistic flame incorporates five adjustable brightness levels that you could switch over depending on your mood or convenience. Nonetheless, it includes flame effect cycles through different levels for variety and sophistication.
More Features...
Safety Features
The device does not use any gas or fuel to warm over the room. It runs through electricity which excretes no emissions or pollution. Aside from that, it has a tip over and a safety cut off feature for overheat protection making sure the safety upon the use of the device.
User-Friendly Setup
It's easy to install. With just few screw attachment included in the package, you'll be able to use the device as needed. The device is designed with an in-wall installation with simple attachment through the screws given. For more details, you could read the manual and the instruction for installation.
Simple Controls and Interface
Handling and control with the device are done through a convenient remote control that has three buttons into it for use on turn on/off function, adjustments on flame brightness, and multi-heat settings as needed. Aside from that, controls are situated hidden at the bottom of the hinge panel for which is easily opened.
Delivers Wide Range Heat
Incorporating two heat settings, this device powers about 750 to 2500 watts amount of heat into it. This is efficient to heat a small to medium-sized rooms. Nonetheless, it also includes a 60 Hz input frequency with a driven 110 voltage into it.
Compare With ClassicFlame 36EB110-GRT vs Giantex HW51075 Electric Fireplace Insert heater
Having a similar rectangular design, you'll probably able to not distinguish one from the other. Both devices are modernly and sturdily made with easy to use features that you'll like. The ClassicFlame 36EB110-GRT seems to be larger than the latter by five inches on its width and is quite three times heavier than the other device. Nonetheless, setup is simple for both devices. You could put it into the wall as you've wanted it.
The shape and size of the electric fireplace logs are different for both devices. The ClassicFlame 36EB110-GRT has larger sized logs while the other is smaller. As to heat capability, both devices have almost similar heat output with Giantex on the edge. As to flame effects, both have five adjustable flame brightness as needed.
As to other functions, the ClassicFlame has a temperature control with an indicator and monitor on its interface. Aside from that, the ClassicFlame features an electronic timer function with an automatic shut-off ability from 30 minutes to 9 hours exclusively.
With its price, the ClassicFlame 36EB110-GRT is four times as expensive as the Giantex. The thermostat, the size, plus the electronic timer is ClassicFlame's edge as opposed to the Giantex. Nonetheless, this seems to be reasonable for additional functions. But nonetheless, if you're just looking for a basic fireplace with simple and easy use controls, then Giantex is a practical option.
Overall, both devices are effective. In the end, everything is just truly on what your size and appearance preference.
What's the disadvantage of the Giantex HW51075 Electric Fireplace Insert?
Since its quite inexpensive, this device has few design flaws and weaknesses that you should consider on before buying this device. Nonetheless, there are few users who complained about the noise that this device produces. It's a bit annoying upon utilization.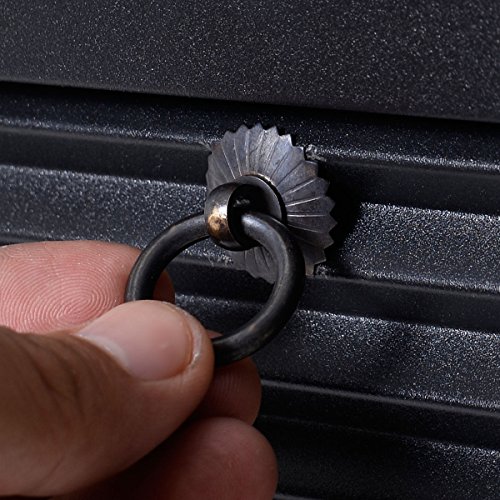 Aside from that, the menu could be improved. There are only a few controls into the remote for which is inefficient for use given that this is a multi-functioned device. Also, it is recommended for an addition of a thermostat to easily adjust over the temperature into it.
Does it worth your invest according to Giantex HW51075 Insert specs?
Looking at it, there's really no impressive feature this device has. Everything with this device is truly typical that you could find to any other electric fireplace into the market. But nonetheless, the device is quite efficient. It delivers a great amount of heat as its advertised and has simple but still easy to use menu and controls as needed.
It's flexible for use in multiple areas within your house whether the bedroom or living room. Its price is very convenient for practical users. It's cheap, practically recommendable most especially with small to medium-sized rooms.
An entry-level electric fire pit is sometimes sufficient to give warmth to our spaces. However, with the wide-ranging entry-level electric fire pit brands available in the market, its difficult to find what's best for our homes.
Thus, if your just searching for a fire pit with simple design and interface, then this Giantex HW51075 Electric Fireplace Insert is very recommendable for your utilization. It's cost-efficient matched with quality and durability.
Related: 15+ Best Electric Fireplace Reviews 2018
Related: 12 Top Rated Wall Mount Electric Fireplace Reviews 2018
Related: 12+ Best Electric Fireplace TV Stand Reviews 2018